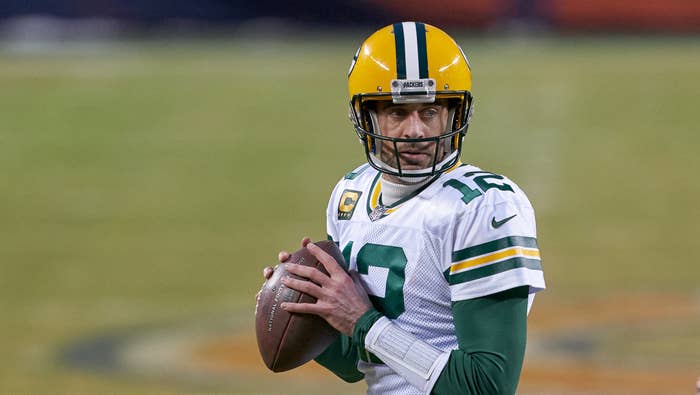 After it looked as though Aaron Rodgers might be leaving the Green Bay Packers behind, the quarterback has signed a four-year deal with the team.
Rodgers and the Packers agreed to the terms on a 4-year, $200 million deal that will make him the highest paid player in NFL history, NFL Network's Ian Rapoport reports. Per Rapoport, $153 million of that will be guaranteed.
Rodgers personally broke the news to media personality Pat McAfee on Monday, with whom he previously spoke to about his decision to not get the COVID-19 vaccine. "After a lot of contemplation of what the future looks like, this morning he felt he was ready to make the announcement," McAfee said on Tuesday's episode of his show. "He said, 'Hey why don't you let the people know, I am officially returning to the Green Bay Packers.'"
Tuesday afternoon, Rodgers hit Twitter to stipulate some of the news.
"Hey everyone, just wanted to clear some things up; YES I will be playing with the @packers next year, however, reports about me signing a contract are inaccurate, as are the supposed terms of the contract I 'signed,'" he wrote. "I'm very excited to be back."
The news comes after a season in which Rodgers faced public scrutiny over his comments regarding COVID-19, vaccines, and mandates. Rodgers faced heavy criticism for admittedly misleading people about his vaccine status.
The star QB has spent his entire NFL career at the Packers, and was named league MVP in 2011, 2014, 2020, and 2021. 
Despite his success, Rodgers had hinted that last season could have been his last with the Packers. Considering all the speculation about where Rodgers might play next season—if he chose not to retire—the news that he was returning to Green Bay inspired quite the response on social media.
Check out some notable reactions below.