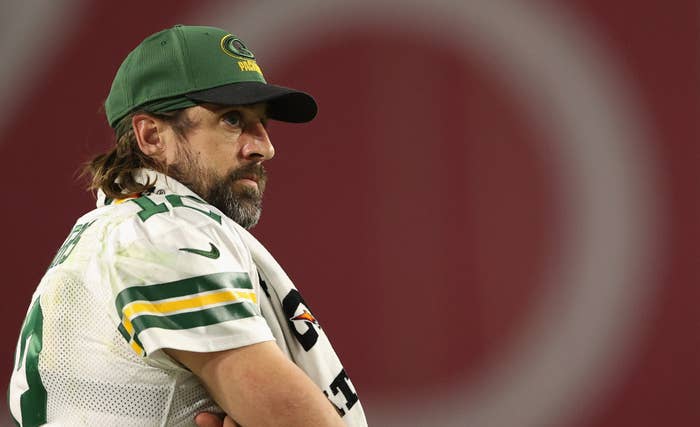 Aaron Rodgers has tested positive for COVID-19 and will miss Sunday's game against the Chiefs.
Ian Rapoport reports that Rodgers is unvaccinated, despite saying earlier in the year that he was "immunized."
"Yeah I've been immunized." he said when asked at an August press conference if he was vaccinated. "There's guys on the team that haven't been vaccinated and it's personal decision, not going to judge those guys," he added. With Rodgers having used particularly murky terminology when asked if he was vaccinated, people are now questioning his intentions. 
Many are pointing to Rodgers' vague verbiage as a way for him to get out of explaining why he's unvaccinated and face league penalities for it. It's currently unclear if he will face repercussions from the league for not being completely straightforward about his vaccination status since, if he was lying, he would have been breaking NFL health and safety protocol.
In an ESPN story by Rob Demovsky, Rodgers is described as having petitioned the league to have "alternative treatment" count as vaccination, but the league rejected his efforts.
The NFL released a statement, in which it said that it's reviewing whether or not COVID protocols were followed with Rodgers. 
Check out some notable reactions to Rodgers' clever wording below.