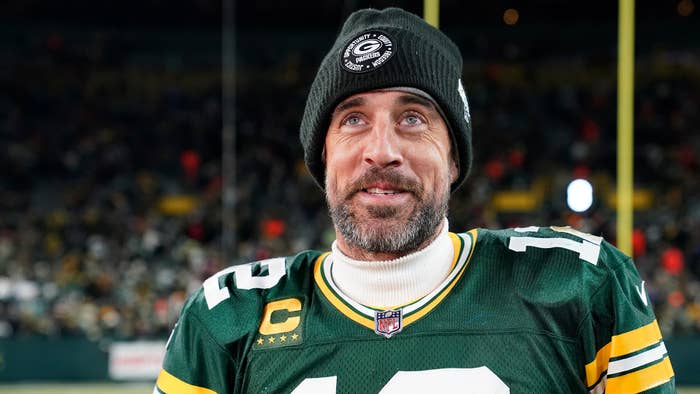 During an appearance on The Pat McAfee Show, Aaron Rodgers revealed his intention to play for the New York Jets.
Per The New York Post, Rodgers said that it is his "intention" to play for the Jets next season and added that The Packers are "digging their heels in." During the show he was asked about reports from the media on his alleged list of demands, which included having the Jets sign Allen Lazard, Randall Cobb, and Odell Beckham. He described the reports as "so ridiculous," and explained that he made his feelings on the supposed list of demands very clear when he spoke with reporter Adam Schefter.
"Ask Schefter what I texted him when he texted me and somehow got my number," he said. "I didn't respond to Dianna Russini, I think her name is, but I'd tell her what I told him: 'Lose my number, nice try. I'll speak for myself.'" Not long after, Schefter confirmed the text by sharing a screenshot. "Lose my number," read the text. "Good try tho."
As reported by ESPN's Dianna Russini earlier this week, the four-time MVP quarterback allegedly gave the Jets a list of free agents he wants to play with if he signs with them.
During his appearance on The Pat McAfee Show, which all but confirmed his plans to play with the Jets if he gets his way, Rodgers explained that there was interest from other teams too. He said he thought about "reuniting especially with one person," in an apparent reference to Davante Adams who was traded to the Raiders in 2022. He also refused to answer if he'll wear No. 12 if he joins the team. "There will be time for those conversations down the road," he said.
Rodgers' latest comments have already prompted reactions on Twitter.