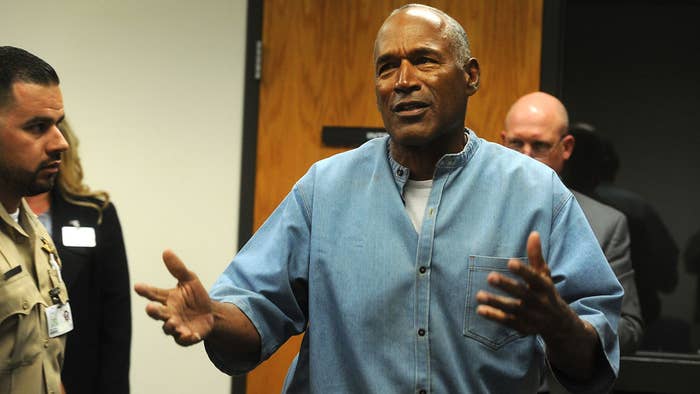 Days after O.J. Simpson told The Athletic that he has trouble being in Los Angeles because he might "be sitting next to whoever" killed his wife Nicole Brown in 1994, the sister of his former wife has now spoken up. 
Talking to TMZ, Tanya Brown shares that Simpson's comments are absurd and prove that he might be delusional. 
Tanya reportedly cited the DNA evidence from the murders of Brown and Ron Goldman—murders that O.J. was acquitted of in criminal court in 1995 before being found responsible for the deaths in a civil trial—in her conversation with the publication. She reiterated, according to TMZ, that the only blood evidence found at the scene belonged to Ron, Nicole and O.J. 
Tanya suggested in her conversation with TMZ that Simpson may believe that there's another murderer because he'd told himself that over the years, and that she at one point forgave him, but feels he is being disrespectful to her family by continuing to discuss it.
Simpson's interview with the publication came as he was ranked the 41st best NFL player of all time, but he took the moment to discuss the trial that came after his football career. 
"I figured eventually somebody would confess to something, you know?" Simpson said. "I had one suspect I told my lawyers to look at. I still think he might be involved, but I can't talk about it."
He also shared that he's living a "good life," after being released in 2017 after a nine-year armed robbery and kidnapping sentence.