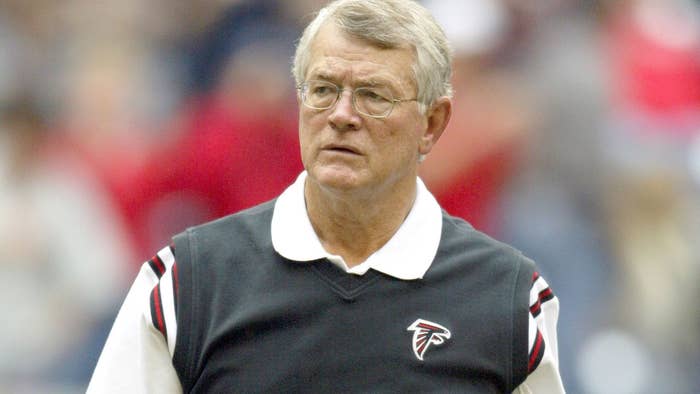 Dan Reeves, the former Dallas Cowboys player who went on to become a head coach for three NFL teams in a 30-year timeframe, has died at the age of 77. 
The longtime NFL coach died of complications from dementia, according to former Atlanta Falcons media relations director Aaron Salkin, who released a statement on behalf of his family. Reeves passed "peacefully and surrounded by his loving family at his home in Atlanta."
"His legacy will continue through his many friends, players and fans as well as the rest of the NFL community," the family said.
Reeves played for the Cowboys from 1965 to 1972 as a running back, and eventually became the team's assistant coach from the end of his playing career until 1980. He eventually took on head coaching gigs for the Denver Broncos, New York Giants, and the Falcons, where he coached until his departed from the league in 2003. He took home a Super Bowl ring as a player in 1972, and again as a coach in 1978. He is one of three coaches to lose the Super Bowl four times during his time in the NFL, despite participating in nine total Super Bowl games. 
"Dan Reeves leaves a lasting legacy in our game as a player and coach," said Falcons owner Arthur Blank. "His track record of success in Dallas, Denver, New York and Atlanta over several decades speaks for itself, marking a long and successful life and career in football."
Those who knew Reeves best on the field, including Michael Vick, shared their condolences on Twitter. 
"I'm saddened to hear about the passing of my beloved Coach Dan Reeves," Vick wrote. "He was a great husband, father and mentor to so many. I loved him like a father and he will truly be missed. My prayers are with his family during this time. Love you, Coach."