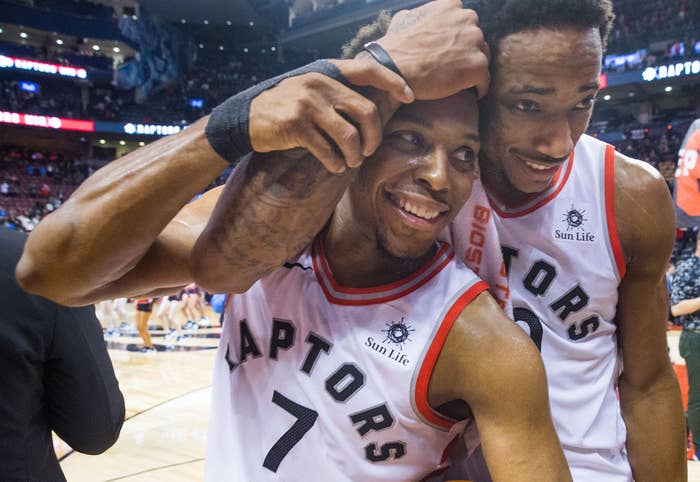 Hey Toronto Raptors fans! Here's some news that will warm your hearts and shatter them at the same time: Kyle Lowry and DeMar DeRozan—both of whom are about to hit the unrestricted free agent market—are reportedly interested in joining the Los Angeles Lakers.
The report comes from the Los Angeles Times' Broderick Turner, who claims the two former Raptors teammates have the Lakers in their sights this offseason.
DeRozan, who grew up in Compton and earned $27.7 million last season with the San Antonio Spurs, is keen on returning home to play for L.A., even if it's for less money, according to "people not authorized to speak publicly on the matter." 
Lowry, who just earned $31 million with the Raptors and was rumoured to be targeted by the Lakers during this past season's trade deadline, remains interested in joining the team as he surveys his options, according to "people with knowledge of his situation."
The pair played together in Toronto for six seasons, making five playoff appearances, earning four division titles, and developing quite the heavy bromance. They were split up in 2018, when DeRozan was dealt to the Spurs for Kawhi Leonard in a blockbuster trade.
Lowry and DeRozan would be an impactful addition to the Lakers, who followed up their 2020 championship run with an underwhelming first-round exit in this year's playoffs. 
Last season, DeRozan played in 61 games for the Spurs, averaging 21.6 points, 4.2 rebounds, and a career-high 6.9 assists.
Although injuries plagued Lowry last season, limiting him to 46 games, he had one of his best statistical campaigns, averaging 17.2 points, 7.3 assists, 5.4 rebounds, 2.8 three-pointers, and 1.0 steal. He's been one of the best point guards in the NBA over the last few seasons. As you may well remember, he helped lead Toronto to a championship in 2019.
Speaking to reporters earlier this season about his upcoming free agency, Lowry mentioned the value of contract offers and the ability to compete for a title will be crucial to his decision-making.
"Money talks, and years talk," Lowry said. "… At the end of the day, I want to make sure my family is taken care of for generations."
He added: "I want more championships."