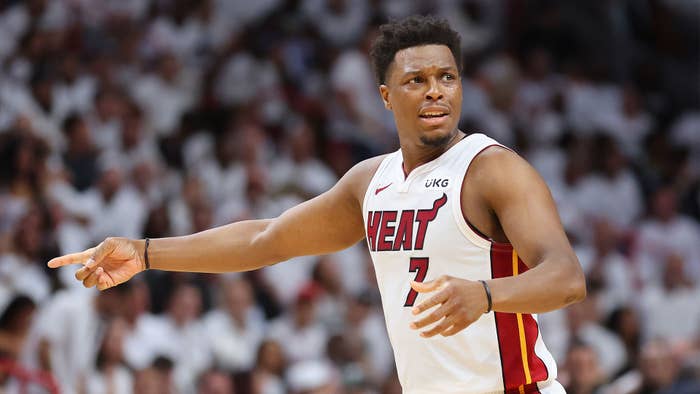 When Kyle Lowry inevitably gets his statue in front of Toronto's Scotiabank Arena, it will likely depict him taking a charge. Over the course of his career with the Raptors and current stint with the Miami Heat, the point guard has proven himself to be a master of drawing offensive fouls. If you ask Denzel Washington, however, Lowry is really a master of the thespian arts.
A viral video has emerged of the legendary actor chopping it up with Lowry and his Heat teammate Jimmy Butler. In the clip, you can faintly hear Washington ribbing Kyle for what he sees as the GROAT's tendency to flop.
"Oh boy, you clever," the actor says while shaking hands with Lowry. "I watch you, I said, 'Sneaky boy be falling down."
The group erupts in laughter, as Lowry replies: "I do my job."
After the light roasting, Washington goes onto talk about his own experience playing ball, noting that he's played with some great players in his time, despite not being one himself.
Lowry seemed to take the trash talk well. He's been known to dish it out himself, after all. During an interview with Complex Canada earlier this month, Kyle gloated about dominating Drake on the court while playing him one-in-one in Miami. "Yeah, I beat his ass," he said. "He had no chance. Drake, don't try me again, boy."
The point guard is currently down with a hamstring injury and unable to play for the foreseeable future. That's not good news for the Heat, who can certainly use sneaky boy's craftiness during their current playoff run.
Check out Washington's full chat with Lowry and Butler below.