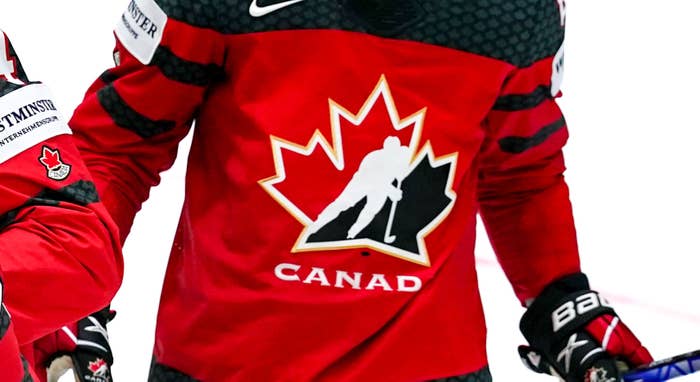 A 24-year-old woman who says she was sexually assaulted by eight Canadian Hockey League players, including some who played on the championship 2017-18 World Junior team and who went on to secure NHL contracts, has dropped a lawsuit against the individuals, Hockey Canada, and the CHL after reaching a settlement.
The incident has only recently come to light after TSN reported on documents filed in Ontario Superior Court in London, Ontario this spring that detail accusations laid by a female plaintiff referred to only as "E.M." who alleges she was repeatedly sexually assaulted in a hotel room while intoxicated after a Hockey Canada Foundation gala and golf event that took place in the Ontario city in June 2018.
The initial filings asked the court to award the plaintiff a total of $3.55 million, with $2 million for financial damages, $1 million for punitive damages, $300,000 for pain and suffering, and $50,000 for mental and emotional stress.
The woman's London-based lawyer told TSN that a settlement was reached and that none of the eight accused individuals—who are not named in the filings and referred to as John Doe 1-8—were ultimately charged. Allegations were also leveled against Hockey Canada for apparently being aware of the alleged incident and choosing not to investigate or punish players.
It is unclear if a non-disclosure agreement was part of the deal, but a statement from Hockey Canada spokeswoman Esther Madziya to TSN states that the faction contacted police immediately upon learning about the alleged incident in 2018.
Details of the night in question are disturbing and difficult to read, outlining how the plaintiff was allegedly given drinks by the accused and separated from her friends at a London bar and restaurant before returning to a hotel room with John Doe 1, who allegedly "invited the remainder of the John Doe defendants into the room without the knowledge or consent of the Plaintiff." The suit details how the players told the woman to fondle herself and perform oral sex on them, slapped her buttocks, spat on her, ejaculated in and on her, pressured her to stay when she tried to leave the room, and more.
"At times the plaintiff was crying and attempted to leave the room but was directed, manipulated and intimidated into remaining, after which she was subjected to further sexual assaults," the lawsuit reads.
"Hockey Canada is deeply troubled by the very serious allegations of sexual assault regarding members of the 2017-18 National Junior Hockey Team," the statement reads. "As soon as Hockey Canada became aware of this matter in 2018, we contacted local police authorities to inform them. The same day, we also retained Henein Hutchison LLP, a firm with extensive experience in this area, to undertake a thorough independent internal investigation and make recommendations on areas for improvement which we have been implementing and will continue to pursue.
"The person bringing the allegations forward chose not to speak with either police or with Hockey Canada's independent investigator and also chose not to identify the players involved. This was her right, and we fully respect her wishes. We have settled this matter and as part of that settlement, we will not be commenting further."
But questions remain regarding how the alleged gang rape was dealt with by the national governing body Hockey Canada, both from a public funding perspective and as multiple of the alleged assailants have gone on to play for NHL teams.
"I am shocked and angry to read about the allegations made against the players of the Canadian junior hockey team," Cnada's Minister of Sport Pascale St-Onge told the press in Ottawa.
"All Canadians want to know and me too, is whether any public funds were used to cover up this story of gang rape," she said, adding that an audit of federal funding is on the way.
The NHL responded by promising an investigation of its own: "We will endeavor to determine the underlying facts and, to the extent this may involve players who are now in the NHL, we well determine what action, if any, would be appropriate."