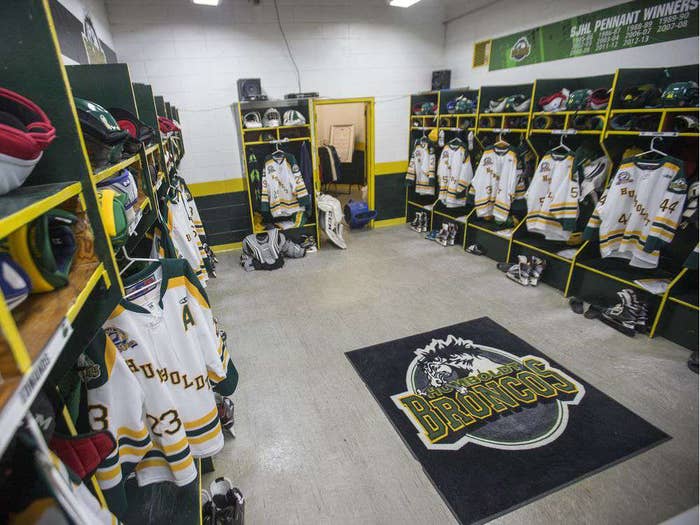 This past April, a tragic bus crash killed 16 members of the Humboldt Broncos junior hockey team. It was an unthinkable event that shook the nation to its very core, and it inspired Canadians and hockey fans everywhere to help the families of those affected with sizable donations, heartfelt symbolic gestures, and a successful charity concert.
Even with this incredible outpouring of support, it is of course impossible to make up for the terrible loss that Humboldt experienced on that awful day. It should be fairly understandable then, that an unsolicited book about the event is drawing the ire of those affected by the crash. Entitled, Humble Beginnings of the Humboldt Broncos and the 2017-2018 Team, a retelling written by Barry Heath is being boycotted just days after its release.
According to parents of the Broncos players, Heath went ahead and completed the book without consent from the team's families. Now, many have been flooding social media to protest the sale of the new book. On Facebook, Christina George-Haugan told her followers that Heath ignored her repeated wishes to cease writing about the tragedy.
"A man by the name Barry Heath has written a book about the tragedy and nightmare we have all been living, George-Haugan begins. "He has done this without the support and endorsement of any family involved in this. In fact he was specifically asked not to do this at this time as none of us felt ready for something like that. Would you please do me a favour and not purchase this book and support him and share this so others don't as well? I would appreciate that!"
In a lengthier Facebook post, Toby Boulet puts the author on blast by claiming he is capitalizing on the Humboldt families' suffering. "He was told that the families were not ready to tell the collective story about the tragic day in April. Dr. Heath did not listen," reads the message. "Dr. Heath then went about and wrote the book anyway [and] continues to peddle this book and the 29 Families want to share that we DO NOT endorse or support his book in any way shape or form."
In response to the backlash, Heath himself says he did not need permission to tell the story and plans on donating to the Humboldt Broncos Alumni Association. "One of the activities of the HBAA is to support hockey players by using funds for bursaries for young players. This is what I have agreed to do. $10 of each $20 book is going to the HBAA," he reiterated on social media. Regardless of his intent, Heath's book is not sitting well with the Humboldt community. Despite this all, Humble Beginnings of the Humboldt Broncos remains available for sale.