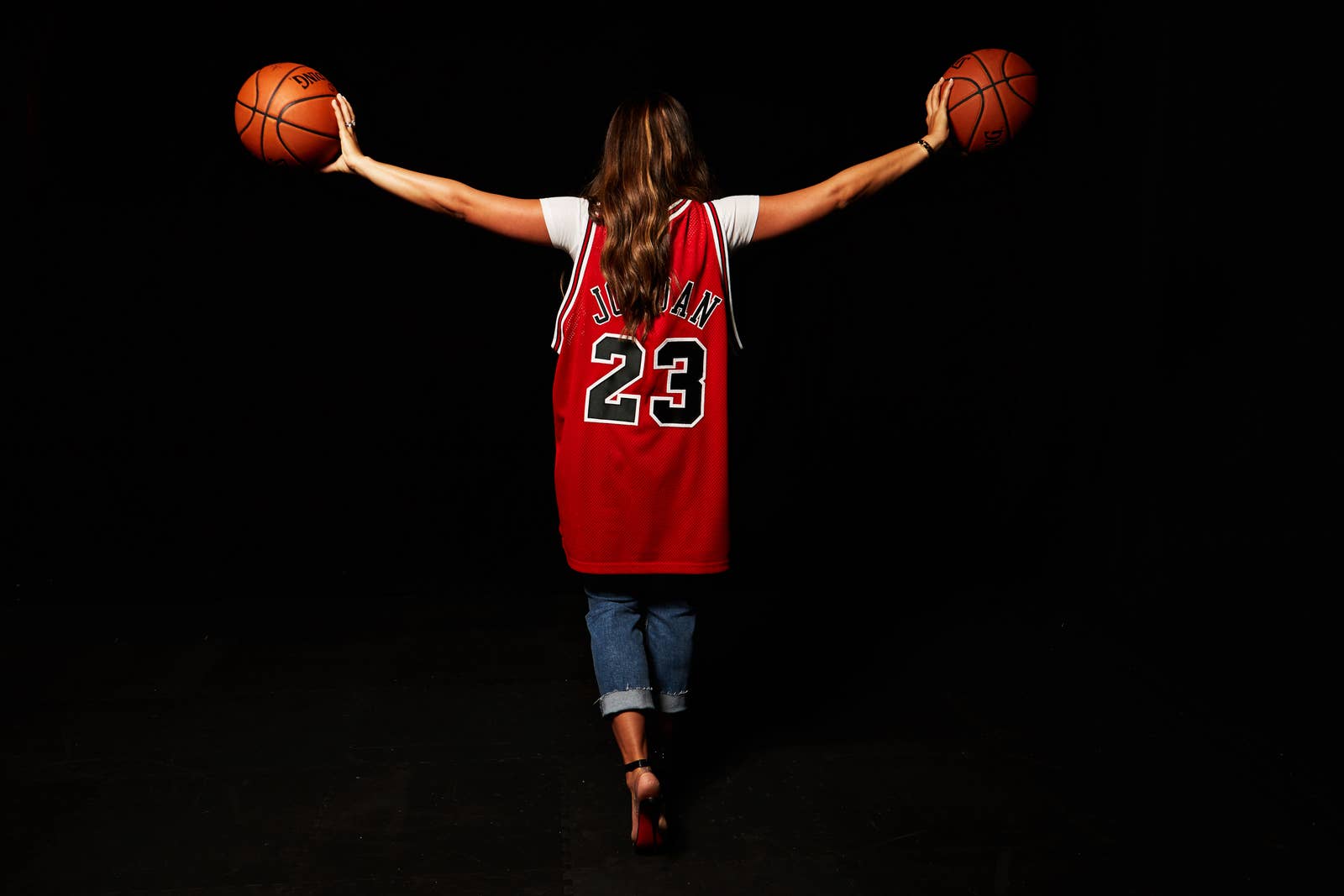 Life for women in sports media can be like a game of 21 where it's dog-eat-dog action on the blacktop until the final point is scored. As a young girl growing up in Evanston, Illinois, Cassidy Hubbarth didn't realize that this childhood roughhousing game would soon prepare her for both the beautiful and beastly sides of the sports media world.

"It's the ultimate warrior of the court type game. I just remember some battles in those," Hubbarth says. "That competitive edge, drive and understanding of working with teammates all contributes to who I am today."

Growing up watching Basketball Hall of Famers Lisa Leslie and Sheryl Swoopes tell the world they got next, Hubbarth took the phrase to heart and applied it. The only difference is she doesn't got next, she got now. She's creating her own shots and carving out a unique path as an on-air first and second screen threat at ESPN.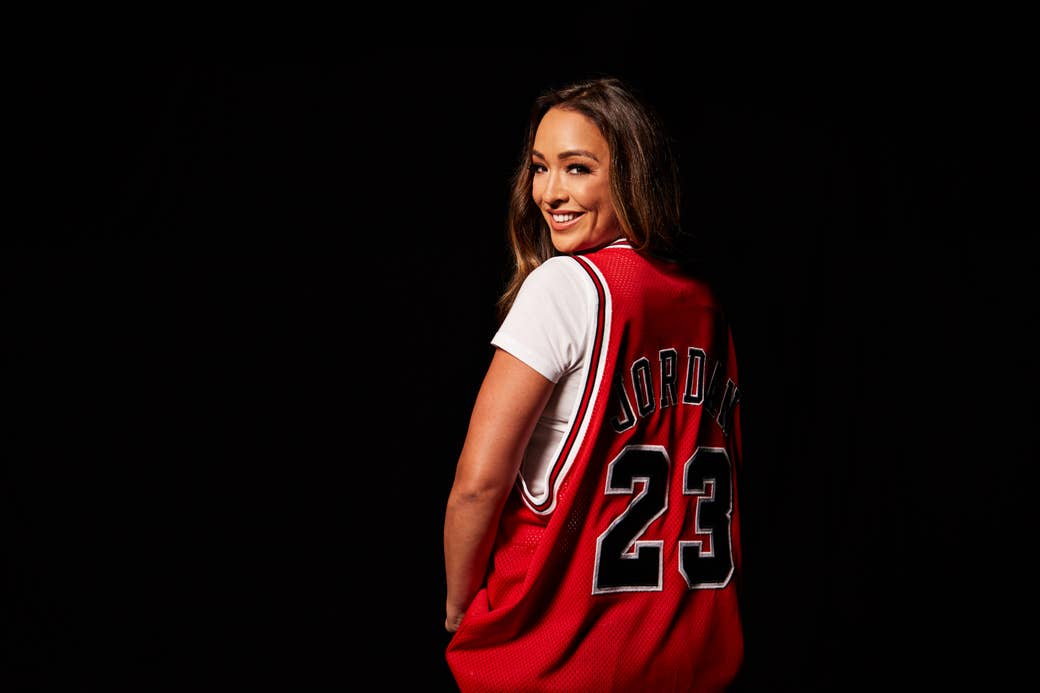 "That competitive edge, drive and understanding of working with teammates all contributes to who I am today."
While reporters, both male and female, stick to what happens between the lines, Hubbarth broke the mold and played out of bounds. Like Barry Sanders in his prime, Hubbarth juked the competition and used the digital space to find her voice, cultivate an audience by being her authentic self on social media and, most importantly, find angles on stories that her competition didn't have the swag to comprehend.
"[NBA Twitter] is a nightly thing," Hubbarth tells Complex. "Whether it's two games on or 10, there's always going to be things that people will miss on broadcast that NBA Twitter will catch."
Before joining ESPN in 2010, Hubbarth began her career as a traffic reporter for WMAQ NBC5 Network. She then went on to work for the Big Ten Network, Comcast SportsNet Chicago, and Fox Sports South—where she won a Southeast Emmy for her work on SEC Gridiron Live.
Using her understanding of the digital space and pop culture, Hubbarth became a go-to voice for shenanigans happening off the hardwood and on your timeline. From secret tunnels to NBA player subtweets, Hubbarth always had you covered with the details. Not only because she is a reporter and it's her job to inform the masses, but because she knows what moves the needle in the sports social space.
"When DeAndre Jordan was kidnapped by the Clippers that was a big NBA Twitter moment for me this year," she says. "Also with free agency this summer... Everything was happening so fast and following Woj's tweets was crazy. "
Since she cultivated her voice in 140-240 characters on the second screen, it's no surprise that Hubbarth has become a star in the digital sports scene. Her recent digital hits are Hoop Streams, a live NBA pre-game show in partnership with Twitter Sports that caters to the musings of the world's largest sports bar #NBATwitter. You can also find her with the ease of a double tap on Buckets with the always-opinionated Rob Perez aka @WorldWideWob and, of course, on ESPN and ABC where she is a full-time reporter throughout the NBA regular season and playoffs.  She also regularly works as a college football, NBA and WNBA studio host. Another digital show you can catch Hubbarth hosting is SportsCenter on SnapChat and she guest-hosts several of ESPN's pillar shows, including Get Up!, SportsCenter, First Take, The Jump, NBA Countdown and more. She reported from her first NBA finals this year.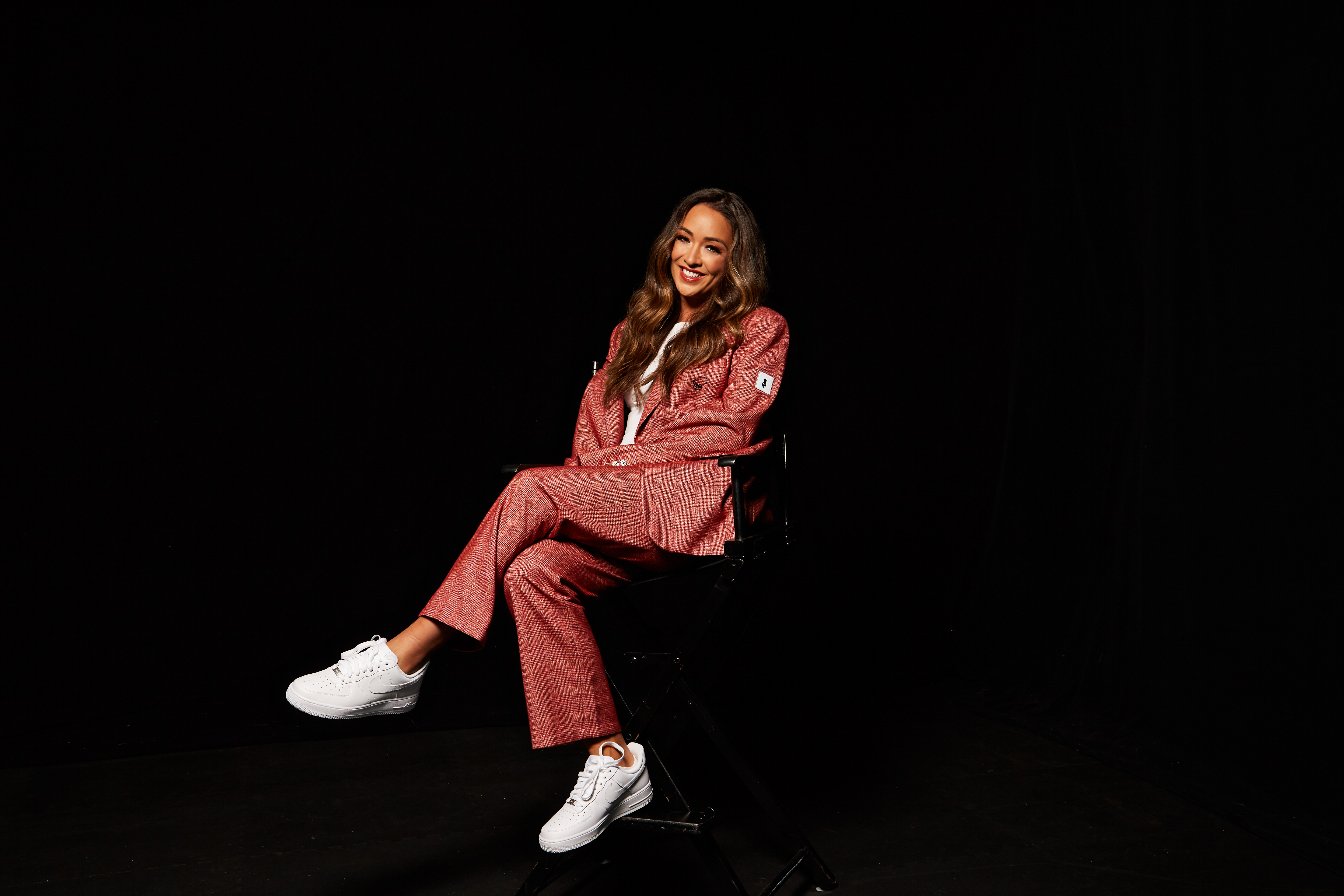 "She has the cosign to talk about Off-Whites, to talk about music, to talk about culture and to talk about hoops because she's authentically that." - tJ Adeshola, Head of Twitter Sports
"The thing that resonates on our platform is authenticity, and if you are tweeting away and people see you in real life and it hits different then it's not going to work," says TJ Adeshola, Head of Twitter Sports. "Cassidy's tweets, her content and persona on television and digital are the exact same energy you get when you see her in person. She has the cosign to talk about Off-Whites, to talk about music, to talk about culture and to talk about hoops because she's authentically that."
Operating in a digital space has been an advantage and strong suit of Hubbarth's. It's helped build her career while making her a personable figure to her thousands of Instagram followers (147K followers to be exact). Her likable digital personality paired with a humble upbringing and youthful vibes make her feel like the girl next door with a mean crossover, and a Jordan collection that would make any sneakerhead rethink their life choices.
But like anything worthwhile, being a female figure in the digital media space comes with a dark side. Lurking under every post and live show is the dreaded comments section. The immediacy of the internet has bred a gang mentality in mention forms. The mentions of accomplished women like Hubbarth are littered with digital dirt like "Kitchen!" or "I didn't know stoves had laptops." These comments are purely designed to dismiss whatever Hubbarth and her female counterparts are discussing, and bring them in a pit filled with outdated, lowbrow sexist insults.
"My dad always says profanity and insults are a lazy way to express yourself," says Hubbarth. "So when I see those types of comments I just think those people are lazy. They just want to get a rise out of you."
And sometimes they just might get what they asked for because Hubbarth and other women who make their living in sports don't back down easily. Some WNBA players have even co-opted the word kitchen and turned it into something positive like Los Angeles Sparks rookie Marina Mabrey who wore a shirt pre-game with the phrase, "This is my kitchen" overlaid an image of a basketball court.
Dallas Wings guard Imani McGee-Stafford and culinary entrepreneur Ayesha Curry have also mastered the art of the kitchen clapback. Mcgee-Stafford commented in a recent Twitter thread, "Yall really so tired with the 'WNBA on the cooking channel,' 'get in the kitchen' yada yada. I'll have you know I love to cook. I'm hella domesticated lol. But I'm also killing you in any one on one game and my muscles prolly bigger than yours."
When told to go back to the kitchen on a recent Instagram post, Chef Ayesha Curry replied, "Which one? SF, Houston, Miami or San Diego?" lavishly referring to the locations of her International Smoke restaurants.
"If you're going to come for professional women; women who make a living on and off the court," Hubbarth says. "If you want that smoke, you better come correct."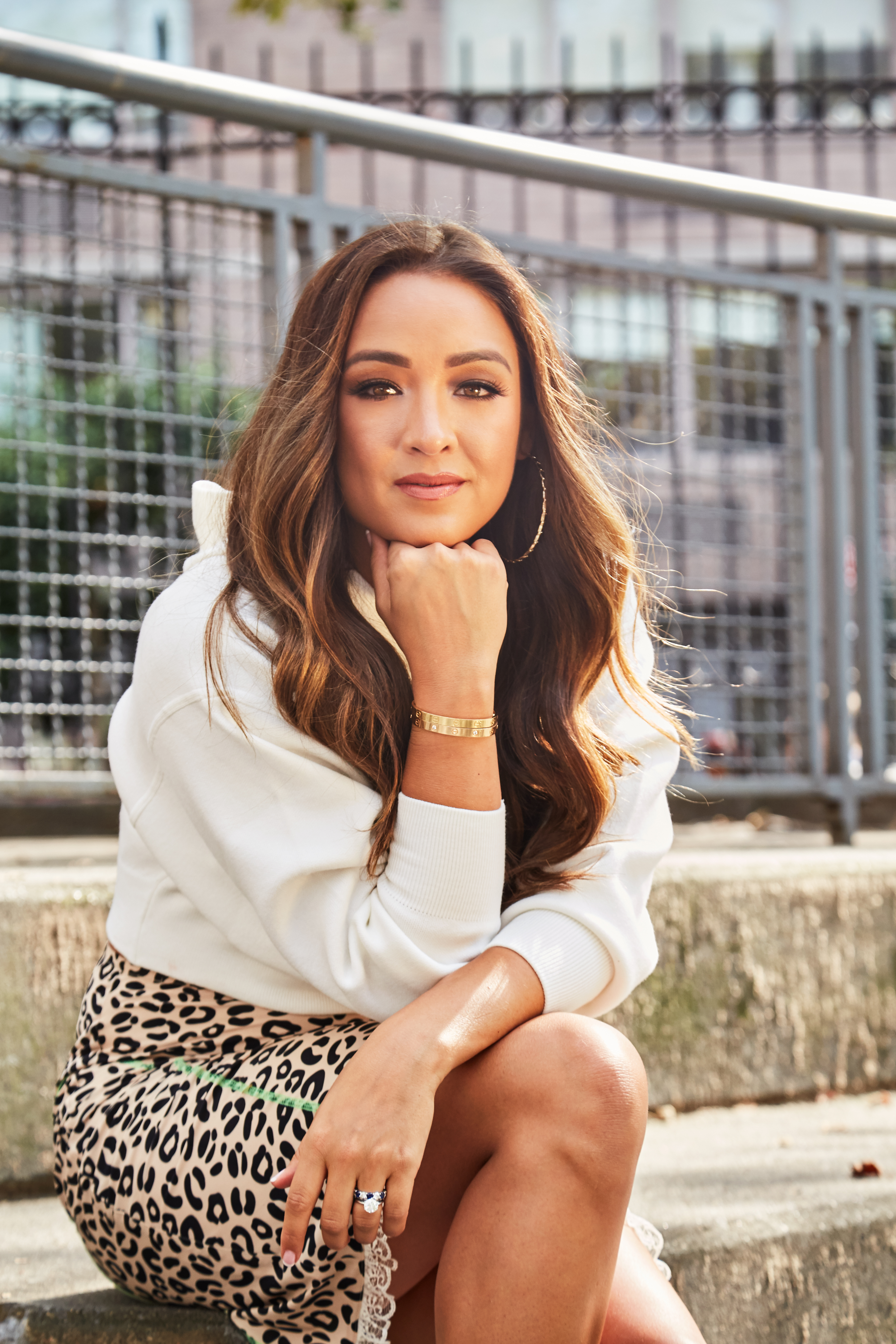 "Truth is you don't want to see me in the kitchen. I make a mean buttery grill cheese and some scrambled eggs but that's about it." Cassidy continues with a skeptical smirk.
Comments directed at Hubbarth are also riddled with over-analyzation of her craft. She's heard things like, "Why do you say 'ummmm' so much?" or "You don't know what you're talking about, you keep stuttering!" While these may be accurate assessments of her on-camera performance they are certainly more critical comments than men in Hubbarth's field are subjected to.
"While being a woman tied into pop culture gets me noticed more, it also gets me 'noticed more,'" Hubbarth says with emphasis on the second reference. "I'm noticed more and my leash is shorter in this business. I have less room for mistakes."
"I may stutter once doing a sideline report but really that's just part of my natural cadence and how I speak."
Hubbarth is listening to some of the comments though and isn't against constructive criticism. She's always trying to improve and find ways to get some good out of the cesspool of negative comments. If a fan points out an error on air, she won't beat herself up about it. Instead she will research the stat and think about how it could have been presented better. 
Hubbarth also looks to her peers like WNBA player, on-air hybrid Chiney Ogumike for lessons. The Stanford grad turned professional basketball player is a one-of-a-kind media personality who can play in a WNBA game at Staples Center and then, 30 minutes after the game, be commenting on NBA highlights in ESPN's LA studios.
"Let me tell you, that girl is an inspiration," says Hubbarth. "I don't know how she does it."
Coaches will tell you a good shooter always makes the adjustment. A shooter may keep missing but they won't miss the same way, and, eventually, the basket becomes as wide as the ocean and shots just fall. That's where Hubbarth is in her career, she made the adjustments as a young cub reporter and now she's money from the field as she climbs the ladder, while simultaneously reaching down to bring up others in the game.
"When I first started out my biggest challenge was learning to be patient and enjoy the process," Hubbarth explains. "I advise any young woman wanting to be in this business to make it your passion. Learn from the greats. Study your craft because people will see right through you if you don't. They can tell if you don't love this and you just want to be on TV."
Hubbarth recalls when she was just starting out at ESPN and her veteran colleagues in the business would keep telling her to get reps and to get better. There was a part of her that took offense to those comments but looking back she sees it differently.
"If someone tells you to get reps. That only means they think you're good and they believe in you. They want you to get better and reps is how you do that. If I could tell my younger self that I would."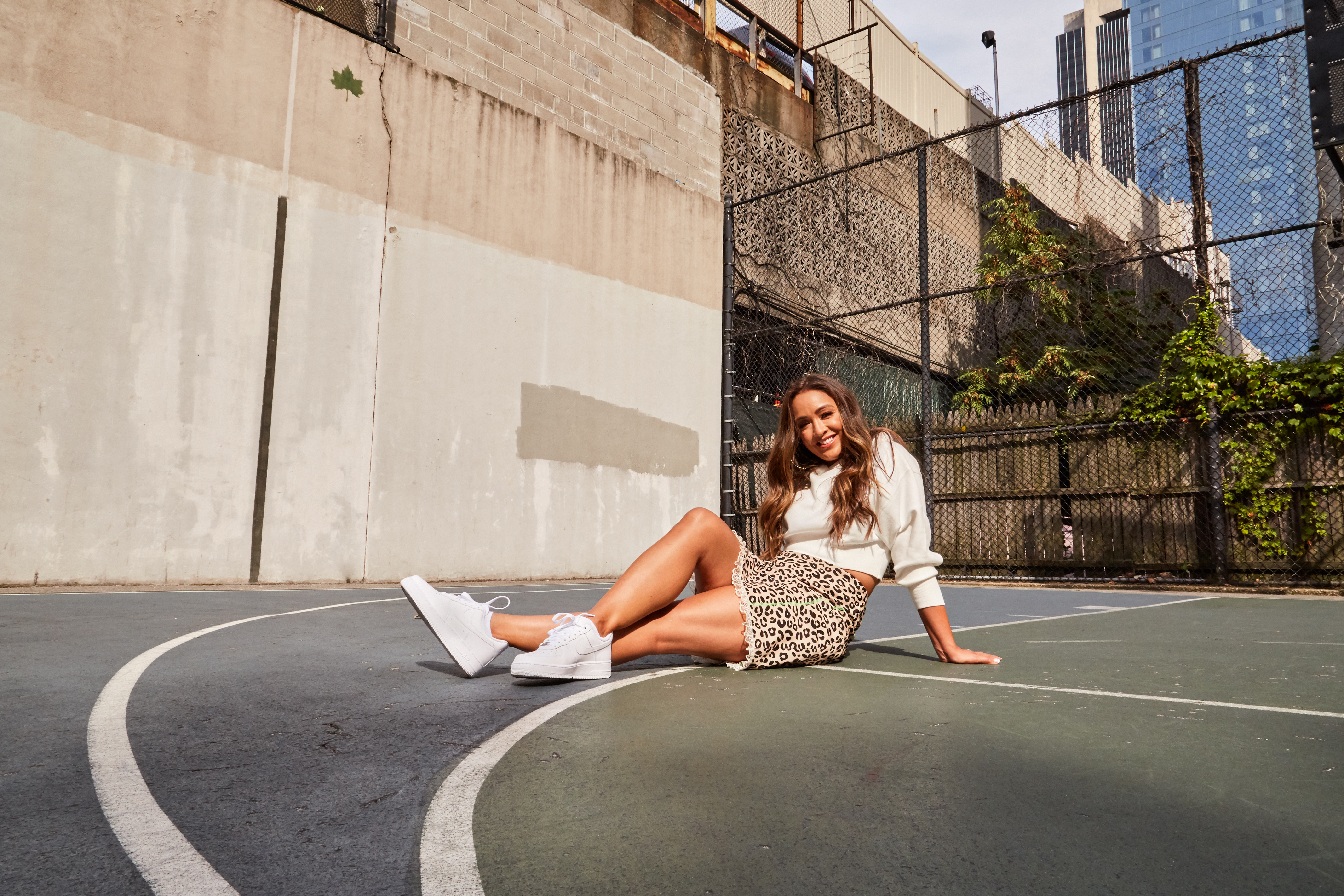 "Study your craft because people will see right through you if you don't. They can tell if you don't love this and you just want to be on TV."
More than a decade into the media game, Hubbarth still has challenges but they reveal themselves in a different way now that she is a mother to 9-month-old.
"My challenge now is getting used to this new version of myself," she says, "I'm learning how to keep up with pop culture while being a mom and having my time stretched in other places."
Hubbarth credits ESPN colleague Ramona Shelburne with helping her get through the process of being a working mom in sports media.
Cassidy is a cool mom. She manages to still have a sick shoe game. Bred elevens are a perennial favorite of hers. As her life has changed, the mom side in her discovered a new loyalty to Adidas as her body started to change, and Yeezy boost 350s have become her go-to travel shoe.
"When you get pregnant your feet start to swell and those shoes are just so comfy," she explains.
While Hubbarth is adjusting to her new lifestyle, there are things that remain unchanged. Games will be played, sidelines will need to be covered, shows hosted, and stories will need to be told. And, don't forget, trolls will need to be blocked. Judging from the scrappy little girl from Evanston and the tough skin she's built on the way to becoming an accomplished ESPN reporter, Hubbarth will handle this next challenge with the same grace, professionalism and vibes that have come to be a signature in her career. 
"There's no other place that I want to be right now, other than doing NBA sidelines," Hubbarth says. "Being part of the fabric of the games during this incredible time."