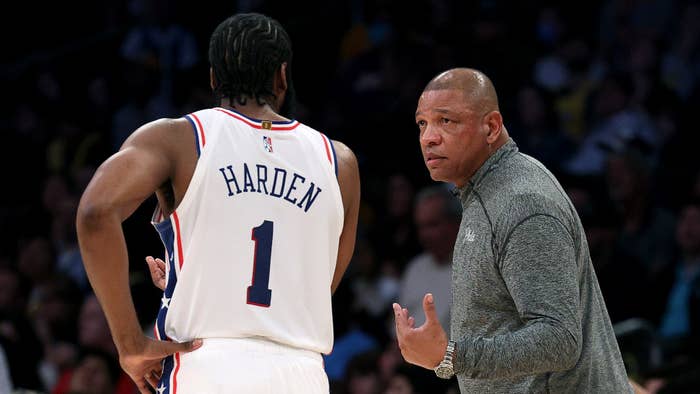 While speaking to reporters after his team lost 102-94 to the Detroit Pistons on Thursday, Philadelphia 76ers head coach Doc Rivers responded to a comment about the bench unit struggling during the game. Rivers defended those players and seemed to suggest that James Harden was more responsible.
"Well, they didn't struggle," Rivers said. "They didn't get a lot of shots. You know, in their defense. I think during that stretch it was more James than them. So… yeah it's just a tough night."
Rivers' comment comes on the heels of the coach saying that he wanted Harden to be more of an aggressive scorer than playmaker.
"We just need you to be you," Rivers said of Harden, per The Philadelphia Inquirer. "Don't worry about everyone else. As long as you and Joel [Embiid] are in the right spots, we'll figure out everyone else. But we need you to think of yourself as a scorer, not the way you played in Brooklyn, the way you were a point guard and trying to run the team.'
You can check out some reactions to Rivers' comments below.