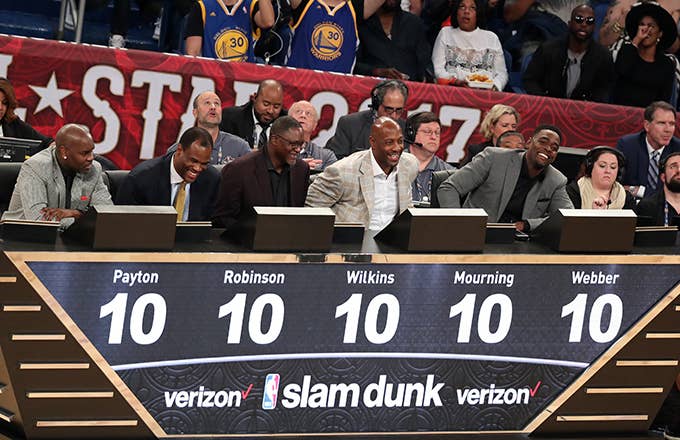 It's the end of August, and basketball fans are desperate for any type of hoops news. What's that, the Oklahoma City Thunder are using the stretch provision on Kyle Singler? The Philadelphia 76ers signed Anthony Brown to their training camp roster? Please, give us more!
With the NBA regular season still two whole months away, one random man may have landed on teams' radar after a video of him schooling kids at a daycare went viral. Here's the scene: there's a kid-sized basketball hoop that appears to be roughly eight feet high. Then there are a bunch of children, and one grown-ass man—take a guess who was the victor.
Security camera footage captured said grown-ass man going beast mode on the competition.
He dunks, blocks, crosses, and Euro-steps with reckless disregard for his opponents' egos and ankles. His dominance resembles a hybrid of LeBron James, Allen Iverson, and Shaquille O'Neal in their prime. Maybe his dominance is a reflection of weak competition, or maybe he's the most complete basketball player we've ever seen—you be the judge.
It appears the man, who posted the footage on his Instagram, compiled the mixtape—and set the clips to the tune of Rae Sremmurd's "Powerglide"—after recording the videos off of a feed of the security camera. We only hope the popularity of the post doesn't mean this guy will get in trouble, because the video is truly harmless and hilarious.