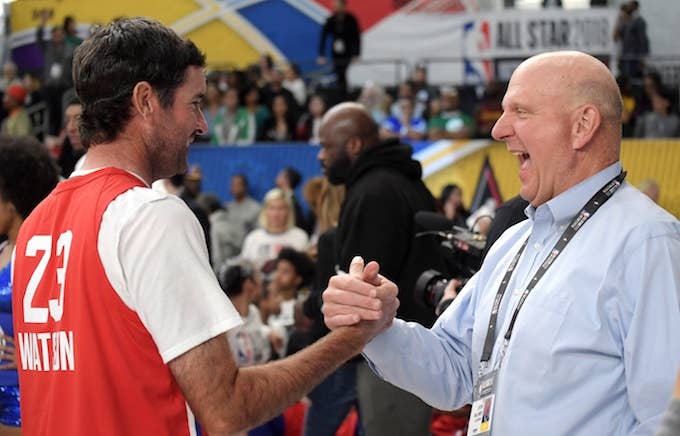 The Philadelphia 76ers are sitting pretty now. Behind promising young players Joel Embiid and Ben Simmons, the Sixers have vaulted into contender territory. But it took a long time, and lots of losing, to get there.
Though The Process looks wise in the rearview mirror, the Sixers' tanking strategy still has plenty of critics—like Los Angeles Clippers owner Steve Ballmer. During a meeting with fans and season-ticket holders this week, Ballmer—one of the most impassioned owners in all of professional sports—said his team absolutely would not embrace tanking.
"That ain't us. Nuh-uh, no way," Ballmer said, according to Helene Elliott of the Los Angeles Times. "People can do it their way. We're going to be good our way. We're not going to show up and suck for a year, two years."
Then came the Philly criticism.
"I think we got higher expectations on us than the long, hard five, six years of absolute crap like the 76ers put in," Ballmer added. "How could we look you guys in the eye if we did that to you?"
Former Philly general manager Sam Hinkie led The Process, but he was fired before it bore fruit. During this past season, the Sixers went 52-30, winning their final 16 games of the regular season. For about a month, Philly looked like a legitimate contender to win the East. The Sixers ended up losing in five games to Boston in the second round, but they showed plenty of promise, and expectations are high entering the 2018-19 campaign.