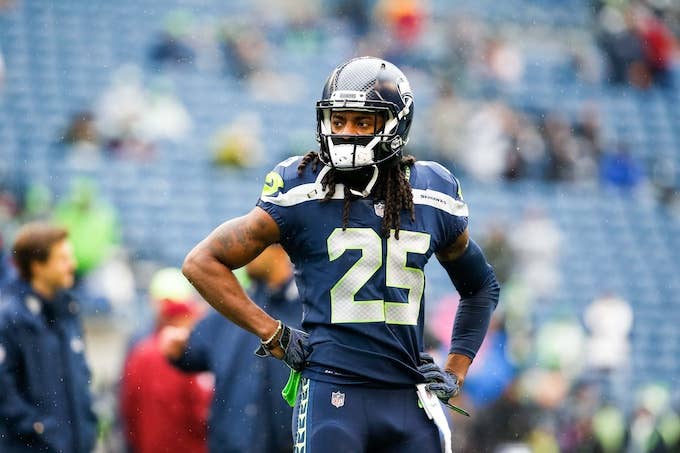 The Seattle Seahawks ended an era Friday when they parted ways with All-Pro cornerback Richard Sherman. Sherman had spent all six years of his NFL career with the Seahawks. He had made four Pro Bowls, and as a key member of the "Legion of Boom," he had emerged as one of the NFL's best defensive players.
Sherman, however, suffered a ruptured Achilles last fall, and whether he'll be able to return to top form is unknown. One day after he was released, Sherman signed a three-year deal with the San Francisco 49ers.
As many noted, this was ironic because the Seahawks and 49ers were rivals not too long ago. They met in the 2014-15 NFC Championship Game, where, in the game's waning moments, Sherman deflected a Colin Kaepernick pass to Michael Crabtree to seal Seattle's trip to the Super Bowl. In an iconic post-game interview with sideline reporter Erin Andrews, Sherman was emotional.
"Well, I'm the best corner in the game!" Sherman shouted. "When you try me with a sorry receiver like Crabtree, that's the result you gonna get! Don't you ever talk about me!"
Perhaps unsurprisingly, some Seahawks fans are unhappy Sherman decided to sign with San Francisco. At least one fan has already burned his Sherman jersey.
In a decidedly NSFW video, the fan cursed out Sherman while setting his 25 jersey aflame. The fan called Sherman a "traitor."
Sherman addressed the jersey burning in a conversation with Peter King.
"I love the fan base to death, and I loved playing there," Sherman said. "It was such a great opportunity. I helped the organization get to a great place and stay there. But now it's like I abandoned them. People are out there burning my jersey. Come on. I'm not the one who let me go. They let me go. I didn't abandon anybody."
It's sad that Sherman even needs to defend himself. Do better, fans.