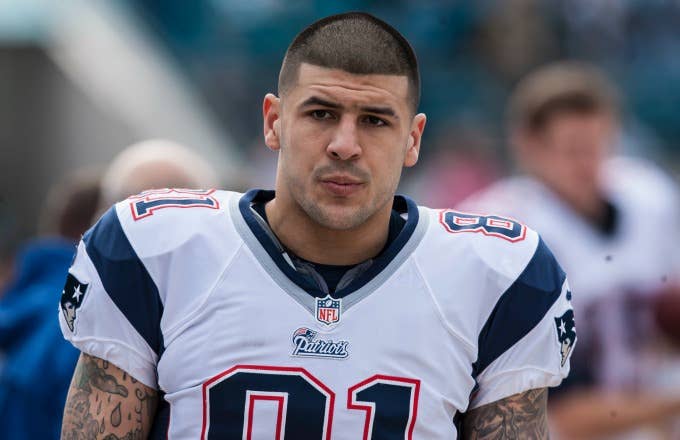 With championship weekend approaching in the NFL, it's easy to forget about Aaron Hernandez. Yet it's been less than three years since the former New England Patriot tight end died and only seven since he was one of the most salient offensive threats in the league.
But we all remember that some of the details of Hernandez's story are mind-bending.
He went from happy-go-lucky kid to millionaire NFL superstar—part of an unprecedented 1-2 combination with Rob Gronkowski in Bill Belichick's offense—to convicted murderer. Then, right after he was seemingly given a new lease on life, he hung himself in his jail cell, with numerous variables potentially contributing to his decision. 
His is a complicated tale that leaves much to interpretation, presenting the question, Should we have any sympathy for Aaron Hernandez? Thankfully, Netflix has undertaken the task of objectively unpacking the circumstances, leaving each viewer to answer that question individually. 
You can consume this riveting tale in the three-part documentary series debuting Jan. 15. We got a sneak peek. Below are 10 big takeaways.
One of the most interesting facets of this documentary is the inclusion of audio-recorded phone calls from jail between Hernandez and associates—including his mother, fiance, friends, agent, beloved cousin, former teammates, and more. These intimate recordings add a new dimension to the story, providing a glimpse into his perspective while he was locked up.
For example, in one call shortly after entering jail, he says, "I'm very healthy. I love my cell—it's so cozy." Indeed, the audio shows Hernandez was doing just fine when he was first arrested. He even seemed chipper. Given his notoriety, officials were keeping an eye on him.
"Prison officials put him on suicide watch, as they do with any person like Aaron or anybody who's dealing with the kind of charges and the kind of pressure he's under. Because inevitably, that person breaks down," says journalist Dan Wetzel.
But that seemed unnecessary. He was happy to have three meals a day and relieved to no longer have people relying on him. He also enjoyed his daily hour of recreation time in an 8-by-12 cage, referring to his exercise in that hour as "training camp." Early on, he had a positive disposition.
"Aaron Hernandez went from a 7,100 square-foot mansion to 7-by-10 square-foot jail cell and moved in like it was no problem," Wetzel says.
Though the recordings paint an optimistic picture at the outset, however, they also go on to demonstrate his range of emotions and how his point of view morphed over time. He grew increasingly frustrated as his trials proceeded and his jail time grew longer. On multiple calls, he argues with his mother and fiance, chastising them with aggressive language, even noting his desire to punch his mom. On other calls, he reminisces about his glory days. And on others, he reflects on perhaps the most important person in his life.
He had a Complicated Relationship With His Father
Hernandez played in college on a star-studded Florida team coached by Urban Meyer and led by star quarterback Tim Tebow, winning a national championship in 2009. But he came this close to suiting up for a far less-heralded program: the UConn Huskies.
Those in the Hernandez family were diehard fans of the program—even their dog was named UConn.
At 14 years old, Hernandez attended the school's football camp and dominated. With his rare combination of size, speed, and coordination, they offered him a scholarship and he accepted. His older brother, DJ, was playing QB for the school, and they shrewdly got to him first. It seemed to be a done deal.
But when Hernandez's dad died, he decided to rethink things and took a visit to Florida, the No. 1 program in the country. He shocked his family by committing to the Gators on that visit, signing on to play for rising star Meyer, one of the fiercest competitors in college football.
"Football meant everything to him," Meyer recalls. "He was very committed to it. His focus was on point. Loved the game."
Hernandez's life began taking a negative turn after heading to the Sunshine State.
There was Trouble at Florida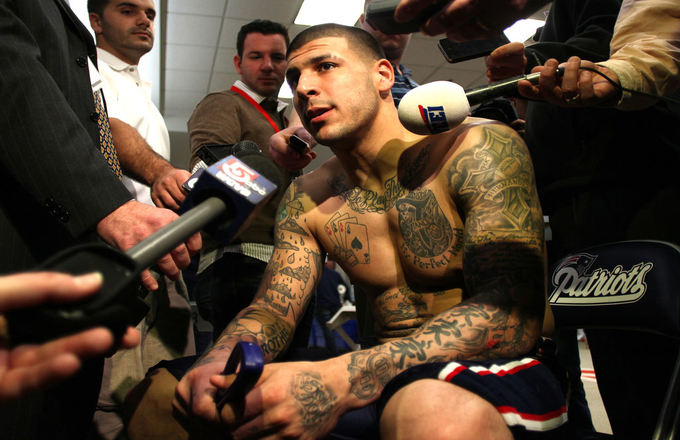 Counter to what many believe, Hernandez did not grow up in a tough area. Hailing from Bristol, Connecticut— home of ESPN—he attended Bristol Central High School, which is described in the documentary as "a typical American high school." It was a perfectly normal, safe place.
Further, Hernandez was not a troubled kid or bully.
"Cheesy smile, always happy…most of the time he picked on himself," Sansoucie recalls. "He didn't pick on other kids."
The lighthearted Hernandez was a star in basketball and track and field in addition to football. He later started hanging out with some shady figures who were involved in the Lloyd murder—friends "Bo" and "Charley Boy." The two are described in the documentary as "low-lifes trying to latch onto Hernandez," but their past was nothing crazy.
"These guys were small-time crooks," Wetzel explains. "One of them had been convicted of stealing bicycles. This was not a hardcore crew he had put together."
He Struggled to Bond With the Patriots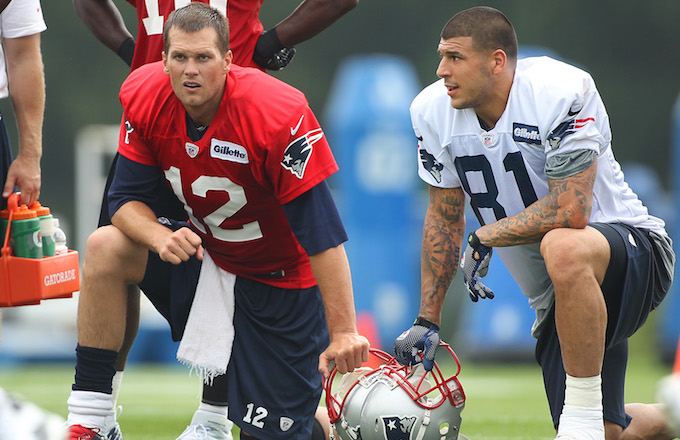 Lloyd, 27, was dating the sister of Shayanna Jenkins, Hernandez's fiance. In other words, the two men were poised to be brothers-in-law—and they seemed to be friends. They connected over shared love of football (Lloyd played semi-pro ball as an outside linebacker for the Boston Bandits) and weed (Lloyd was nicknamed the "blunt master"). They'd smoke and play video games together in Hernandez's man cave.
By all accounts, Lloyd was upstanding, respected, and respectful. His sister describes him as a "protector and provider."
The documentary runs through every piece of evidence a viewer could want, but it's still largely unknown why Hernandez killed Lloyd. His motives are lacking. 
The murder is described as a messy crime, with Hernandez doing a poor job of covering his tracks and tons of circumstantial evidence linking him to the killing. For example, he even failed to erase the security footage at his own home, which showed him holding a gun that sure looked like the murder weapon.
Incredibly, Lloyd's family says throughout the documentary that they've forgiven Hernandez.
"I miss my baby boy Odin so much, but I know I'm going to see him again someday," says Lloyd's mother, Ursula Ward. "And that has given me the strength to go on. I forgive the hands of the people that had a hand in my son's murder, and I pray and hope that someday everyone out there will forgive them also."
Wiggins, like others, praises Ward for her admirable strength: "Just the way she carried and presented herself was amazing to me."
But the murder of Lloyd wasn't the only crime involving Hernandez.
He Avoided a Double-Murder Conviction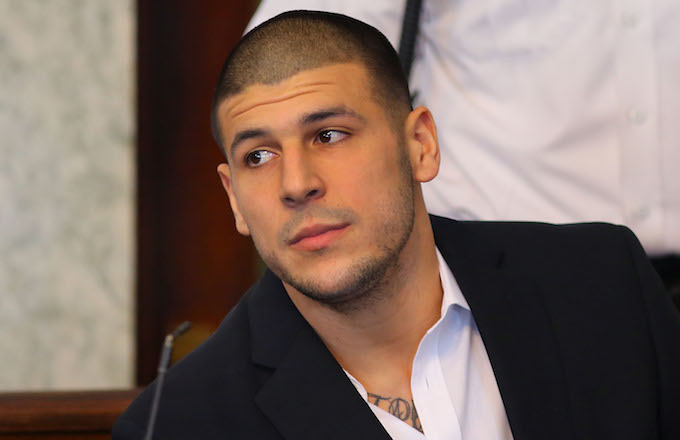 The theme of Hernandez's sexuality, much like his relationship with his father, saturates this docu-series. Romantic involvement with men was a part of his life from an early age. His brother says Aaron was molested by their babysitter, and Hernandez had an "on-and-off relationship" from seventh grade to his junior year of high school with Sansoucie, his childhood friend and high school QB.
"Me and Aaron experimented and I'll be honest, we continued because we probably enjoyed it," Sansoucie says. "In school, there weren't a lot of kids that were out of the closet, and the few that were, I was looking at them like, 'What a homo.' Here I am, I'm the football player, I was in such denial because I was an athlete. You mean to tell me that the quarterback and tight end were gay? They sleep with other men? No. It doesn't sit right."
They were also both terrified of their fathers finding out. O'Callaghan, a former Pats O-lineman, is also gay. He says many closeted gay men have female partners, or "beards" to act as a cover for their sexuality. O'Callaghan, who also had suicidal thoughts at one point, says he can empathize with Hernandez feeling he had to mask his attraction to and involvement with men.
"I can't imagine if I had acted on my natural urges to get with other guys, if I'd actually done that, the paranoia that would've been in my mind to feel like I'd covered my tracks and nothing would get out," O'Callaghan shares.
Hernandez reportedly had a lover in prison.
"He wasn't ashamed of who he was," Sansoucie shares. "Aaron was proud of his sexuality. It was just, he couldn't say anything—at the time, there was no one in the NFL that had ever broke this news."
Hernandez's sexual involvement with men came to light in a CNN report that outed the former football star, and he was mocked on a Boston sports radio talk show. Two days later, he was found dead. 
His Brain Showed Signs of Trauma