UPDATED March 11 6:38 p.m. ET: Stephon Marbury posted a message on his Instagram Stories responding to the backlash he has received for saying that LeBron isn't a "real Laker." Marbury claims that his statement is not only an opinion, it's a fact, but also stresses that there are more important issues in the world to be concerned about that have nothing to do with the game of basketball.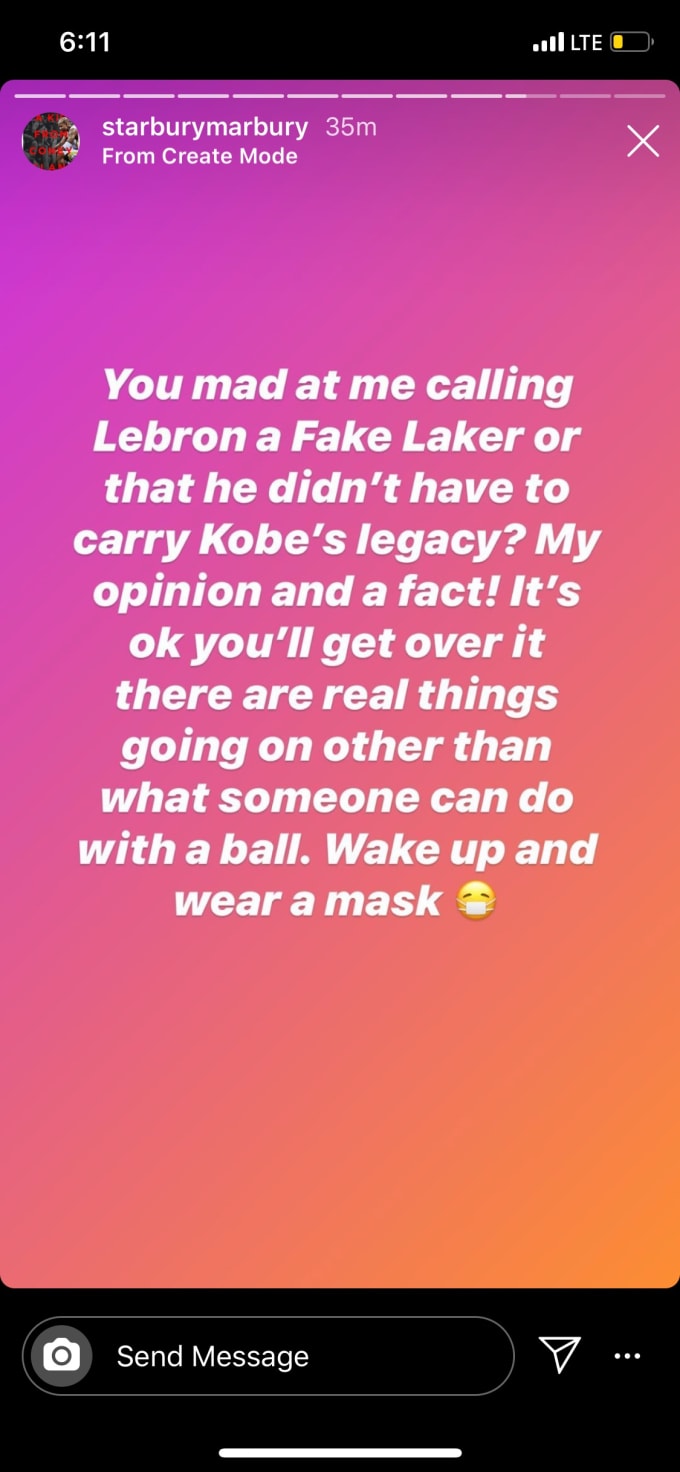 See original story below.
Stephon Marbury has been making headlines while promoting his documentary A Kid from Coney Island, most recently on Complex's Load Management podcast, where he said that LeBron James is not a "real Laker."
Marbury's comments didn't sit well with First Take's Stephen A. Smith, Max Kellerman, and guest Matt Barnes, who all agreed that it was an unnecessary shot at James.
"Every great Laker has a 'chip to go along with their name. If Marbury would have said that I got no issue," Stephen A. said. "But to sit up there and go after LeBron like that for what? ... It's just that sometimes [Marbury] gets caught up in expressing himself about stuff he's got no business expressing himself." 
Along with Stephen A., admitted LeBron stan Shannon Sharpe also responded to Marbury's comments during FS1's Undisputed.
"Hell no," Sharpe said when asked if Marbury had a valid point. "Here's another guy trying to take a shot at LeBron from a distance. ... I just want to know one thing Stephon Marbury. Is Kevin Garnett a real Celtic? I get it. Kobe was traded there on draft day from Charlotte and he spent 20 years in that organization. Is Kareem a real Laker? Because he was drafted by the Bucks."
Marbury's first-ever podcast appearance was an eventful one. 
"You don't need to go and get guys like LeBron to go speak and talk about what they're going to carry and all that," Marbury said when talk turned to Kobe Bryant. "He doesn't need you to carry his legacy. His legacy is his legacy. Carry your own legacy. Keep you poppin' and going. You're not no real Laker. ... So when you hear these guys saying this type of stuff and doing these types of things, I'm wondering what is it for. Is it for show or is it for real life?"
For Marbury, Kobe's death hit hard, especially since they were both a part of the 1996 NBA Draft, and Marbury had a front-row seat to watch Kobe blossom into the face of the league. "That's my classmate. Like, for real, '96," Marbury said about Kobe. "We battled went up against each other for years. Over a decade. That work that was put in. That was different work."