This Saturday, newly minted UFC middleweight champion Israel Adesanya will defend his title for the first time against perennial contender Yoel Romero at UFC 248. Fresh off a historic 2019, Adesanya will look to continue his meteoric rise to the top of mixed martial arts in perhaps the stiffest challenge of his career. Though he has come up short in two previous title bids, Yoel Romero has long been one of the UFC's most accomplished middleweight fighters. He owns knockout wins against three former champions, Lyoto Machida, Luke Rockhold, and Chris Weidman, and has consistently sought the toughest challenges the division has to offer. But Adesanya will be plenty for Romero to handle. 
In only seven UFC fights, Adesanya has earned four Performance of the Night bonuses, two Fight of the Night bonuses, the most knockdowns in a UFC title fight ever, with four against Kelvin Gastelum, and one UFC championship. He's triumphed in five-round wars and he's dominated opponents like Derek Brunson, who he destroyed in the first round. In just two years with the promotion, the fighter known as the "The Last Stylebender" has electrified the sport, while breathing new life into the UFC's middleweight division. At 30 years of age, Israel Adesanya is the UFC's youngest current male champion. Despite having already reached the pinnacle of the sport, it feels as though he's just getting started. With those accomplishments in mind, here are five reasons why Israel Adesanya should be your favorite MMA fighter.
1. The Man Has Style(s)
Because Adesanya can take opponents out using a variety of fighting methods, fans call him "The Last Stylebender," a nickname that references Nickelodeon's "Avatar" cartoon. Thus far, Adesanya's proven to be a true student of mixed martial arts, constantly learning and adding new skills to his repertoire, including techniques taken from Brazilian Jiu Jitsu, boxing, kickboxing, and Muay Thai. In an interview with Submission Radio, Adesanya likened his quest for UFC greatness to that of his favorite "Avatar" character. "Aang the Avatar had to realize his potential to be in the Avatar by mastering all the elements, which are water, fire, earth, and air. I have to realize my destiny by mastering all the elements of martial arts," he explained. Add that to the fact Adesanya has more swag than any other fighter in the UFC, and it's easy to see why he's a once-in-a-generation style master.
2. He Could Be a Professional Dancer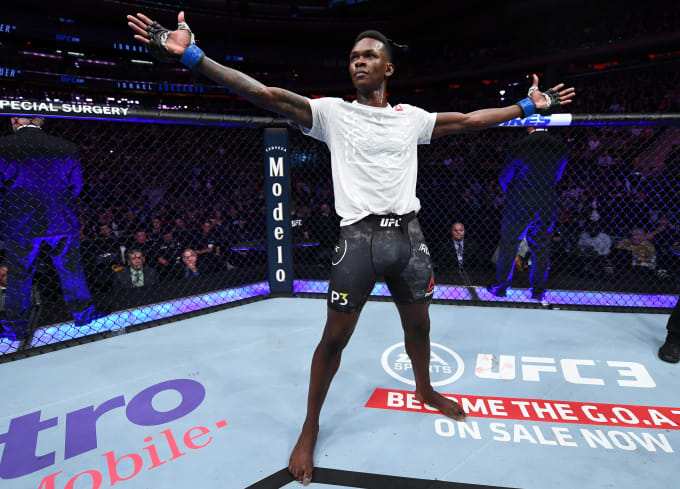 In one of the more impressive walkouts in the history of combat sports, Adesanya nailed a choreographed dance minutes before challenging Robert Whittaker for the undisputed middleweight championship. Accompanied by three friends, he performed a dance inspired by the Japanese manga series "Naruto." And the dancing only seemed to enhance Adesanya's focus, as he dominated Whittaker en route to a second round knockout win.
3. He's Down With the Culture
From his American-Anime nickname to his affinity for B-boy dancing, Adesanya is a champion made for today's generation of fight fans. He's a voracious consumer of pop culture who draws inspiration from cartoons, anime, films, and video games. He's modeled for top designers and even hit the runway during New Zealand fashion week. Whether he's rocking a translucent bomber jacket with covetable sneakers or pairing ComplexCon merch with classic canvass kicks, he's proven his personal fashion sense is as versatile as his fighting style. The guy is on brand for sure.
4. He's a Warrior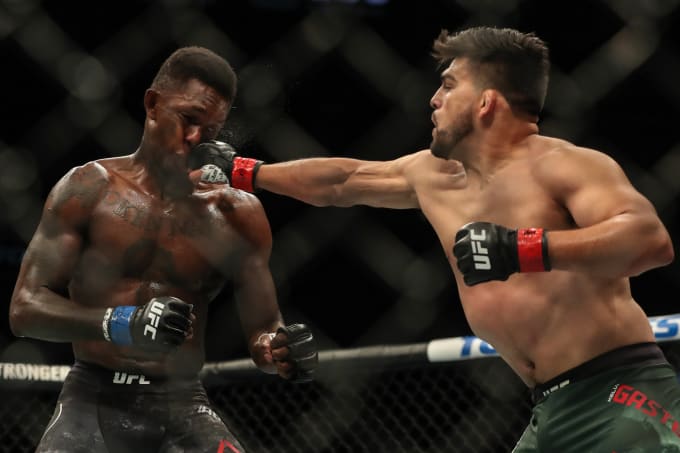 Last year, just days after his legendary bout with Kelvin Gastelum, Adesanya appeared on the "Breakfast Club," where he explained his victory to host Charlamagne tha God. "If you watch that and you see what I did in that fifth round, for me now I know I have another level… I went into the darkness and I embraced it," he said. Heading into the fifth round of that epic battle, the judges had the fight scored at two rounds apiece, making the final round the one that would decide the fight. Moments like that define great fighters and Adesanya did not disappoint. He found his inner strength, caught a second wind, and proceeded to lay a beating on Gastelum, sweeping the round on all three judges' scorecards.

5. He's Got a Great Nemesis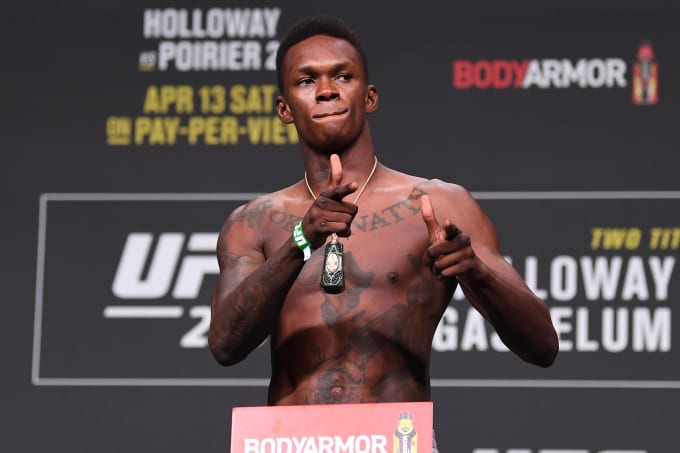 Every top fighter needs a nemesis and Adesanya seems to be finding one in Jon Jones, even though the two have yet to square off in the Octagon. For all his greatness, Jones has been a polarizing figure among fight fans. When Jones recently started going at Adesanya online, it seemed clear he'd identified a new rival who presents a legitimate challenge to his throne. For his part, Adesanya remained calm and confident throughout Jones' trash talking. Though Adesanya is only two years into his UFC career, a future matchup with Jones now seems inevitable. But first, Adesanya needs to get by the formidable challenge awaiting him this weekend in Yoel Romero. 
Don't forget to watch UFC 248 on ESPN+ PPV to catch Adesanya's title defense against Yoel Romero this Saturday, 3/7.