Conor McGregor Calls Out Khabib Nurmagomedov: 'Don't Be Scared of the Rematch'
It seems like McGregor may be coming out of "retirement" soon.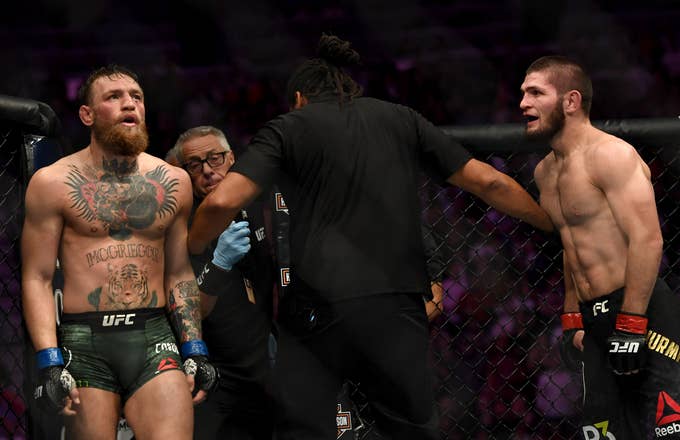 Getty
Image via Getty/Hans Gutknecht/Digital First Media/Los Angeles Daily News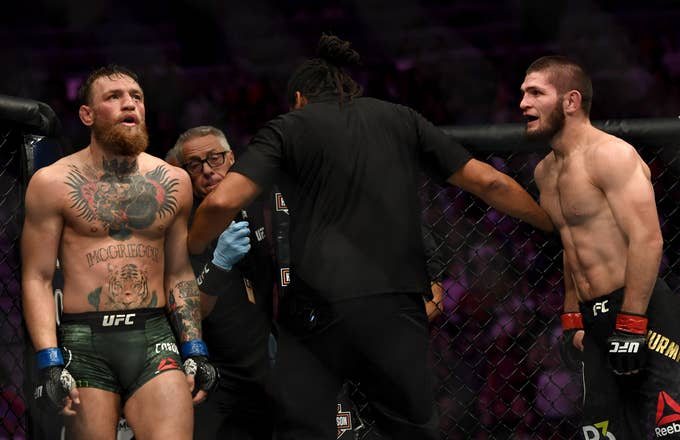 When Conor McGregor announced his retirement last week, there were a number of skeptics, chief among them being MMA rival Khabib Nurmagomedov. His argument was that McGregor simply couldn't reach a deal with the UFC, and that he would indeed make his way back to the octagon. 
Last night (Apr. 2), McGregor went on a Twitter rampage that suggested his return is imminent. First, he taunted boxer Paulie Malignaggi with a series of photos from their sparring session (this comes after the announcement that Malignaggi will face Artem Lobov, who is friends with Conor).
Conor then took aim directly at Khabib, calling Khabib's wife a towel (in reference to the traditional garments she wore) and challenging the "scurrying rat" for a  rematch. If that wasn't enough, he finished with a picture of him menacingly standing in front of a TV with his fight highlights, simply captioned "Surprise, surprise."
Khabib also took to Twitter to take a shot at McGregor by making a reference to news of a sexual assault allegation made against the Irish fighter.
When Complex asked the 21-4 fighter last month about the possibility of a rematch with Khabib, he said that he was "not quite sure at this moment who my next opponent will be." Shortly after his retirement, however, he set his sights on Mark Wahlberg (perhaps jokingly) to fight for shares in the UFC. It now appears that the rematch with Khabib is his priority. 
Shortly after the back and forth, McGregor took to Twitter again to say that he wants "to move forward, with my fans of all faiths and all backgrounds[...] Now see you in the Octagon."
I want to move forward, with my fans of all faiths and all backgrounds.
All faiths challenge us to be our best selves.
It is one world and one for all ❤️
Now see you in the Octagon.