Despite recent reports that he's headed for a showdown with Donald Cerrone, the biggest draw in the UFC says he doesn't know when his next fight is going to be or who it will be against. But Conor McGregor guarantees it won't come in the ring.
"I have been training and am ready to step back in the Octagon," McGregor told Complex Sports. "My fans are ready, and I hope to share an announcement soon."
Five months removed from his showdown with Khabib Nurmagomedov that earned him a six-month suspension thanks to the fight's wild and crazy ending, McGregor is amped to fight whoever UFC president Dana White wants him to. McGregor's just not in a rush. He can play it cool for all eternity after he reportedly made around $100 million boxing Floyd Mayweather in 2017.
"For me, I already have the money, so we fight now for the love of the game," says McGregor. "Money is important but not the key driver for me."
While he sorted out the details of his next fight, and before he made headlines down in Miami last weekend, McGregor answered our questions via email about his venture into the spirits business with his Proper No. Twelve Irish whiskey, if a rematch with Khabib is a possibility, and who he'd love to face in a boxing match when he returns to the ring.
(This interview has been edited and condensed for clarity.)
What was the inspiration for entering the whiskey business?
The decision to make my own Irish whiskey was very natural, almost inevitable. This is a country I love and where I live and where I will raise my children. Here in Ireland, we are great whiskey makers, so it was a natural creation for me. And, of course, I've always loved Irish whiskey. My late grandfather played a huge role in my taste for Irish whiskey. It was under his tutelage I began to study and truly appreciate whiskey.  
Over the years, I've been approached by many Irish whiskey brands asking me to endorse their product. Something about simply endorsing an Irish whiskey didn't feel right to me—I wanted to create my own, I wanted to do it my way, and I wanted to do it properly, from start to finish. I wanted to make a true Irish whiskey—something that would make my people proud. 
How good did that whiskey taste after Mayweather-McGregor, when you brought it to the post-fight press conference?
That was an initial blend. It took a lot more work to get it right. I didn't have any idea it would take so much work and time, but now the final blend I am proud of and love sharing.
What was your favorite moment from the entire Mayweather-McGregor experience?
The energy of the fans is always something I love. I have the best fans in the world, and I toast them all. It's a true honor every time to see my friends and fans from Ireland travel thousands of miles to see me in a match.
If you're the best trash talker in all of sports, what separates you from legends like Floyd Mayweather, Kevin Garnett, and others?  
I simply speak the truth. The thing about truth is not a lot of people can handle it. I don't shy away from questions that are asked. I never speak trash. I am an Irishman—a proper Irishman.
There is nobody out there like me. Winners focus on winning. Losers focus on winners. I'm not worried about what separates me from others.  All that matters is how you see yourself and being authentic to who you are.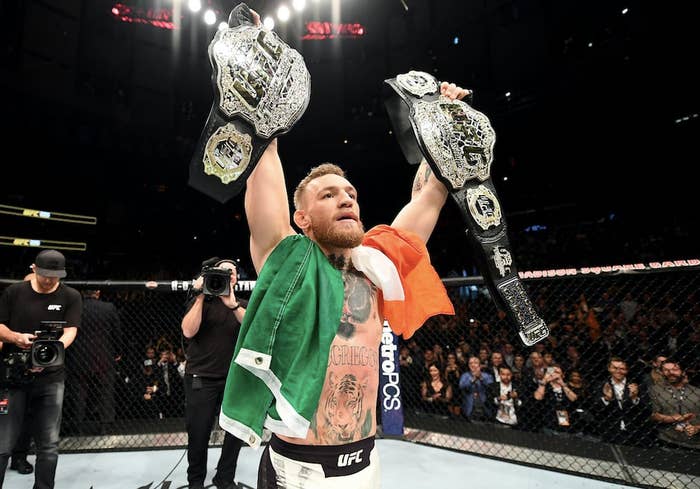 We've seen you at a few football games, including the Super Bowl, in recent years. What athletes in other sports do you respect and admire?  
I certainly enjoy American football. Since I was young, I have always shared a love for football [soccer] and my first ambition was to be a footballer. I'm inspired by champions and true competitors. Anyone who is dedicated to their dream and puts in the effort holds my respect.
Everyone wants to know when your next fight's going to be, so how close are you to returning to the Octagon?
Right now, I'm focused on my training to get back into the Octagon. I can't tell you how soon that will be, but I can tell you I am ready and don't hold your breath.
When would we likely see a rematch with Khabib?
Not quite sure at this moment who my next opponent will be. I will be prepared for anything Dana White and the UFC throw at me.
What are the chances we see you step into the boxing ring again?
Never say never, but right now I'm focusing on my family, MMA training, Proper No. Twelve Irish whiskey, and several other business ventures. I will surely box again, but timing is not determined by me now.
Who would you love to take on in the boxing ring?
That is a very good question. Time will tell. We get requests and offers every week, as everyone would love a "red panty" night with me so they can line their pockets with cash. For me, I already have the money, so we fight now for the love of the game. Money is important but not the key driver for me.