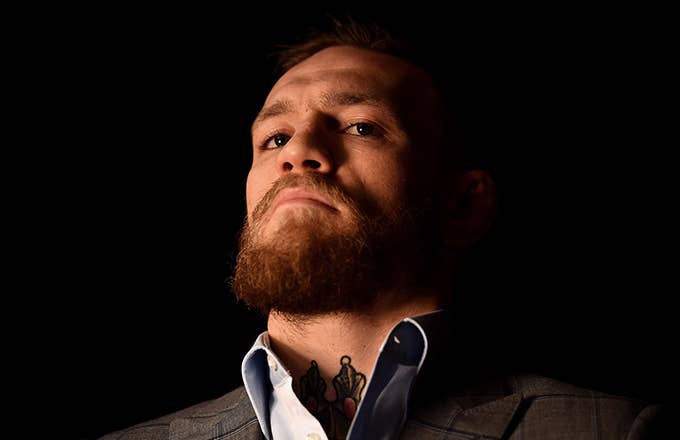 UPDATED Mar. 26, 4:15 p.m. ET:
Karen Kessler, a spokesperson for Conor McGregor's legal team, spoke to ESPN about the sexual assault allegations lodged against her client in the New York Times report Tuesday. "This story has been circulating for some time and it is unclear why it is being reported now," she said. "The assumption that the Conor retirement announcement today is related to this rumor is absolutely false. Should Conor fight in the future it must be in an environment where fighters are respected for their value, their skill, their hard work and their dedication to the sport."
See original story below.
Authorities in Ireland are reportedly investigating Conor McGregor after he was accused of sexual assault by a woman in December, according to the New York Times. News of the investigation comes just hours after the UFC fighter announced that he would be retiring from the world of mixed martial arts. 
Although McGregor has not been charged with any crime, he was taken into police custody in January where he was questioned by authorities and released shortly thereafter. As is typical in Ireland, an arrest does not indicate that charges will then be filed. Rather, according to four people familiar with the case, the allegations were pending further investigation following McGregor's release from custody. 
According to the source, the alleged assault occured at the Beacon Hotel in Dublin, where McGregor had most recently booked the penthouse suite in December. The report notes that the MMA fighter occassionally stays at the hotel and his last visit matches the timeframe of the alleged assault. Given laws in Ireland prohibit the press from naming rape suspects until they are convicted, reports have cited an "unnamed sportsman," who had been arrested for questioning in January while investigations continue. 
It remains unclear whether McGregor's retirement announcement had anything to do with the ongoing investigation. The athlete has experienced several run-ins with the law in recent years, notably when he was hit with assault and criminal mischief charges in New York for attacking a bus outside of Barclay's stadium in 2018. The UFC champion was also arrested earlier this month for smashing a fan's phone after they tried to take his picture. 
Neither McGregor nor the UFC have released a comment in response to the New York Times report.