Kobe Bryant Gave Kyle Kuzma the Ultimate Co-Sign After His Huge Game Against the Rockets
Kobe Bryant was impressed with what he saw out of Kyle Kuzma on Wednesday night.
Getty
Image via Getty/David Sherman/Contributor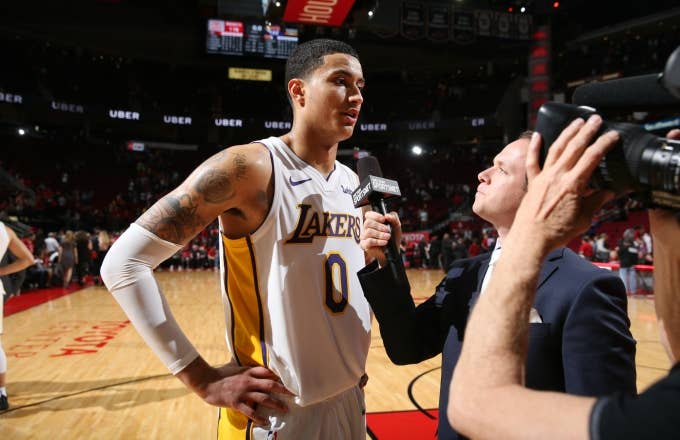 Kyle Kuzma has been a pleasant surprise for the Lakers through the first 29 games of his rookie season. While the former Utah star didn't have any of the hype his fellow rookie Lonzo Ball had coming into the NBA, Kuzma has looked like the one who should have been selected second overall in the 2017 NBA Draft as opposed to 27th. He's averaged 17.4 points, 6.6 rebounds, and 1.6 assists per game and shown a confidence you rarely see in most NBA rookies.
On Wednesday night, Kuzma put together his most impressive game yet against the Rockets. He shot 12-for-17 from the field and hit 7-of-10 three-pointers to score a career-high 38 points in a 122-116 win for the Lakers. He also grabbed 7 rebounds and dished out 4 assists, making him just the second Lakers rookie in the last 50-plus years to assemble a stat line like that. The other was none other than Magic Johnson.
According to ESPN, Kuzma is also the first rookie to put up 38 points, 7 rebounds, 4 assists, and 7 three-pointers since Jason Kidd in 1995.
During the game, there were plenty of NBA fans tweeting about how impressed they were with what Kuzma was doing. At this point, most people who follow the NBA are familiar with Kuzma and what he's done so far for the Lakers. But he looked like he has the potential to be a really special player on Wednesday night. So there were some strong reactions to his 38-point game.
Kuzma was decidedly less impressed with the game he played. While he was obviously happy to get a win—and a win over James Harden and the Rockets, no less—Kuzma downplayed his 38-point performance when he was asked about it and didn't seem to see what all the sudden hype around him was all about.
"Why not?" he said when he was asked about putting up more than 30 points. "I scored 30s in summer league. I've got the same mentality every time I step on the court. I try to play my hardest and just be locked in."
Kuzma also provided a ho-hum answer when Lakers reporter Mike Trudell spoke with him after the game. Trudell asked Kuzma if he expected to be this good this quickly after entering the NBA. His response exuded all the confidence in the world and should scare those who passed over him in the NBA Draft in June.
"Yeah," Kuzma said, very matter-of-factly. "No problem."
That answer was enough to earn Kuzma the ultimate co-sign from Kobe Bryant. Shortly after Kuzma's "yeah, no problem" answer started making the rounds on social media, Kobe got wind of it and decided to respond to it since it sounds like the exact kind of thing he would say. Bryant sent out a flexing emoji on Twitter to show that he definitely approves of Kuzma's overall approach to the game of basketball.
Kuzma may not have been impressed with his game on Wednesday night, but clearly, everyone else was. And if he wasn't already on most fans' radars, he will be now. Kuzma is looking more and more like a guy who could turn into the cornerstone of the Lakers' franchise in the years to come.