This article is brought to you by: NIKE CANADA
Nike's CROWN LEAGUE is in the home stretch as six teams of local superstar athletes' play for the top title in Toronto's own basketball league.
Week after week we've watched the city's top talent hit the court and shoot for excellence at Ryerson University's Kerr Hall. One of those all-star athletes is 24-year-old Adika Peter-McNeilly. The Northern Kings point guard is making his first, full-season appearance at CROWN LEAGUE, and he's determined to make a lasting impression. Of course, he doesn't need to worry about that. The six-foot-three guard from Scarborough is pretty damn charismatic and his positivity is infectious.
Peter-McNeilly started playing ball at a young age. In fact, his father's encouragement and a little inspiration from his three older brothers had him shooting hoops by the time he was three years old. As he got older, his love for the sport grew and it wasn't long until he was playing on rep teams, and volunteering at basketball camps.
These days Peter-McNeilly is living downtown and hitting the books at Ryerson University. When he's not studying toward a sociology degree, you can find him shooting hoops at Ryerson's gym, the RAC, which he admits is his favourite place in the city to practice.
As CROWN LEAGUE was getting ready to kick off its third season, Complex Canada sat down with Peter-McNeilly to find out just how pumped he was for his first year at CROWN LEAGUE, get the deets on where he likes to shop and more.
Complex: This is your first year participating in CROWN LEAGUE, right?
Peter-McNeilly: Yeah, it's my first full year. It's such a great opportunity; I get to play against a lot of people I played against when I was younger, and I look up to a lot of these guys. It also makes for a great Friday night with family and friends.
Complex: Toronto is really having a basketball moment. Why the spotlight on our courts right now?
Peter-McNeilly: I think there's a great buzz going on. I think it's just the hard work that the players, the coaches, and the organization in Toronto have put in. Eventually, you're going to break through and now we're starting to get recognition. I think it's a testament of the hard work of everyone who is being a part of the basketball community in Toronto. It's exciting to be a part of it as a player, and hopefully we can keep this growing so it's not a 5 year or a 10 year span, this is forever. 
Complex: And what is so great about Toronto?
Peter-McNeilly: I think it's the diversity; there's so many different people coming from so many different backgrounds and bringing so much diverse information and knowledge. Everyone is willing to learn from each other. I feel it's a place you can come in and be accepted for who you are and develop, so you can maximize your potential.
Complex: Favourite player? Past or present...
Peter-McNeilly: I think everyone my age would tell you it's Vince Carter. Growing up in Toronto and watching his dunks and 3's, and then going to the play ground and trying to do what he did. I wanted to follow in his footsteps and still stay loyal to my city.
Complex: How would you describe yourself on the court?
Peter-McNeilly: A person who wants to win. I'll do anything for my team to win. If that's sacrificing my own personal game in order to get my team to win, I'll do that. And just having fun. I'm a talker when I'm on the court – I keep the guys motivated and together, and make sure everyone's on the same page. I'm not a trash talker, I can't do it. I tried it before when I was younger, but I can't do it.
Complex: When you're not on the court, what are you wearing?
Peter-McNeilly: I'm casual. For me its mostly about comfort, but also classy. I wear a lot of cross trainers, Air Max, a lot of Tech Fleece. I'm really into Nike; I love that brand. If I want to dress up I got my jeans and a nice dress shirt. But most of the time I'm always in some type of Nike sweats, shorts and some nice shoes.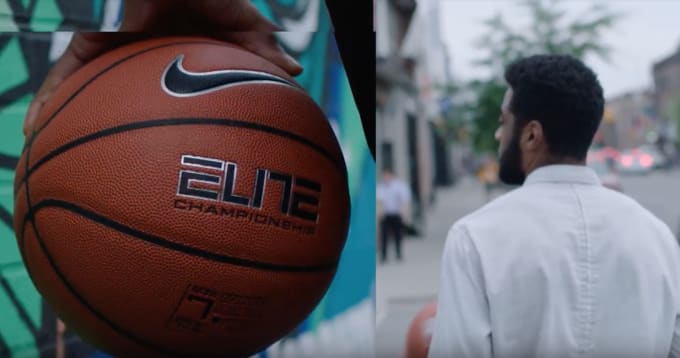 Complex: How do you think your style has changed over the years?
Peter-McNeilly: My brother used to always get on me because I would never take care of my shoes. I would get new Nikes and wear them in mud, in snow, I just wanted to wear them. In high school my feet stopped growing so I was finally able to start a shoe collection. From that moment when I started taking care of my shoes I would build my whole outfit off of that.
Complex: Are you a sneaker guy?
Peter-McNeilly: I'm a sneaker guy, I like Air Max and cross trainers. I like the design, and how comfortable they are. But, Air Jordan 10 Steel's, those are my favourite. That's the one shoe I got right when it was released.
Complex: Canada is celebrating 150 this year and everyone's talking about why they love Canada. Your turn... What's so great?
Peter-McNeilly: Canada is amazing. You can come to Canada and be yourself and develop yourself; everyone is willing to accept who you are. Having that ability to be accepted makes you feel better about who you are, and realize what you can become.