In his first news conference after being selected sixth overall by the New York Jets, Jamal Adams took the opportunity to establish himself as the most swagged-out rookie in the league. Taking the podium in a double-breasted, tan, windowpane suit, Adams declared, "I am the best dressed here tonight. For me to sit here and say I wasn't the best dressed, I would be lying to you." 
He planned it, he told us. Just like he wagered that he'd be drafted higher than his father, a former first-round pick for the Giants. And so, the excitement you'd expect on draft day from a man whose life was about to tremendously change was tempered with the poise that comes from having predicted—and worked for—this moment his whole life. The confident safety, who entered the draft after three seasons at LSU, already had plans for his first check as well: "This one right here, I am not spending. My first NFL check is going straight to Chase Bank." 
Complex spoke with Adams in Philly just before that big night as he was getting glammed up in the Procter & Gamble VIP Style Lounge. While getting a haircut and, yes, a pedicure, he told us he hoped that whatever team drafted him would also be a good basketball city—that obviously didn't work out. But he also discussed his admiration for the NBA's notoriously fashionable Russell Westbrook, what it's like seeing his name on ESPN, and actually, the questions he'd rather be answering.
I saw you tweet shortly after the Combine that you want people to stop comparing you. What names were they throwing around?
A lot of people were comparing me to other draftees; that was who that was mainly for, if I remember. But yeah, I don't like to be compared with other guys, especially if you don't know football. It's one thing to just watch film, but if you know the game, and know the ins and outs, you can break things down…'cause a lot of people just break things down by stats—how many picks you have, you're a better DB—no, that's not true.
Speaking of picks, is that your main goal when you're on the field, racking up INTs?
So my sophomore year I had two picks, dropped two, and then my junior year I had one pick, all the way up until the Bama game. So it taught me a lot of patience, it taught me to let the game come to you because if you rush the game, you're not going to make the plays. In the Wisconsin game, I dropped a pick, the ball hit the ground, and it was tough. You realize that you have to sit back and just let the game just come. If you're out there saying, "I need to get a pick, I need to get a pick," sometimes it just doesn't work out that way. I feel like everything happens for a reason. Ended with five picks. Not what I wanted, but I think it's fine.
So you're aiming to best those numbers when you hit the league.
Oh most definitely, you definitely wanna get picks in the league. Like looking at it, it honestly feels like in the league you can get more picks, 'cause—to me—it looks like a lot of quarterbacks just throw it up. In college, it's hard. But we'll see. I'm probably wrong. I probably am, like 99 percent [chance], but at the same time, I'm just looking forward to it.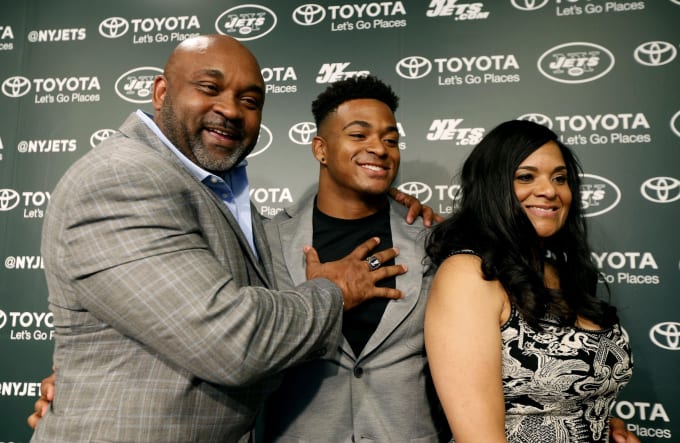 Was there a moment as a kid when you realized, "Oh wow, my dad is a big deal?"
Not really. I've always just been chill on it. He's really chill, too. I don't really feel like he feels the big deal either. His career was cut short. He was the 19th pick, and he could have done outstanding things, but it was cut short. But he's very grateful for the opportunity, he met a lot of people throughout the process, and he just said, "Don't take it for granted" because he wished he could be back out there doing what he loved to do.
I know this time in your life is incredibly hectic, but have you gotten a chance to watch any of the NBA Playoffs?
A little bit. My favorite player is Dwyane Wade. I've always been a fan of Dwyane Wade, since the Marquette days. But I'm also a fan of Westbrook. I love his intensity. I love how he comes to the game with that mindset and how he's himself with the fashion—I'm into the fashion world too, so I love what he does. But I've only caught maybe one game. I don't like to catch it until it gets really good. I don't know if I'll have any free time here pretty soon, but whatever team I go to, hopefully it's a city where I can go to the basketball games too. That would be pretty cool.
Westbrook, huh? OK. Describe your personal fashion sense.
I think my style is really laid-back, very classy, but I like to have pop. I'm not a flashy guy, but I like to have a little pop.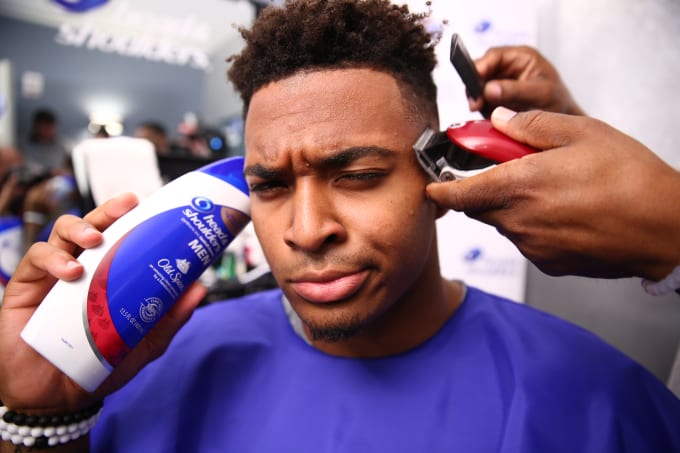 You also happen to have great hair. Tell us about this partnership with Head & Shoulders.
It's outstanding that I'm part of the family with Head & Shoulders. They're definitely a class act. It's definitely an exciting time for my family and I to get started with that brand. It speaks volumes that things are going in the right direction, things that I want are finally here, so it's an exciting time.
Odell Beckham Jr., an LSU alum like yourself, is also a member of the Head & Shoulders family. Have you thought about what it would be like to play with him or against him?
It's crazy—I saw him at the LSU Spring Game last week. We don't really talk about it, but it's surreal how everything came so fast. We saw him go off as a rookie, as soon as I came in [to LSU], and he did outstanding, as everybody knows, and hopefully I can just be there one day doing some of the things he's doing.
When did you realize, "Oh shit, all eyes are on me"?
Probably my sophomore year. Stared to make plays, and then there was speculation already that I was coming out my junior year. That was kinda crazy, seeing your name on the ticker on ESPN. A lot of people be like, "Do you look at it?" Yeah, of course, you see your name on ESPN when you turn the TV on, of course you gon' look at it, even though it's poison at times to a lot of people, but it's ways you handle it.
How do you handle it? It's only going to get worse.
For instance, it was an Uber driver, a young lady yesterday was like, "Who are you?" And I was like, "I'm a regular person, my name is Jamal Adams." I like to be known as regular, I don't like to be known as "Oh, this is a celeb." I feel like everybody is the same. Everybody just has different backgrounds. I just say stay true to yourself; you're not better than anyone, everybody's the same but just different ways of living life.
Last thing: What question are you tired of answering?
[Laughs.] Really just repetitive questions There was one guy who asked me about my father, like, "Have you ever seen his Super Bowl ring?" Of course I've seen his Super Bowl ring. You know, "What's it like?" That question gets old, but at the end of the day it's a process, and I answer it.
And on the flip side, what do you wish people would ask?
My coverage ability, a lot of people don't talk about my coverage ability. I feel like I am the best safety covering-wise. Oh—and my why. Why I'm doing this. People don't ask about my motivation, my why.