The question stops Charles Barkley in his tracks. You have to give him a minute so he can compose himself and stop laughing.
Three weeks after the trade deadline and eight days before he switches his focus from the NBA to the NCAA Tournament, Barkley's asked to name the most dysfunctional franchise in the Association.
"That's a great question," he says, pausing briefly to figure out who deserves the dubious distinction. "I think it's probably the Knicks."
Dysfunction can mean different things to different people, and certainly for this argument it might require some context. But the dictionary defines it as "abnormal or unhealthy interpersonal behavior or interaction within a group." And in the 2016-17 season, based on front office incompetence, bumbling basketball, and a general lack of a long-term vision, a number of franchises are worthy of that mythical title—like the Knicks, Kings, and Lakers.
But let's start with the bulls-eye placed on the Knicks by Barkley.
"The stories that come out are so far beyond how do you win. Is Carmelo going to be traded? How that even comes out? How do you respond to it? Charles Oakley. The continuation of that…that has been dysfunction."
The Knicks have been a joke for the 18 years James Dolan has controlled them and, amazingly, the 2016-17 season just might be the most dysfunctional under his tumultuous reign. With the team severely underperforming, team president Phil Jackson sub-tweeting Carmelo Anthony while actively trying to trade him, having a former icon arrested during the first quarter of a nationally televised game, and the owner accusing said former player of having a drinking problem, there have been nights where Madison Square Garden has resembled an asylum more than an arena.
"Dysfunction you'd have to be part of it, you'd have to see it. But from the outside looking in, I would say the franchise that has had the most stories that are unrelated to basketball are the Knicks," says Kenny Smith, who along with Barkley will serve as a studio analyst during CBS and Turner's broadcast of the NCAA Tournament next week. "The stories that come out are so far beyond how do you win. Is Carmelo going to be traded? How that even comes out? How do you respond to it? Charles Oakley. The continuation of that…that has been dysfunction."
After signing Joakim Noah and trading for Derrick Rose last summer, the Knicks, under new coach Jeff Hornacek, were expected to be a playoff team. Following three straight seasons of no postseason basketball, the Knicks finally had the talent around Anthony to conceivably compete for a spot in the Eastern Conference semifinals. It only took a few months to realize Jackson's marquee acquisitions were bad fits.
"One of the biggest problems New York has always had is they don't tell people they're going to have to be patient," says Barkley. "They keep kind of putting Band-Aids on things."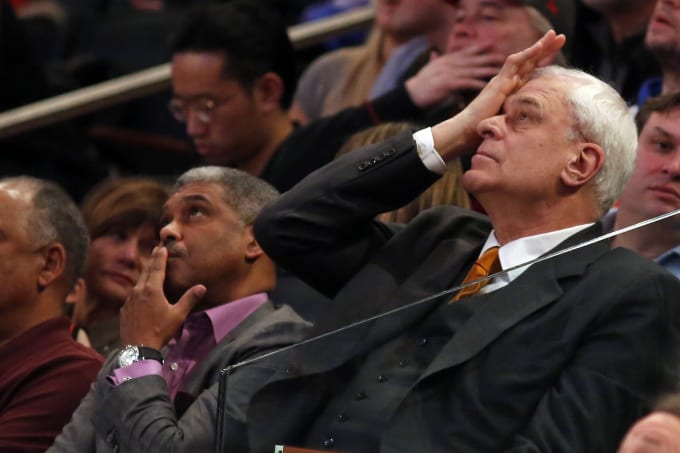 Jackson's insistence the team run aspects of his beloved triangle offense despite the coach's and players' hesitancy, coupled with extremely poor defense and a general lack of clarity on what should be the franchise's identity, has only exacerbated the dysfunction.
"I saw Pete Rock and I was like if you're making a beat for Jay Z, you know what type of beat you're going to make for him. You walk in there with a style," says Smith. "When I walk into Madison Square Garden, I don't know what style it is. You don't know if the guy you traded for is going to fit because you haven't established a style. That's what's wrong with New York, a lot of places, Sacramento. You can go down the list."
Running neck and neck with the Knicks for the title of most dysfunctional franchise would probably be the Kings. The head-scratching trade of DeMarcus Cousins for almost nothing in return, parlayed with GM Vlade Divac's crazy comments in the wake of the trade about neglecting to take a better deal and the reports of owner Vivek Ranadivé's meddlesome ways have made the Kings laughingstocks.
"I'm hesitant to talk about my partners," says Grant Hill, a member of the ownership group that purchased the Hawks in 2015. "I think the Kings give the appearance that [they have issues]. I think being in ownership and working with an organization, you try and have strategic direction, provide resources, and hire good people. I'm not in that organization, so I don't know all the dynamics. But what I've seen as of late hasn't been great."
The Kings haven't made the playoffs since 2006, owning the second-longest postseason drought in the NBA, and their prospects of making it back don't look promising after dealing away the best center in the league. And other than Cousins and Isaiah Thomas, who spent three and a half seasons in Sacramento, the Kings' record of drafting impact players has been as putrid as the Knicks'.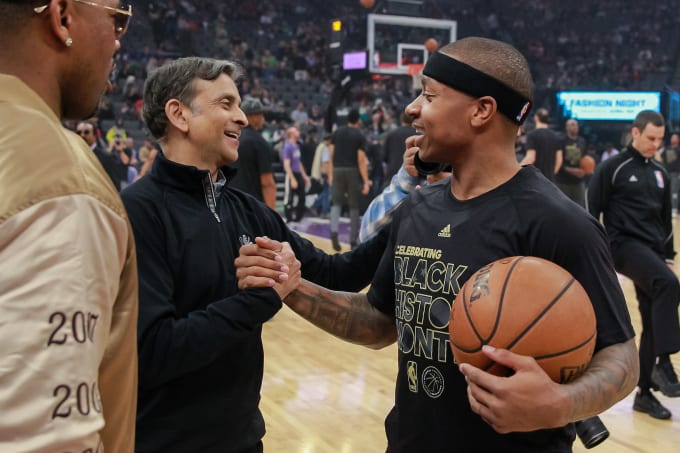 But more problematic than anything else has been Ranadivé, who assumed majority control of the Kings in 2013. His overbearing ways and awful personnel decisions—sound familiar, Knicks fans?—were outlined in Kevin Arnovitz's extensive profile of the organization this past January for ESPN.
Ranadive is said by his critics to be a cloistered thinker, beholden to his own whims. Kings partners are profoundly frustrated with his governance of the basketball side of the team, as has been reported, and amazed that he appears to have been emboldened, rather than humbled, by seeing so many of his decisions fail.
Should the NBA step in? 
"They can only make suggestions or take some of their people and put them in place to help them along," says a source who has played and coached in the NBA throughout the past 30 years. "They did that in Sacramento when they had the new owner. Still, the owner is the owner."
Divac's promotion to general manager from team president back in September 2015 has brought mixed results. While he has attracted some free agents to Sacramento and generally maintained cap flexibility, his handling of George Karl's exit last year was laughable and the Cousins trade could go down as the worst in NBA history. Reportedly, Ranadivé thinks Buddy Hield has "Steph Curry potential."
The Lakers are another worthy candidate as the team struggles through a third straight season with no hopes of reaching the postseason. But it's the infighting between the Buss siblings over control of one of the NBA's most storied franchises that has thrown the once stable organization into chaos. The hiring of Magic Johnson as president of basketball operations raised a few eyebrows with NBA observers, but bringing the legend back into the organization—and tasking him with stabilizing the 16–time NBA champions—has generally been praised.
"I think Magic coming in there, knowing what it takes to win, will be a big plus for them," says the source.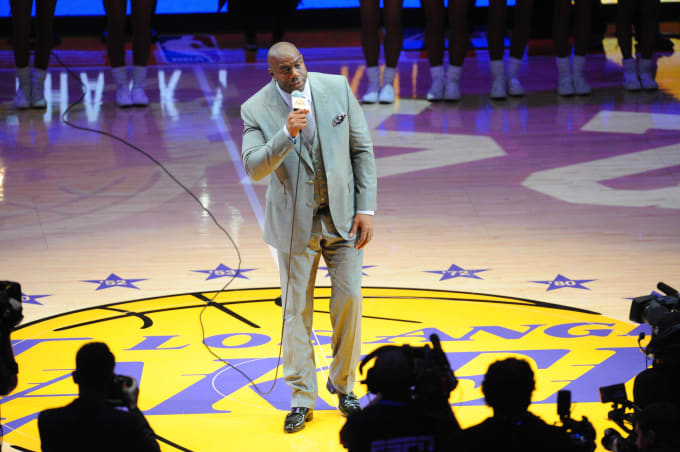 So that should take care of LA. Meanwhile, with two more years of Jackson running the show and Knicks fans pleading with Dolan to meddle and kick Phil to the curb, the dysfunction emanating from 7th Avenue and 31st Street in Manhattan has arguably reached an all-time high. So how to do you fix it? Smith—contrary to popular opinion—thinks it starts on the sidelines.
"The right coach, if they bring him in, will make it work," says the native New Yorker. "It's gotta be the right coach who demands a style of play every night. It might be the one you have eventually, but he's not here right now."