Russell Westbrook and the Oklahoma City Thunder's season has come to an end, but I repeat myself.
Their Game 5 105-99 loss to the Houston Rockets—a game that saw Westbrook post 47 points, 11 rebounds, and 9 assists in 42 minutes—brought to a close one of the most spectacular individual seasons in NBA history. Westbrook will likely be named MVP in June, the promise of the meme fulfilled at last.
It was a season where Westbrook did everything. Forget statistics, his usage rate was 100 percent. Whenever he came off the court, the Thunder fell apart. This was predestined from the moment Kevin Durant chose to sign with the Golden State Warriors back in July. With no one else ready to step up as a premier scorer, Westbrook had no choice but to play the way many expected he'd wanted to play all along. It was glorious.
Westbrook watched an MVP teammate walk in his prime, put a team on his shoulders, and went to work every single night. He did everything, left nothing. Just don't expect him to do it again.
From the first game—where he posted 32, 12, and 9 in Philadelphia—Westbrook cranked the volume up to 11 and snapped the knob off. His second game was a 51-point triple-double. He played with a relentless ferocity all season, stacking two more 50-point triple-doubles en route to an NBA record 43 on the season. He missed just one game, the Thunder's second-to-last.
He not only immolated the NBA record books, he threw off the entire conversation about what an MVP actually is. His 43 triple-doubles not only broke Oscar Robertson's 50-plus year old record, they became the focal point of a season that also featured more traditional MVP-level performances from James Harden, Kawhi Leonard and—as always—LeBron James. Stephen Curry, the two-time defending MVP, probably won't even finish in the top five this year, and he didn't exactly fall off.
Russ put up historic numbers in a historic season, and, if he does win MVP, he'll not only beat out Harden, Leonard and James, he'll also defeat history itself. The Thunder, winners of 47 games, finished 6th in a loaded West, which would normally itself be a disqualifier. But Westbrook burned so brightly, it's as difficult to deny him the MVP as it was to deny him the ball.
In its own way, Westbrook's season this year was as much of an outlier as Curry's last year, when he obliterated his own record for made 3-pointers. It's as hard to imagine Westbrook equalling his triple-double output as it is to imagine Curry hitting 400 threes again. It's something that burns bright but burns fast—Westbrook's fourth-quarter numbers show that. It's simply not a sustainable way to play, not for the long term.
The word "efficiency" gets thrown around a lot in basketball these days, mostly in terms of individual players. But for Westbrook, you need to look at the bigger picture. Letting your best player do everything might make sense in some ways, but it's certainly not efficient basketball. Using your bigs to enable your guard to grab rebounds is an absurd waste of energy and basketball talents, the former which is a finite resource. There is a reason that, historically speaking and Robertson aside, triple-doubles were a relative rarity even for multi-dimensional talents like Michael Jordan, Magic Johnson, and James. It's hard work, work that eventually must be paid for.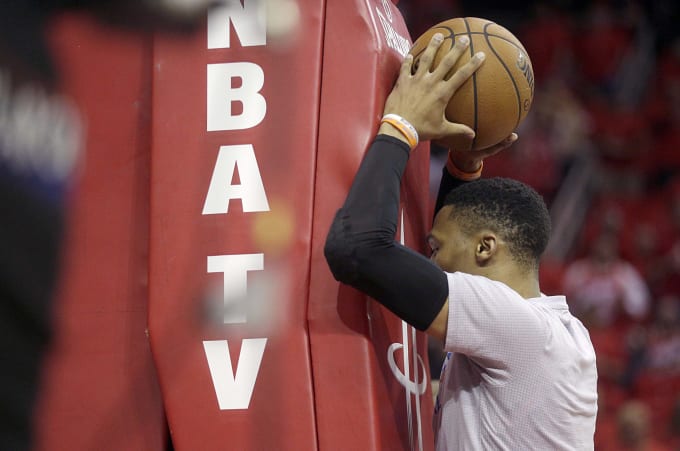 There are not many seasons in NBA history that can be compared to Westbrook's. There is Robertson's 1961-62, of course, the first (and up until this year only) triple-double season. And maybe Jordan's 1988-89 season, where he averaged 32.5, 8, and 8, even with the Bulls playing at the league's third-slowest pace. Robertson's team won 43 games in an 80-game season, and, like Westbrook's, won one playoff game. Jordan's Bulls posted the same 47-35 record as Westbrook's Thunder. (They also made the Eastern Conference Finals, but peak 26-year-old Jordan combined with 23-year-old Scottie Pippen and Horace Grant was a team on the verge of great things.)
Westbrook's abnormal season can't be judged by normal standards. Without him playing the way he did, the Thunder likely don't make the playoffs. But with Westbrook playing the way he did, they were likely doomed to fail once they got there. Again, it wasn't sustainable. The 2017 Thunder weren't equivalent to Allen Iverson's 2001 Sixers that made the Finals, an elite defensive team built around a ball-dominant guard. They were more like, say, Stephon Marbury's 2001 Nets—a poorly assembled (and injury-plagued) team that won 26 games.
Whether he wins MVP or not, Westbrook's season will never be forgotten. In averaging a triple-double, he accomplished something that no one ever thought could be accomplished in the modern era. And he didn't do it merely through talent, but through sheer will, against modern defenses well aware that he was the Thunder's only real weapon. He didn't rest, never doubted. Westbrook watched an MVP teammate walk in his prime, put a team on his shoulders, and went to work every single night. He did everything, left nothing. Just don't expect him to do it again.