Drew Brees is one of the greats. The Saints QB ranks in the top 10 in all-time passing yards, touchdowns, passer rating, and completions, and has a Super Bowl ring. He's also very charitable off the field, as he's involved in various charities like the Brees Dream Foundation and has helped rebuild communities affected by Hurricanes Katrina and Sandy. This year he's teaming up with Verizon Innovative Learning's #WeNeedMore campaign to help get more youth involved in the fields of STEM (science, technology, engineering, and mathematics) rather than banking on becoming a professional athlete.
But we didn't just talk about Drew's involvement with showing the kids love, we also talked the infamous NFL celebration do's and dont's tape, football in Las Vegas, Tom Brady, and Drew's five favorite quarterbacks.
(This interview has been edited and condensed for clarity.)
Has the NFL shown you guys the celebration tape yet?
[Laughs.] I have no idea what's gonna be on it. I think guys having fun is part of the game, the fans enjoy it. I think one thing that's missing is that they don't allow you to celebrate with teammates. Guys celebrating with teammates shows more of a team element than guys doing things on their own. I don't think that's the message we want to send to kids. The message we're trying to send to kids is, you can have fun playing the game but do it with your teammates. That's part of making this game fun. It's not just about you, it's the team.
"Maybe if they allowed guys to celebrate together, I'll get in on one."
With that being said, who's your favorite end zone dancer?
[Laughs.] Antonio Brown is pretty sharp and Odell always has something. Those two guys come to mind. I like Brandin Cooks when he shoots the arrow. The league told him he couldn't do that anymore. I'm sure that's gonna be on the video.
Do you have an end zone dance you would like to get off?
I don't, I'll let other guys take care of it. Maybe if they allowed guys to celebrate together, I'll get in on one.
You don't have a team celebration in mind, like maybe throwing a bomb and everybody falling?
I think we could do something better, that one is kinda old school.
How do you feel about football in Vegas?
Man, it's always tough to see teams leave. The Raiders are leaving Oakland, and the Chargers are leaving San Diego. Those are great communities that had really strong fan bases.
The Saints are attached to New Orleans the same way Oakland is to the Raiders. How would the N.O. handle a Saints move?
The Saints will never leave New Orleans. I'm telling you, it will never happen [Laughs].
After this past Super Bowl, is Tom Brady in your top five?
He's certainly in that conversation. When you talk about championships and the situations he's been in, it's pretty unbelievable how consistent he's been. There are so many great quarterbacks in each era, it's hard to argue one single greatest player.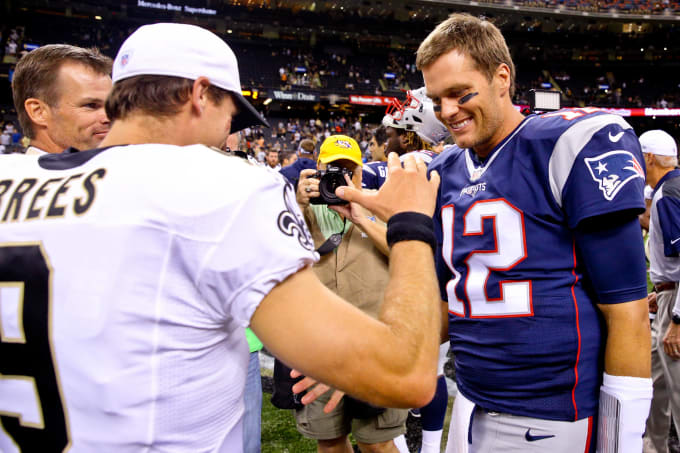 You have some impressive numbers that put you in that same convo. Who are your top five quarterbacks?
That's tough because some guys I didn't really get a chance to see play, but if you just look at stats, wins, championships; a guy like Otto Graham won seven championships in 10 years for the Cleveland Browns. You've got Tom Brady, Peyton Manning, Dan Marino, John Elway, Joe Montana. The list goes on. There are so many guys that I watch film on that are amazing. Roger Staubach is one, and his career was cut short because he had to serve in Vietnam. Had he played four or five more years in the NFL, who know the accomplishments he would've been able to achieve.
Who was the guy you tried to emulate when you played in your backyard and in the street?
I grew up as a Texas kid during the Cowboys heyday, I loved Troy Aikman. Joe Montana, too, I loved those matchups.
Tell us about the WeNeedMore campaign and the Verizon Innovative Learning.
This is a great campaign that Verizon's been putting together; they've been a big partner of mine for 10-plus years. It's something that was promoted during Final Four weekend. It involves LeBron James, myself, and other athletes. Basically we're trying to raise awareness and promote the field of STEM which science, technology, engineering, and math, and get young people excited about those fields being that there are going to be four million job opportunities in the near future. These are really the fields that are the drivers behind our society, behind sports, etc. The point is, we don't need more LeBron James' or Drew Brees', we need more kids that are passionate about STEM fields.