Kanye West is at UFC 202 at T-Mobile Arena in Las Vegas on Saturday night. The photo above shows him sitting in the crowd at the event. Mike Tyson is there, too. Here's a photo of him saying hello to Flavor Flav, who is also there: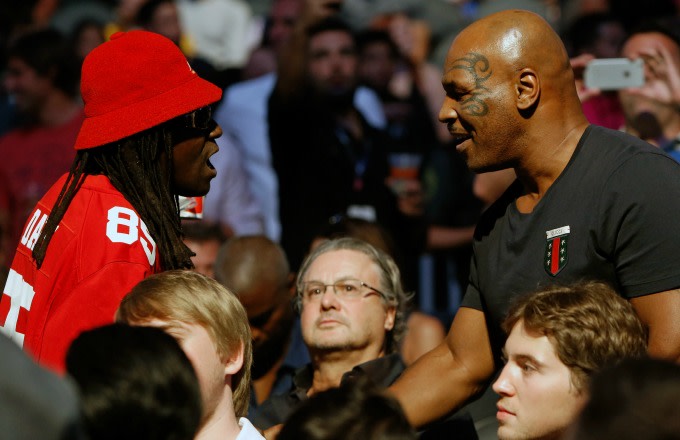 This shouldn't come as a surprise, seeing as how there are tons of celebrities at UFC 202. Dwight Howard, Kevin Garnett, Chauncey Billups, and more have gathered to see Conor McGregor and Nate Diaz fight. But what is surprising is that, according to Skip Bayless, Kanye had to ask Mike Tyson to GTFO of his seat at the start of the night—and amazingly, it sounds like Tyson obliged! It seems Tyson took the seat when he first arrived before Kanye got there, but Bayless is reporting that Tyson was more than happy to give it up when Kanye approached him and asked for it back:
Twitter is, of course, amused to no end at the thought of Kanye asking one of the baddest men on the planet to get out of his seat:
But it's nice to see Tyson taking the high road here. After all, it was Kanye's seat, right? Now let's get back to the main event. McGregor vs. Diaz is coming soon.