In January of 2000, Super Bowl XXXIV between the St. Louis Rams and Tennessee Titans became the first major sporting event broadcast nationwide in high definition. More than a decade and a half later, HD is now the standard and you'd be hard pressed to find anyone willing to watch the big game in anything less than 1080i. We may one day say the same about virtual reality, and that day might not be all that far away.
This fall, the NBA became the first major sports league to offer a live-streamed version of a game in virtual reality. In an opening-night matchup between the Golden State Warriors and New Orleans Pelicans on Oct. 27 in Oakland, Calif., the league provided fans a view of the contest in its entirety from the perspective of a fan seated courtside. But instead of paying upwards of $10,000 per seat, the cost of the Samsung Gear VR headset required to view the broadcast was less than $100. 
NextVR, the company behind this technology, owes the stunning images broadcasted onto these headsets to a unique, stereoscopic camera rig. The action is shot at 100 frames per second in 6k and with three-dimensional audio sound centered from the camera itself, creating an even more lifelike experience for users.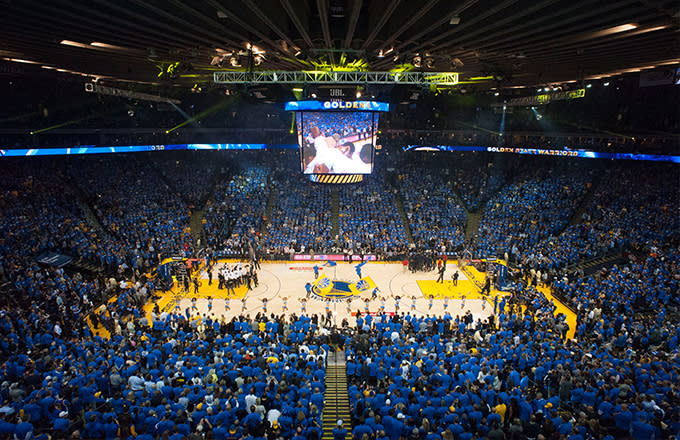 The virtual reality stream used in October's Warriors-Pelicans game allowed viewers to focus their attention anywhere in arena, a full 360 degrees, at any time. In an attempt to replicate the experience of actually being at a game, there was no commentary, only crowd and court noises. And in the future, as the practice of streaming games in virtual reality becomes more common, many in the industry expect each broadcast to feature a handful of cameras, capturing unique angles that can be cycled through at the control of the user. 
That's exactly what the company did this past summer, when they used five camera rigs to stream the U.S. Open from vantage points throughout the course at Chambers Bay. And they'll do the same this coming summer when they broadcast the International Champions Cup, a soccer tournament that pits the world's top club teams against one another. There will be cameras placed beside each goal, as well as at midfield, and users will be given the option to switch between cameras at any time. 
Creating realistic VR is about more than just creating breathtaking visuals, though. Other senses play a major role in making the difference between viewing and experiencing, and that's why NextVR uses 3D audio. A common misconception is that three-dimensional audio is the same as surround sound, and in some ways it is. But what sets 3D apart is that it allows the user to alter the audio they experience based upon where they focus their attention. If Jason Day is getting ready to tee off at 12 o'clock, and a bird begins to chirp at 8 o'clock, left of frame, one can turn their attention toward it and the sound will grow louder. If the action during an NBA game is happening on one end of the court, face the opposite direction and the sound of squeaking shoes and shouting players will diminish. The result is a truly immersive spatial reality that tricks your brain into believing you're in the middle of the action.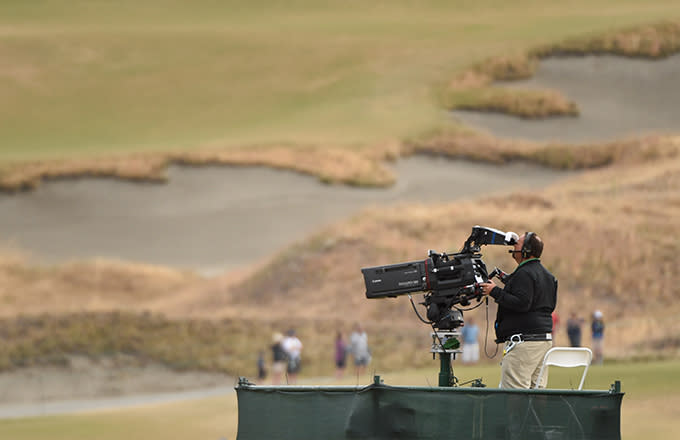 And in addition to visual and audial feedback, the company sees a future in which even haptic feedback is included. Intel's RealSense Interaction Design Group is currently developing a system that would take information gathered from three-dimensional camera rigs like those used by NextVR and turn it into vibrations across a number of sensors woven into clothing worn by the viewer. Imagine if not only what you saw and heard felt completely lifelike, but if the pulsating reverberations of the in-house PA system, the whooshing feeling of players running past you, and the bellowing roar of the crowd could be innately felt the way it only can be when you're actually at the game in person.
NextVR was founded in 2009 and recently raised over $30 million in Series A funding from Comcast and Time Warner. They have their sights set not only on expanding the extent and depth of their sports coverage, but also on creating a more immersive experience for viewers through the inclusion of social media and augmented reality. 
Brad Allen, the executive chairman of NextVR, has spoken of a future in which users can trigger the display of social media feeds using head gestures or by simply turning 180 degrees to view a social hub directly behind them during games. He even sees a future in which users can interact with these feeds and post content themselves entirely through the device. And in an even more distant, but likely not-too-distant future, he imagines headsets that allow viewers to mesh whatever they're watching with a view of what's immediately around them outside of their VR experience.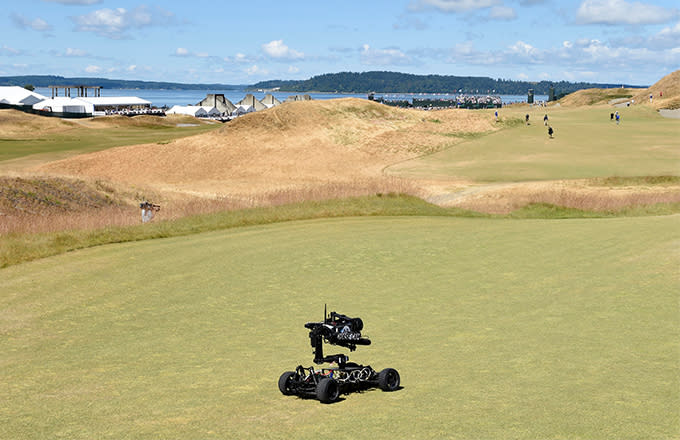 The technology is breathtaking, and the experience of watching a game in virtual reality is unmatched, but the next step for the industry is the hardware. In the same ways that the earliest high definition tech wasn't yet completely streamlined when networks began to switch to HD, we are still in the infancy of VR and the headsets on the market have yet to be perfected. But as companies like Samsung develop smaller, more comfortable VR wearables, many predict that the technology will see a boom similar to that of HD in the early 2000s. 
The early returns on virtual reality sports broadcasts are incredibly promising, and as more and more events begin to make their way to the "small screen," don't be surprised if virtual reality headsets are a hot holiday item this time next year.