Toronto made a splash as NBA free agency kicked off on Wednesday, signing 28-year-old forward DeMarre Carroll to a four-year, $60M deal that gives the team a legitimate "3 and D" man on the wing heading into next season.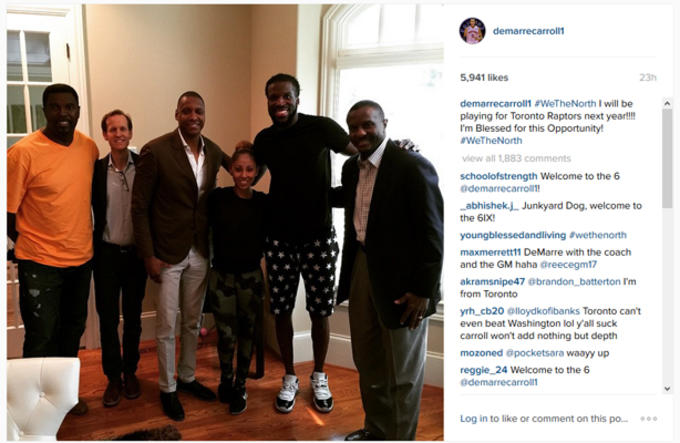 A first-round pick in 2009, Carroll kicked around the league for a couple years, bouncing from team-to-team before establishing himself as a solid reserve in Utah during the 2012-13 season, but it was over his last two seasons in Atlanta that the University of Missouri alum really blossomed and emerged as one of the top second-tier free agents heading into this offseason.
After having started just 21 games over his first four seasons in the league, Carroll became a full-time starter in coach Mike Budenholzer's "San Antonio East" lineup with the Hawks, manning the small forward position and defending the opposition's best wings on a nightly basis while pitching in double-digit points and five rebounds a night.
Given Toronto's desire to improve on the defensive side of the ball and Carroll's ability to operate without being one of the central figures on offense, he should be a perfect fit in the starting lineup going forward.
That being said, the signing comes as a bit of a surprise, not because the Raptors couldn't use a player with Carroll's particular set of skills, but because the price tag. While a raise from the $2M he made last season with the Hawks was a guarantee, handing over $15M per season for the next four years to a secondary piece who turns 29 later this month seems a bit steep.
Though Carroll is an excellent defender and solid three-point shooter (he made 39.6% from deep last season), he's three years older than Jimmy Butler and four years the senior of Kawhi Leonard, the two best "3 and D" men in the league. They're both currently free agents – though each is expected to re-sign with their respective teams – so it will be interesting to see the terms of their deals and where their annual salaries fall in comparison with Carroll in the next couple days.
While neither Leonard nor Butler were in play for the Raptors, they're remain Carroll's comps going forward, so it will be interesting to see how the newest Raptor measures up to the budding superstars over the duration of their respective deals.
Now the question is what becomes of the rest of the roster and the other free agent targets Toronto had in their sights?
The Raptors want to add two-way players and still need a power forward, with incumbent big Amir Johnson hitting the open market and quickly getting snapped up by the Boston Celtics. There has also been plenty of talk about Toronto looking to deal shooting guard DeMar DeRozan and having interest in ex-Portland two Wes Matthews, who is a much better three-point shooter and defender than DeRozan, but is coming off an Achilles injury and not expected to be ready for the start of the season.
And as much as the news of LaMarcus Aldridge taking a meeting with Toronto was great, the likelihood of the man the club should have selected first-overall instead of Andrea Bargnani (yes – we're still bitter) in 2006 coming north is minimal, as most around the league have leaned towards him signing with San Antonio since it was made clear that a return to Portland wasn't happening.
Toronto now has roughly $59M committed to next year, when the salary cap is expected to land close to $68M, and that's without including first-round pick Delon Wright's rookie deal. Of course, the Raptors will likely release veteran guard Luke Ridnour, clearing his $2.75M off the books.
Moving Terrence Ross, who hasn't developed as anticipated since being selected with the 8th overall pick in 2012 and is in the last year of his reasonable rookie deal, should be doable, and would leave Toronto with a little more than $10M to play with going forward.
While it's not enough to land a marquee name, there are plenty of second-tier options and cheap risk-reward types out there to be had, so Wednesday's signing is unlikely to be the last move Masai Ujiri & Co. make this offseason.