Earlier today, Sports Illustrated writer/reporter Richard Deitsch took to Twitter to talk about how Martin Luther King, Jr. Day is typically a day that features a bunch of social media fails:
And while things have actually been pretty quiet on Twitter with regards to MLK, Jr. Day—at least as far as social media fails go—the Seahawks just sent out a very insensitive tweet that's already been deleted. The tweet, which seemed to compare Seattle's amazing comeback against the Packers yesterday to civil rights struggles, has since been deleted. But it featured the caption, "We shall overcome," along with a photo of Seahawks quarterback Russell Wilson crying after Sunday's NFC Championship Game and an MLK, Jr. quote. This is what it looked like: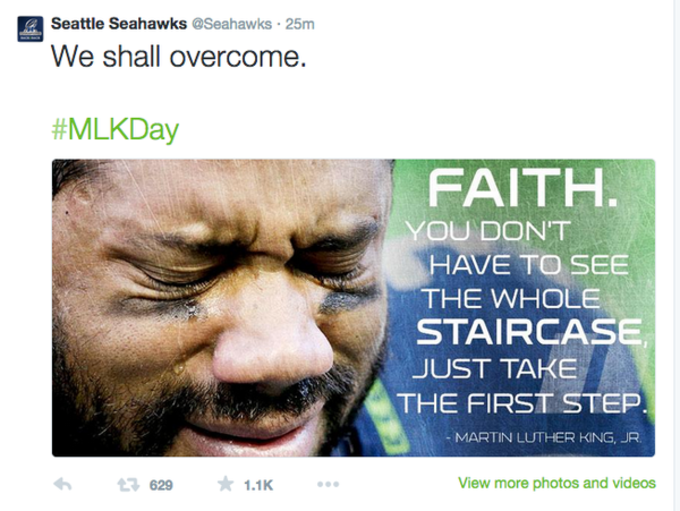 As you'd imagine, people were not receptive to the tweet. And while it wasn't up for very long, lots of them responded to it negatively on Twitter. Here are a handful of tweets that were sent out after the Seahawks tweet started to make the rounds:
Even we had to chime in:
Hey @Seahawks use our Marshawn Lynch Magic 8-Ball next time. "Should we send this MLK tweet?" http://t.co/p2C1urOhqn pic.twitter.com/CisY7RFYDJ

— Complex Sports (@Complex_Sports) January 19, 2015
What in the world were the Seahawks thinking here? Expect an apology any minute now.
[via Twitter]
Send all complaints, compliments, and tips to sportstips@complex.com.