*Note: we're not even going to bother talking about the first three quarters of the Seahwaks-Packers game. It wasn't that great, and it wouldn't do justice to the bonkers fourth quarter.
This game was over. Green Bay was leading 19-7 with five minutes left. Russell Wilson had just thrown his fourth interception of the day. The Packers were going to the Super Bowl.
And then things went absolutely bananas.
First, Wilson finally got the Seahawks in the end zone with a one yard run off tackle. With 2:09 on the clock and still trailing by five, Seahawks coach Pete Carroll rolled the dice and went for an onside kick. His gamble was rewarded when the Packers' Brandon Bostick botched the catch, and the Seahawks recovered:
On the Seahawks' subsequent possession, Marshawn Lynch rattled off a 24-yard touchdown run to all of a sudden put the home team on top with 1:25 to go:
Aaron Rodgers was not about to take a potential defeat laying down, though, and led the Packers down the field for this game-tying 48 yard field goal by Mason Crosby (who made five on the day):
The game went to overtime, and the Packers never even got a chance to save face. On 3rd and 7 from the Green Bay 35, Wilson found Jermaine Kearse a game-winning touchdown pass to send Seattle to the Super  Bowl:
How do you think these people felt?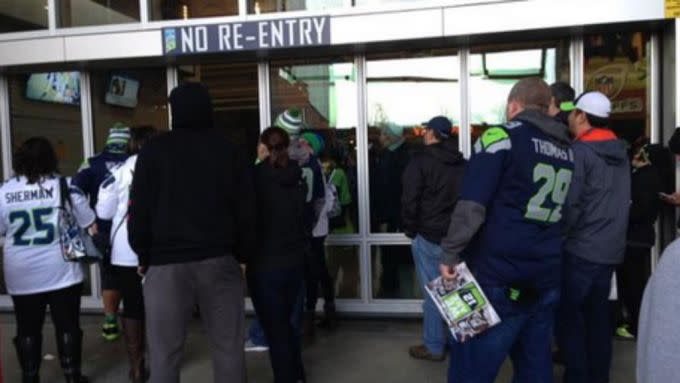 Send all complaints, compliments, and tips to sportstips@complex.com