Tinker Hatfield and Joey Harrington on Jordans, Oregon, and Giving Back Through Sneakers
Designer Hatfield and former Oregon Ducks quarterback Harrington are partnering for an exclusive sneaker raffle via the Harrington Family Foundation.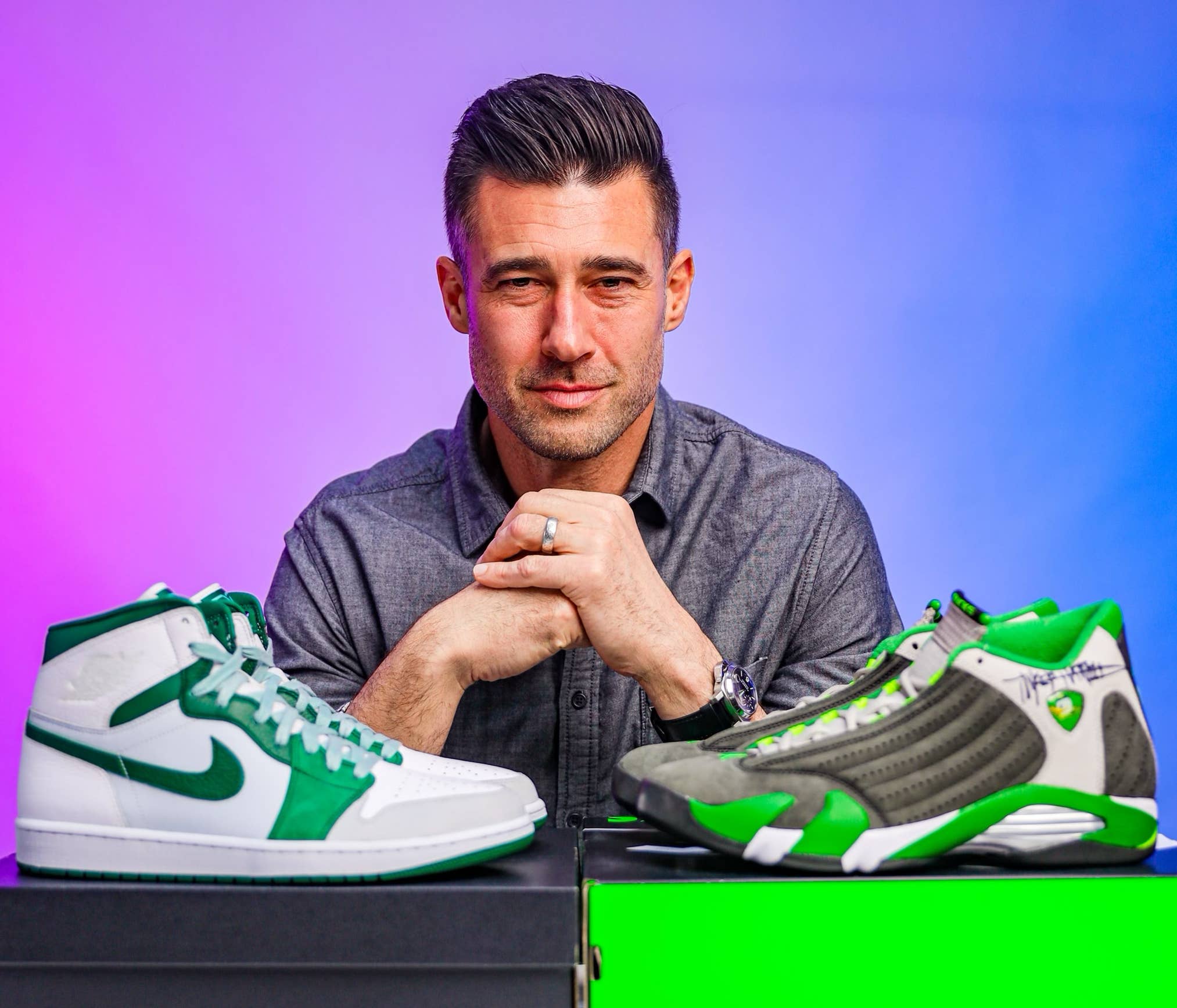 Getty
Joey Harrington's foundation is raffling off two pairs of exclusive Jordans. Image via DJ Willingham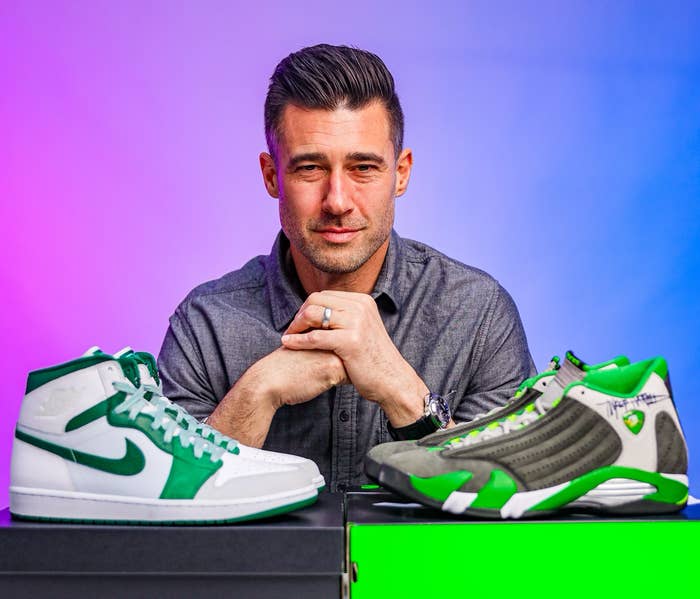 At a house in Northeast Portland, Nike designer Tinker Hatfield is ringing the doorbell. At work and among sneaker obsessives, Hatfield is a legend, the person who has contributed more to sneaker design than anyone else. Here, he is a neighbor, the quirky old guy you might see swerving through the bosky streets on his longboard. He comes bearing gifts.
"Hey, just brought these over for you," says Hatfield, in his hand a pair of exclusive Air Jordan 14s made for the University of Oregon football team and autographed by Hatfield.
Across the threshold is Joey Harrington, the 6'4" former NFL quarterback whose college career with the Oregon Ducks at the turn of the century made him a legend in this corner of the world. Leadership at Nike, headquartered not too far away, sought to enlarge his fame in 2001 by installing a towering portrait of Harrington in New York City to help his Heisman campaign.
After his career in the league, Harrington ended up back in Oregon, in the neighborhood he grew up in, where he can still map out families across each block by recalling long lists of last names as if from a census.
"Oh my God, this is perfect," Harrington tells Hatfield at the door.
The footwear exchange comes as a surprise to Harrington, but it's not the first pair he's received from Hatfield. The designer also created for him six pairs of white and green Air Jordan 1s bearing an H logo on their tongue. (It's the first time in Hatfield's recollection that he's reworked an Air Jordan 1 High, which is one of only a couple classic Air Jordans that he didn't design.) Harrington's held onto those shoes, the only of their kind in the world, for a few years before revealing them to the public this month.
The Jordan 1s and Jordan 14s are available through the Harrington Family Foundation, an organization Harrington founded in 2002 that provides mentorship and need-based scholarships to students in Oregon. Rather than auctioning the sneakers off to the wealthiest bidder, the foundation is making two size 10s available via a raffle that runs until Sunday with tickets selling for $25.
Harrington asked Hatfield to be a mentor in his scholarship program in 2014, seeing in him a model for how to come back and give back to the place that raised you.
"Tinker is an Oregonian who has built his career and built his brand to the point where it's known worldwide," Harrington says. "But the fact is he still comes back and still says yes and still lives down the street and still shows up on the porch with something to help our students around the state."
The history between the two goes deeper than the foundation. Hatfield was helping Nike reimagine Oregon's uniforms at the end of the '90s, right when Harrington was ascending at the school. Hatfield too was an athlete at Oregon, arriving there in the '70s a few years after Harrington's father, who was also an Oregon quarterback. (Hatfield was on Oregon's decorated track team, but he says he spent one pre-fall session catching balls from Ducks QB and future NFL Hall of Famer Dan Fouts; the school hoped Hatfield could play wide receiver so they could get more value out of him.) There's even the memory, too faint to confirm or deny, that one of Harrington's brothers dated one of Hatfield's daughters.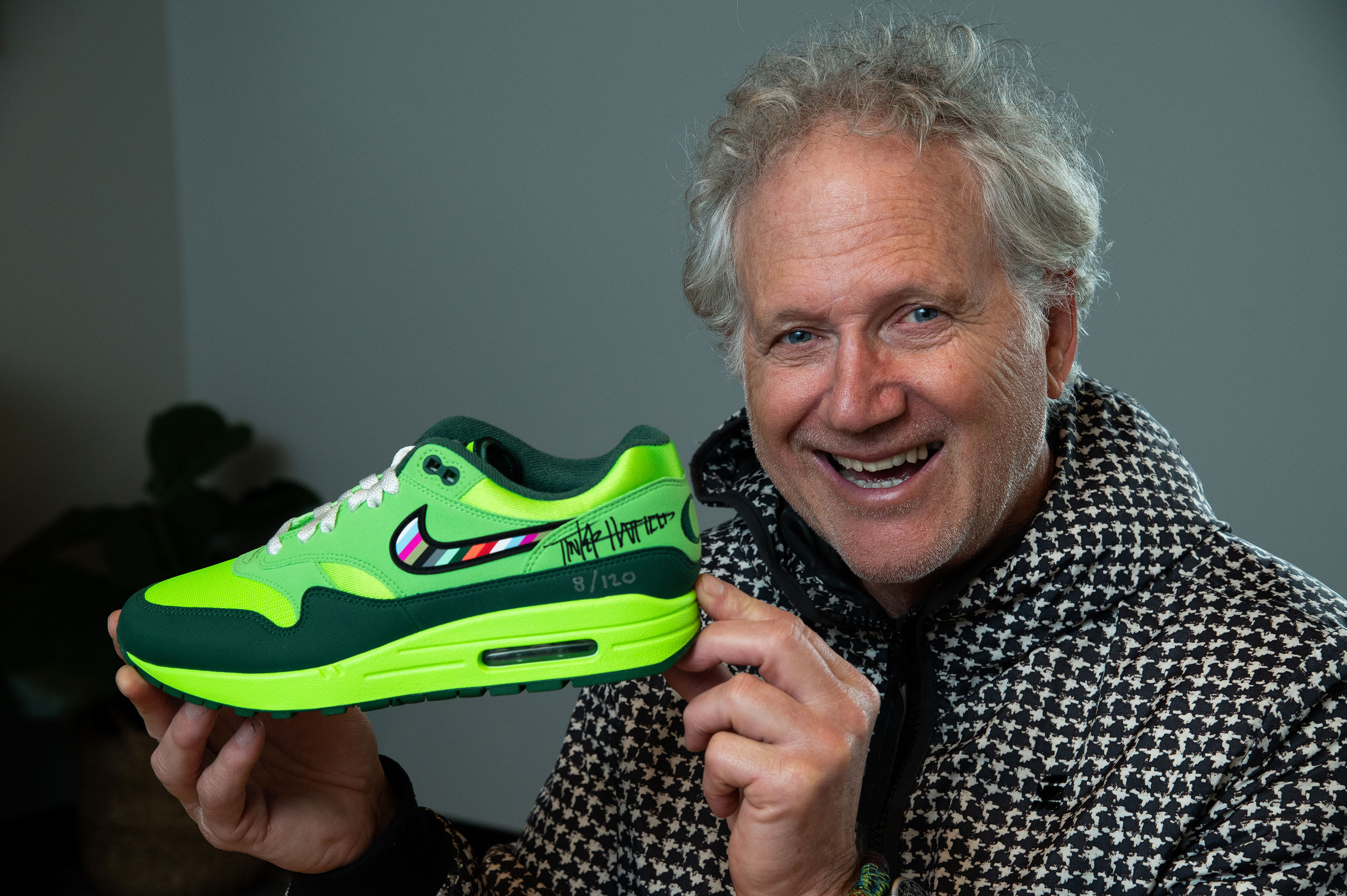 Here, we spoke with Harrington and Hatfield about their work together for the Harrington Family Foundation, the allure of Air Jordans, Phil Knight's ill-fitting wardrobe, Ben Affleck's portrayal of the Nike co-founder, and the feeling of home. While Harrington and Hatfield live close to each other, the conversation transpired remotely, over a video call. Before it began, Hatfield paused to illuminate the pair of Nike Mags sitting on the shelf behind him to set the mood.
The interview, although admittedly still indulgent on account of this writer also being an Oregonian and an Oregon alum, has been edited for length and clarity.
When did you guys first meet?
Tinker Hatfield: I think we actually met when Joey was playing at Oregon. And because I was leading up this whole uniform revolution that Joey was a part of. So I don't think we knew each other as much as we probably just met a couple of times.
Joey Harrington: Yeah, and it's funny because when you guys switched over to uniforms in '99 that wasn't even like the multi different versions every week. That was just for home and away. I hadn't even started playing yet. That first year that we had new uniforms was the first year I started playing.
TH: But I do recall that the coaches, I think, put you on a committee to talk to Nike now and then. Is that right? I remember that.
JH: I was definitely involved for those few years where we were working on changing the uniform game.
TH: Yeah, you probably had no idea who I was. That's probably why you don't remember we're talking.
Joey, it feels like for people who grew up in Oregon, there are a lot of natural connections to Nike that emerge, whether you're in Portland or you're in Eugene. Do you remember how you first made those connections? Was it this moment that Tinker's talking about them putting you on a committee?
JH: Yeah. I mean, that's the thing is, it was never really a big deal. It's just kind of like, oh, well, Tom's a banker, and Susie's a lawyer, and Tinker's at Nike. There's just people in the neighborhood. It was just a company that was making some shoes that kids wore and were just kind of starting to take off. I want to say the gravity of the whole thing didn't really hit until I was in college.
I wouldn't necessarily say on the committees, because looking back, we didn't know at the time that the uniforms would become such a massive thing in college football. For me, it was going and seeing myself on a 10-story billboard at the top of Penn Station across from Madison Square Garden.
To see my involvement in that, that was the aha moment for me like, "OK, this is for real now." It's bigger than just Northeast Portland, and it's bigger than the state of Oregon. It's because that had always been my frame of reference, right?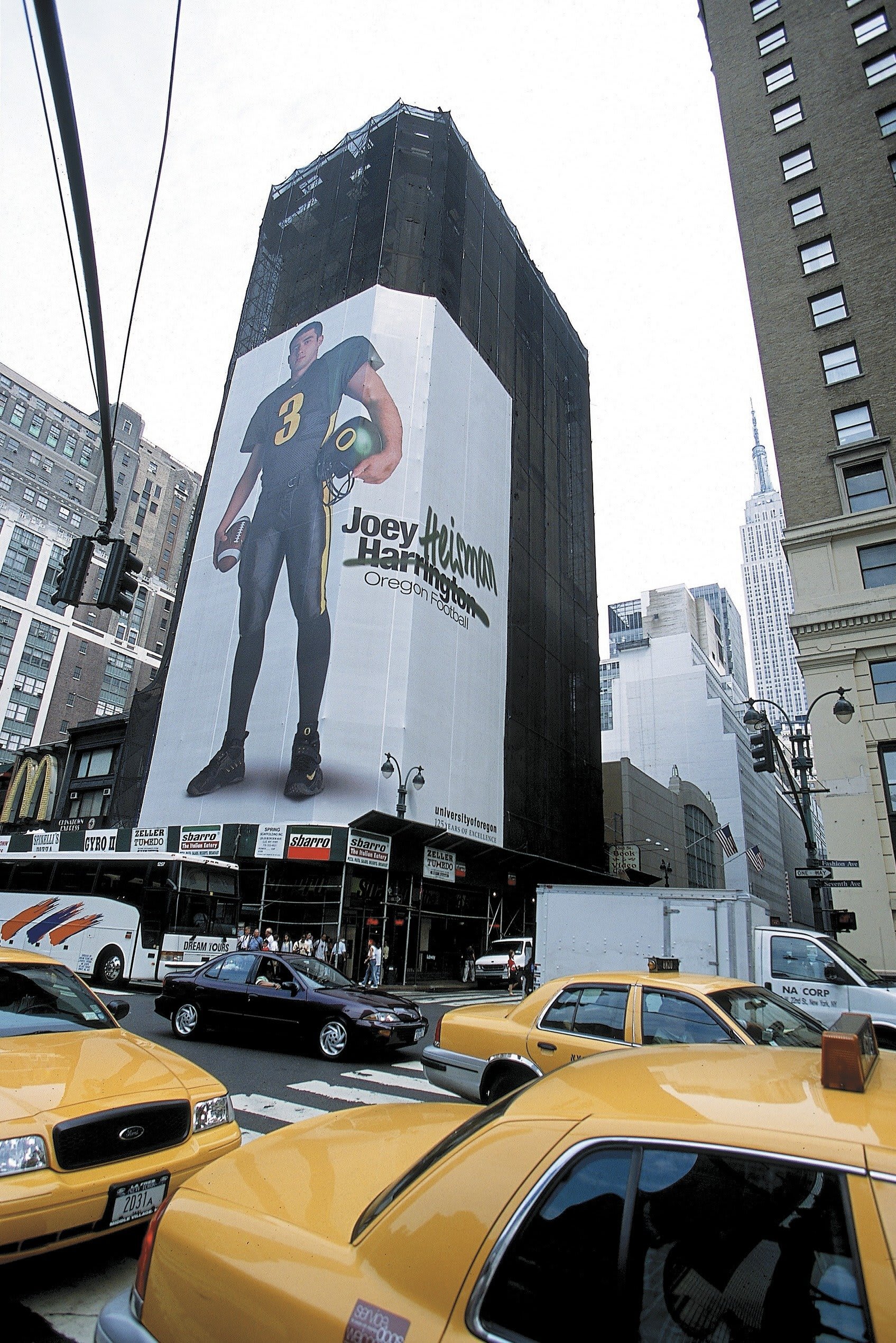 It's a local thing.
JH: It's just a local thing, yeah. We're standing there, sitting on the wall outside of the Garden and sitting there with dad, and I was like, "This isn't local anymore. This is real."
TH: I might add that a lot of Nike creatives, whether they're designers or in advertising, choose to live in Northeast Portland. And there's a reason for that, which is well, who wants to live in Beaverton, first of all? [Laughs]
But really, I think the creative side of Portland, as for quite a while, being the east side. I think there are really cool restaurants and lots of really walkable neighborhoods, walking, bicycling. And Joey remembers playing football in the middle of an arterial road with a big grassy circle.
JH: Yeah, the traffic circle on 39th and Glisan.
TH: You could sort of look at Portland and go, well, it is what it is. But Northeast Portland is like a town within the city. Ndamukong Suh lives just down the street from both Joey and me. There are others—Terrell Brandon, NBA player, grew up in the neighborhood. And I don't know, there's kind of this home county-ness to not Portland as much as Northeast Portland.
JH: It's interesting to hear you say that it's pretty spot on like it's a town within a city.
TH:Peter Moore lived in Laurelhurst forever. I mean, ever since I've known him, or until he passed away. I like to call Laurelhurst kind of the Irish mafia part of Portland, Irish-American mafia.
Joey, what was your access to Oregon or Nike sneakers when you were playing for the Ducks? It's a different era now, but I imagine you had the juice back then.
JH: Can I be honest? I didn't have my first pair...not that I didn't care, but I just kind of wore what they gave me, right?
TH: Didn't you wear high-tops for a while?
JH: To play in? Oh yeah, absolutely. But then after getting drafted, then Tinker, I think you sent me some Nike Frees, "Hey, try these out."
And I was like, "Oh my gosh, this is fantastic." And then start trying the Frees. And then I was like, you know what, you kind of go down that rabbit hole. But then I realized I had never owned a pair of Jordans.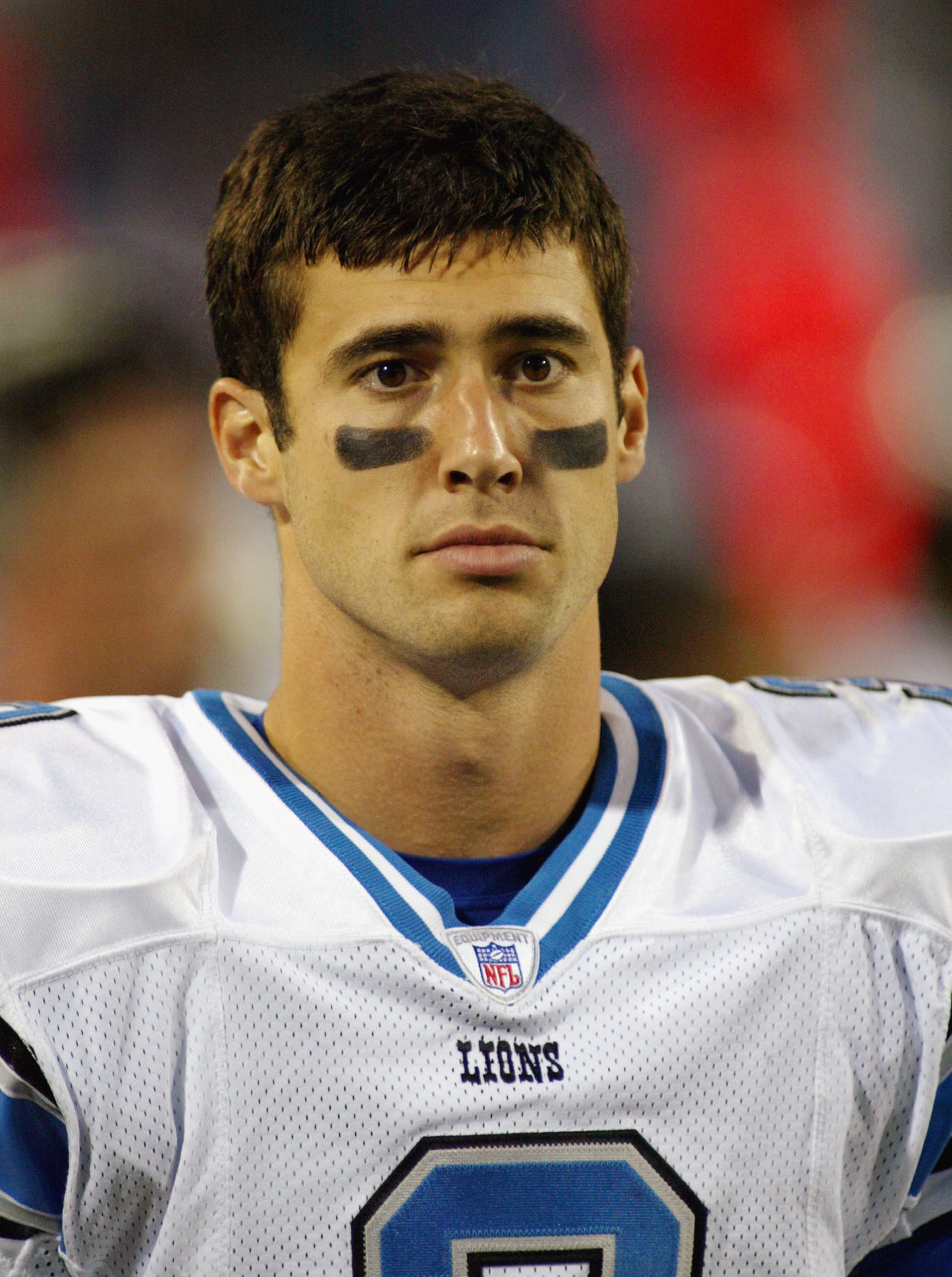 TH: You were probably the only kid in the whole world.
JH: Our basketball team, our varsity team, my junior year, they all had the 11s, the black 11s. That would've been my junior year, '96, right? I was like, "Oh my God, I could finally get that pair of 11s." I was the only kid on the team that didn't have them back then. I was like, "Oh, OK."
You could just ask the guy who designed them.
JH: Yeah, exactly. So during my time at Oregon, it was just more of a functional thing like, "Hey, here's what they gave you to work out in, here's what you got." And then afterward, then it became like, "Hey, try these out." I was like, "Oh, this, I get it now."
Joey, do you remember when you first met Phil Knight?
JH: Met, no. Saw, yes, because it was one of those days where we had practice in the stadium for daily doubles during the fall camp.
The practice was open. I know it was one of the older players on the team; I can't remember who it was. Phil and the helicopter had come in and we were in the stadium and it landed out on the field and like, "Oh, my God, Phil Knight's here, Phil Knight's here." And someone says, "Hey, which guy do you think Phil is?"
And we're all looking around at the people and the suits that are all sharp-dressed. I was like, "What about that guy? What about that guy?" And he's like, "No, see that dude over there in the black jeans and the black shirt?"
TH: The ill-fitting clothes.
JH: I'm like, "No, no. It's gotta be that guy in that tailored suit over there." He's like, "No, that's George Hosfield. That's Phil."
TH: He basically looked like he went into the Salvation Army, grabbed a jacket that's too big.
JH: It's always black. It's always black.
TH: Always black.
JH: Oversized black jacket.
TH: His sneakers are black, jeans are black. And then he wears this oversized jacket, and he kind of walks around with a little bit of a slouch, if you will. He is the greatest guy ever, but yeah, you wouldn't pick him out of a crowd and go, "That is Phil Knight." You just wouldn't.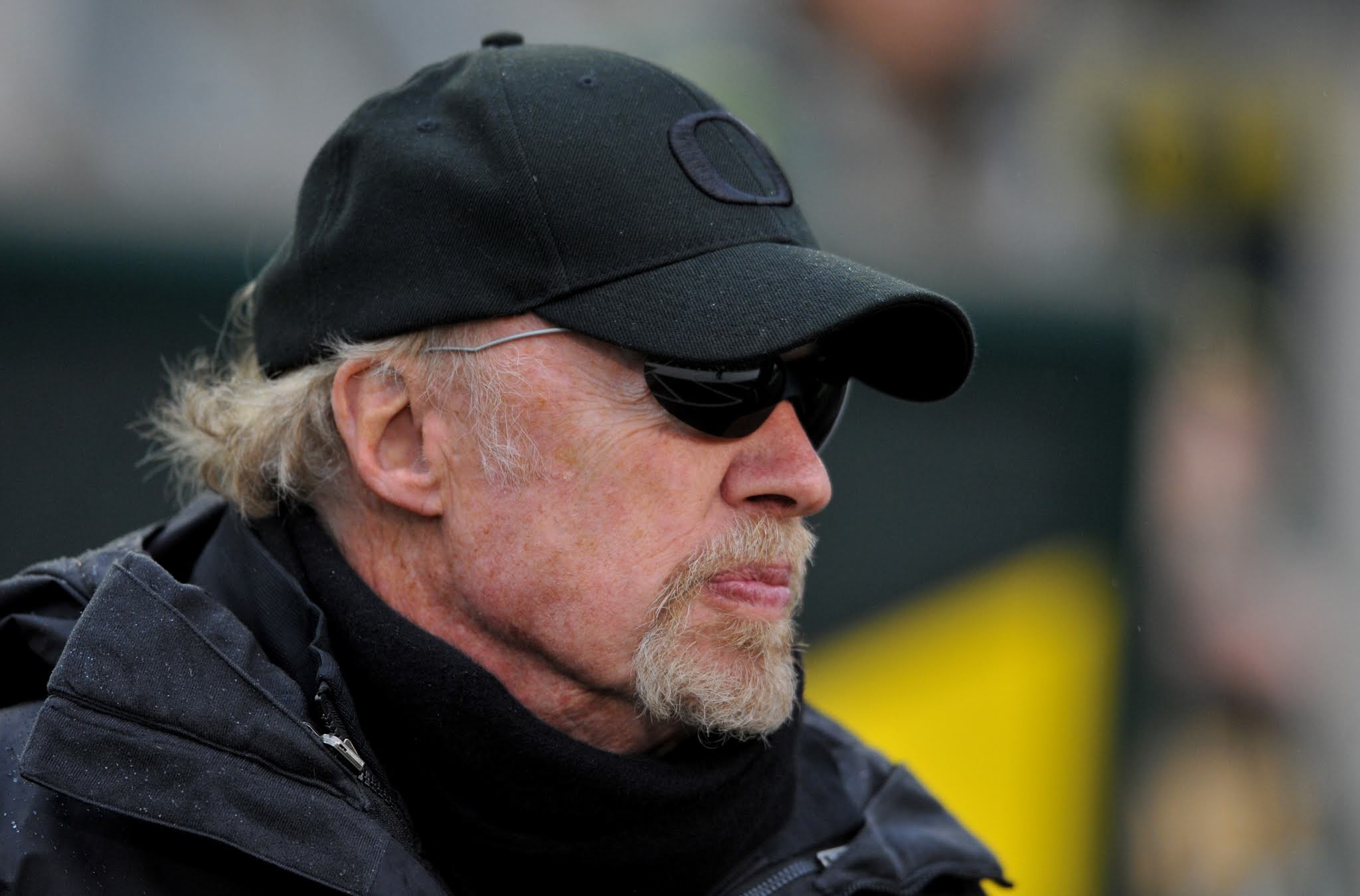 Are you guys excited for the upcoming Air movie? How do we feel about Ben Affleck as Phil Knight?
TH: Oh, man. You know what? I asked Howard White. And I said, "So what's with this movie?" Because Nike really didn't participate except that I think that Phil asked Howard to just look into it a little bit. So I asked Howard, I said, "What's this movie about?"
And Howard, he had called up Ben Affleck. So Howard White spoke to Ben Affleck directly and just said, so what's this movie going to be about? And turns out that the original script was written by Sonny Vaccaro, who used to work for Nike, and he was the sports marketing agent that helped sign Michael. But as you know in Hollywood, or as you might imagine, somebody brings them a script. They may like it, but then they totally rewrite it.
I mean, there's no way, no matter how good of a writer we are, there's no way you could get a script through Hollywood without somebody rewriting it. So Ben told Howard White that they liked this story of Nike's earlier years, and then the buildup to Michael Jordan and how that helped Nike take off, but they had to rewrite it quite a bit. So that's about all I can tell you is that there was an original script from Sonny Vaccaro. I think it was at its core interesting, obviously it had to be interesting to Ben Affleck and Matt Damon. So they pursued it, but then of course, it got rewritten.
I've seen the movie. I was disappointed there's no Tinker Hatfield cameo in there anywhere.
TH: I got a look at an original script from Sonny Vaccaro, and I'm in it. And evidently, I got written out. [Laughs]
So then you definitely won't be seeing it.
TH: Well, no. I'll go, but I'll kind of have this skepticism about accuracy. And of course, Hollywood isn't always known for sticking to the facts, right? I mean, it has to be entertaining, so who knows what, they who knows what.
JH: Well, speaking of accuracy, I actually heard that Dwayne Johnson was originally cast as Phil.
I thought the Ben Affleck thing was generous. That's extremely generous.
TH: Yeah. A good example of inaccuracy is Matt Damon playing Sonny Vaccaro, because Sonny Vaccaro is of Sicilian descent. And he's not very tall, he's dark, he's kind of swarthy, and he's the New Yorker. He talks like, "You know what I mean? You know what I mean? Get out of town, come on." I mean, it's just that New Yorker thing.
I remember Sonny Vaccaro when I first started at Nike, he was there for a couple of years, and then I think he actually got fired, I'm not certain. But you couldn't pick a more different person than Sonny Vaccaro by choosing Matt Damon.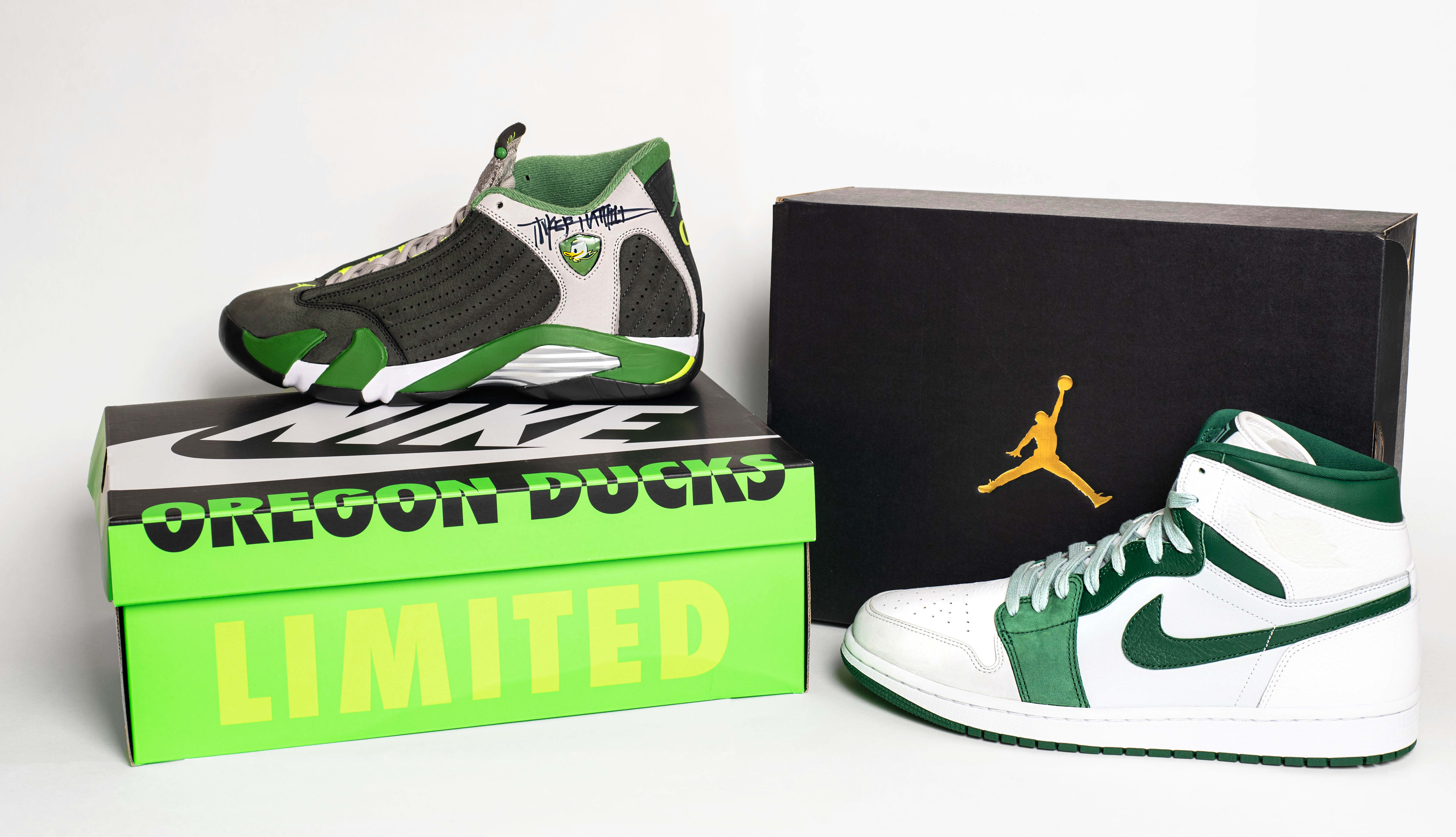 Let's talk about the raffle. How did you two come together for this project for the Harrington Family Foundation?
JH: Well, I mean, this project was, I'm going to say years in the making. I started the foundation in 2002. And knowing that when I was done playing, I wanted to be able to give back to the community, the people who had helped me get to where I was.
And long story short, I ended up coming up with an idea of, I called it a Community Quarterback Scholarship, like be a quarterback of your community, be a leader. So we give four four-year scholarships to graduating high school seniors from all around the state of Oregon based solely on community leadership, community involvement, and financial need.
And then we take those students and we introduce them to, we just call it a board of mentors from different fields—healthcare, finance, marketing, we have a Supreme Court justice—from different areas to help open doors. That's the whole idea of the scholarship, is to provide access, to find these students who they need money for school, but then also, they need a door to open. They need some phone call for them. They need to be introduced to somebody who can point them in the right direction.
So when I launched the scholarship what is now 10 years ago, the first person I asked to be a mentor was Dave Frohnmayer. He was the former attorney general from the state, and the former president of the University of Oregon, has since died of cancer, was a wonderful man. And the second person I asked was Tinker, and both so generously said yes.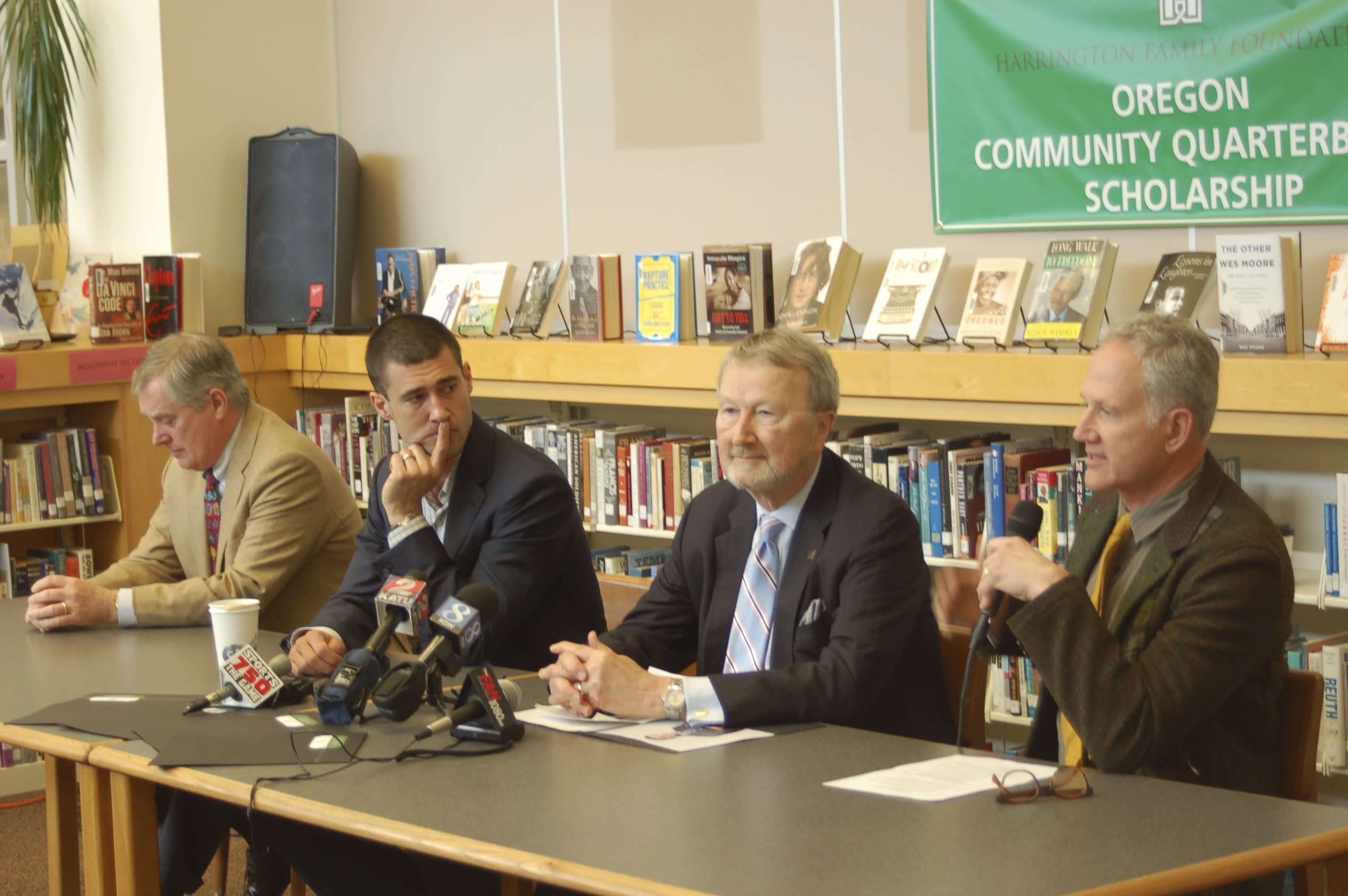 So Tinker's involvement in this program goes back 10 years. Now, as our program kind of evolved and what we wanted the role of mentors to be, and Tinker still being the world traveler that he is, his direct involvement is not on the day-to-day side. But I came to him about four years ago and asked if he would do a shoe for us. And this was right before COVID. And he graciously said, "Just email me your logo and email me colors and how to put it all together."
At this point in the conversation, Hatfield pulls out a pair of the special Air Jordan 1s he designed for the Harrington Family Foundation. The extremely limited shoe, the incredulous Harrington realizes, is slightly less limited than he thought.
TH: I have it.
JH: Wait, you got one too?
Is Tinker not supposed to have these?
JH: Wow. Okay.
Joey, are you surprised?
TH: Is that the one?
JH: I only asked because there are seven pairs in existence now.
TH: So, I'm not going to make you a bunch of shoes and then not keep a pair.
JH: I know that.
TH: See how that works?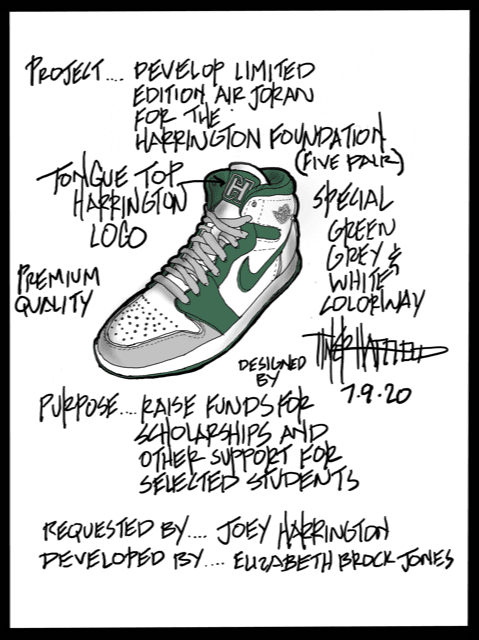 JH: Well, so here's the thing. So on your spec sheet, on your product design thing, you said five pairs, but you sent me a box that had six in it. This box just shows up. I hadn't talked to you in a couple of months, and a box shows up and I open it up. It's like, "Oh, my God." And, of course, I just reach out and say thanks. And you're like, "Oh yeah, of course. I did that a while ago." So yeah, the size 12 [in the box] was mine.
TH: So you got one…there were seven. So it was a 10 and a half. It just happens to fit me. I don't know how that happened.
JH: So the funny thing is, so I got this box that just showed up, and I was so appreciative and so thankful and wanted to capitalize. I was just learning about the Jordan world and trying to figure out how best to turn this into scholarship dollars. So I just kind of sat on it for a while. And then we did a fundraising raffle. So it was a long COVID story where all in-person fundraisers go away. We switched to an online platform and had a lot of success doing a bourbon barrel raffle. I got to choose a barrel of bourbon at Buffalo Trace last fall, and had a lot of success with that. Fast-forward to two months ago where the doorbell rings, just ding dong and Tinker, standing there with a box of the Oregon 14s.
He's like, "Hey, just brought these over for you to use for the foundation to use as a fundraiser for the scholarship." And I was like, "Oh my God, this is perfect. I can take this." And he signed it. I could take the 14. Now, I know what to do with the Jordan 1s that had showed up a couple of years ago. I have this platform now where I can put it out, not just to 200 people in a conference room or 500 people at the Portland Art Museum for an in-person event, but I could literally put this out to the entire country, the entire world on this platform.
So you've been sitting on the Jordan 1s for a few years, then Joey?
JH: I got them right at the start of COVID, I believe.
TH: I get requests fairly consistently for charity projects. I have a lot going on, and we do shoes for other charities. But the Harrington one, since I knew Joey and he's from the hood and from our hood, and I thought it was especially meaningful. I'd done some mentoring for Joey, and then the opportunity when he asked for the shoe project, I was only too eager to do it. And by the way, you can have this one, Joey. [Gesturing to his personal size 10.5] You can sell this one too.
JH: No way.
TH: I'll sign it, but it's not uncommon for me to keep a pair and put them in Nike archives because Nike keeps pretty much everything, at least one of everything that we do, at least they try to. I either was going to send this to archives just for a historical purpose or I could wear it for an event.
JH: Wear it to our next foundation dinner.
TH: So it's available. And then the other shoes, the more recent shoes were the 14s. So we do these limited edition. We do the limited edition Jordans for the University of Oregon, which by the way, Michael Jordan, he's always wondering how that happens. And I just say, "Hey, look, there's a need out there."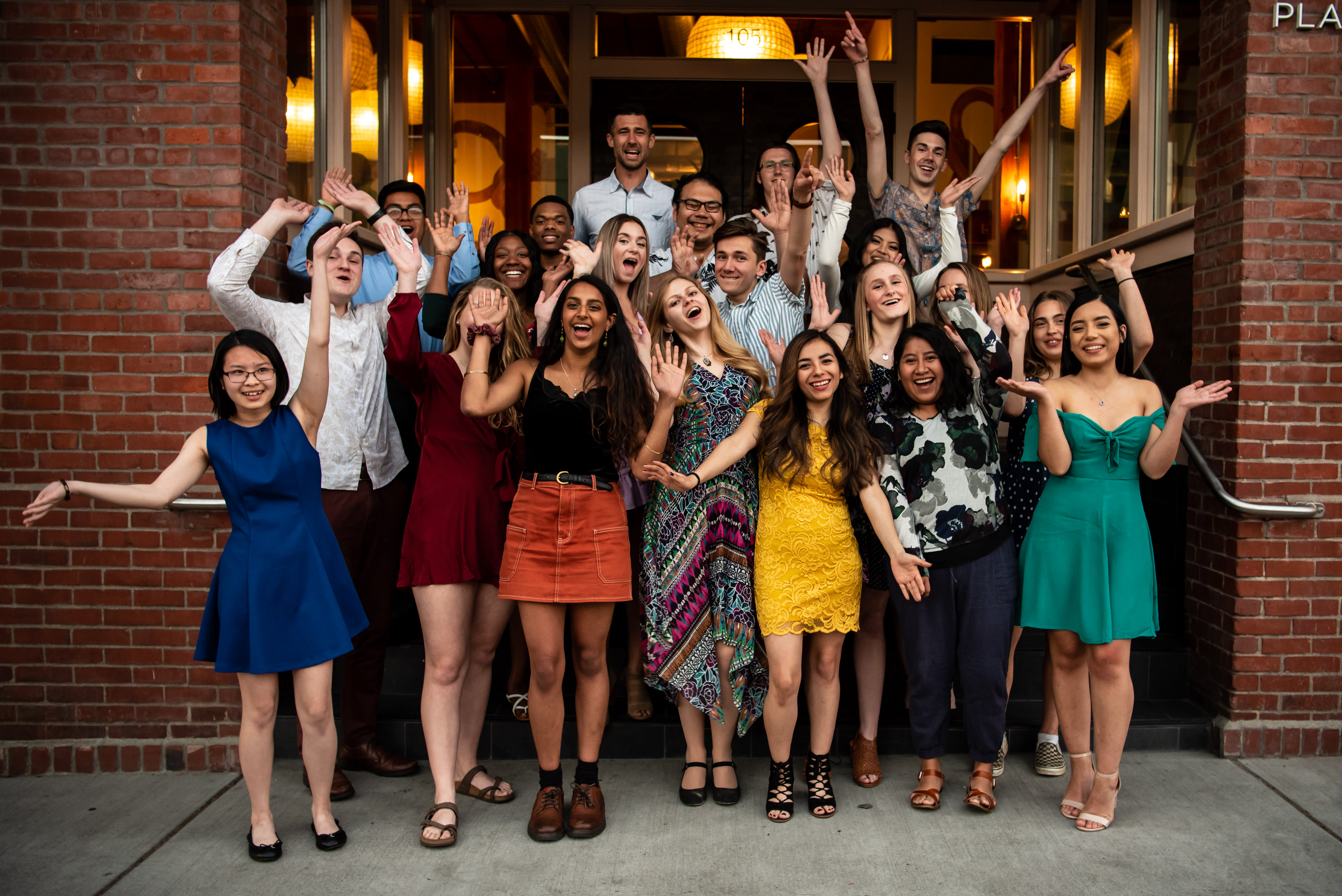 JH: There's so much: the sneaker industry, and the skyrocketing prices, and the resale market. It's kind of twofold for me, this project is, so much of it is what started as literally just kids in the neighborhood that would wear these shoes that came out. And everybody loved Michael Jordan and [his shoes] turned into something that's unattainable, has been monetized and turned into something unattainable.
So for me, one of the things is, we could go and put it in an auction and see who's going to be the highest bidder. And so what happens? Some guy who can afford to spend $10,000 on a pair of shoes comes in and buys them. I love the fact that we're doing this as a $25 raffle ticket.
That's part of it for me, but the other part is Tinker is an Oregonian who has built his career and built his brand to the point where it's known worldwide. But the fact is he still comes back and still says yes and still lives down the street and still shows up on the porch with something to help our students around the state.
When people think of the foundation, what do they think of? They think of me. They think of a quarterback, quarterback is a position of leadership. I'm Oregon, I left, I've come back. How can I put something together?
And that's how I came up with this idea of being a quarterback in your community. What Tinker is doing right now is at the core foundation of our program, like, being local, building something up, taking it out into the world and building a brand, but still being willing to come back and ring the doorbell of your neighbor and saying, here's something I want to do to help. Here's something I want to do to help my community. Here's something I want to help, and it's not just Northeast Portland. We've got students from the Southern Oregon coast, from Central Oregon, up and down the I-5 corridor, literally down outside of K Falls nearly on the border of California. This project, this fundraiser, really represents what is at the core of our foundation and what is at the core of our scholarship program. So yeah, I don't know that I've had a chance to say that it's you in person, but I appreciate it so much.
TH: No, well, I know I'm happy to be involved. I think the story for me is I grew up in Halsey, Oregon. 900 people. Went to a high school of 400 students and basically was fortunate. I worked hard and things fell together, right? I think that there's a message there that is one of hope that you can grow up in a terrible neighborhood with no money, or you can grow up in a small town in the middle of nowhere, and you can still have an impact on your community or maybe even the whole world. It runs the gamut, right? So to me, kids need to know that. I think a lot of times when they turn on the TV, they see things that are unobtainable. The stories aren't there that would suggest that they could participate in something bigger than themselves or go someplace where no one else in their community could go.
So I like that storyline. I know it's true for me. Most of my friends went into farming or logging. I think maybe at Central Catholic, maybe 90 percent of the kids go to college. At my high school, it was more like about 15 or 20 percent. There's a way through a foundation like Joey's to mentor kids personally. But also, there's something else that can capture their attention and maybe their imagination, which might be a sneaker, it might be going to a game, might be attending an event. So there are a lot of different ways, of course. But anyway, I like to tell the story about potential and hope and opportunity. Sometimes you need a little help, of course. And sometimes things fall into place.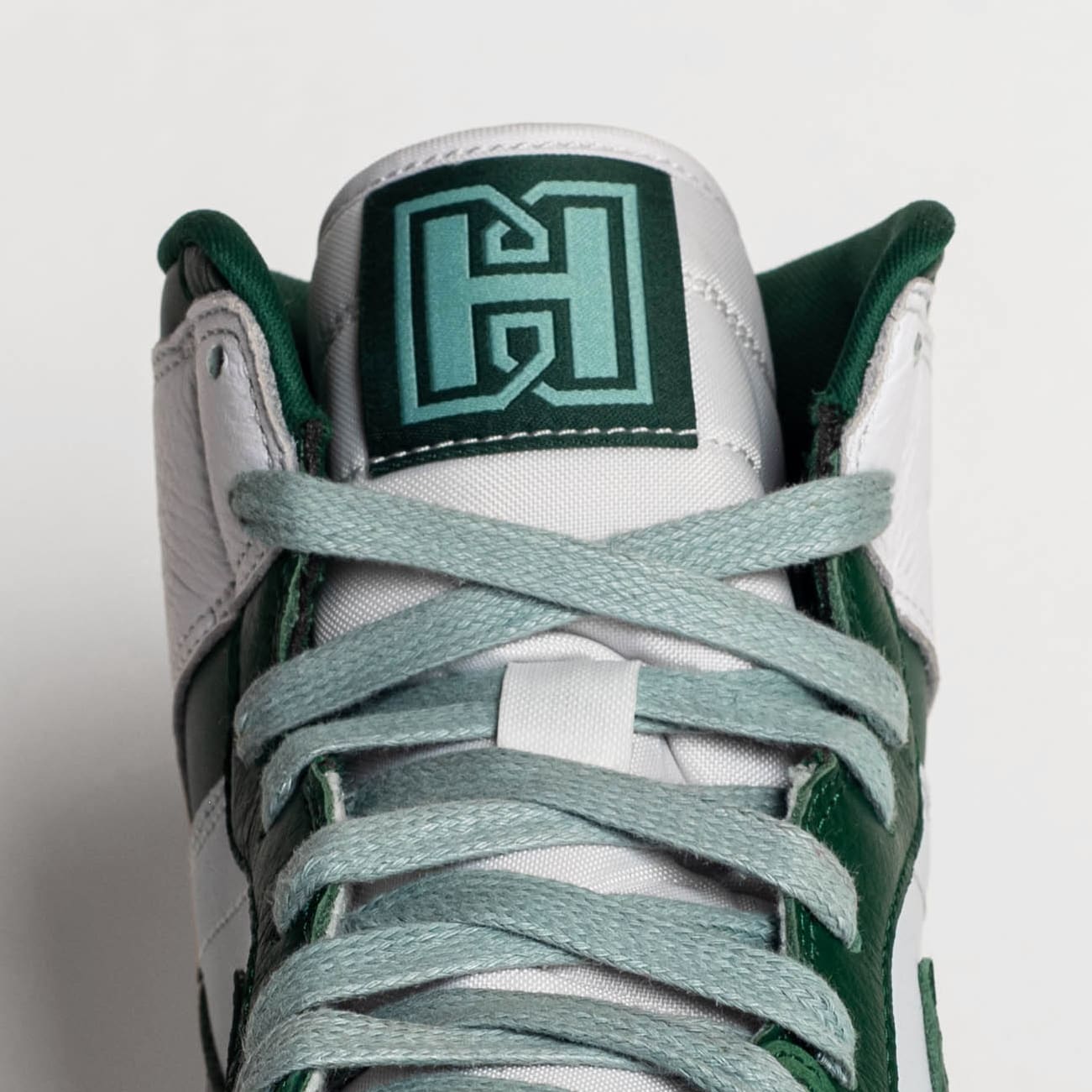 How did the Air Jordan 1 become the model of choice for this program? Tinker, I think this is the first time you ever designed a Jordan 1 High, right?
TH: I believe it is the first time I took a Jordan 1 and repurposed it, let's put it that way. What made sense to me was when Joey asked for some help, was for me to not maybe go too crazy and go find an Air Jordan that was maybe more elaborate. I think the idea here was to be classic. And part of that notion in my mind is Joey himself.
He's not apt to be wearing a pair of Jordan 11s or 14s or 30s or 23s. He is a tasteful, classic person. And I felt like that this first one out, the Jordan 1, would not only be valuable to someone, but also reflect Joey and where he comes from, who he is. He's not super flashy, which I like. I think that's something also to be spoken about, is that even if you become, I think you were number four in the Heisman Trophy voting or something?
JH: A distant fourth, a distant fourth.
The humility is still there.
TH: You were in the room.
JH: Let's just put it that way. I made it to that room.
TH: You made it to the room; Nike, of course, put up the billboard. But Joey's personality isn't the billboard, isn't being in the room in the Heisman Trophy award ceremony. Joey is just a great, I would say no showboating, cool guy.
There's two ways to be cool. One is maybe trying to be cool, and one is you're just cool because you're just trying to be who you are, and that's Joey. So I think that's why I chose this model. The 14s that I brought over, they happen to be available, and they're very rare to get ahold of, but I'm like, "Oh God, we've got these. I'm going to take them over." So that was a different kind of decision. That was one of opportunity, where this Jordan 1 was more thoughtful. And this logo is really beautiful and classy.
JH:  I thought about the logo there earlier today. So everybody thinks that the green in the foundation comes from Oregon, but the green is Ireland. And the H is the Celtic Knot. We used the Celtic Knots to design this 20, 21 years ago, because that's where my family's from, is from this history of Ireland.
Joey, aside from the pairs that are going up for raffle through the foundation, do you find yourself making more effort now to get the Oregon Jordans now that you're more aware of this whole culture around them?
JH: Whether it was Tinker dropping off a pair, or [his old assistant] Laurie would send me something, it's funny, I would just kind of like, "Thank you so much." And I'd put them on the shelf and wear them to a Duck game or something like that. And it wasn't until a few years ago where I was like, "Oh, well that's the wool 12 with the Duck logo in the tongue. There's the 14 with the embossed little ducks on that." It's like, "Oh, I've got a couple of those sitting in the closet." So my favorite, or I should say the most comfortable one. What's the good duck, bad duck one? The 29.
That is the most comfortable shoe I think I have ever worn. But the times that I've worn it—I wore it to the national championship game against Ohio State, and I wore it to another important game, and we lost.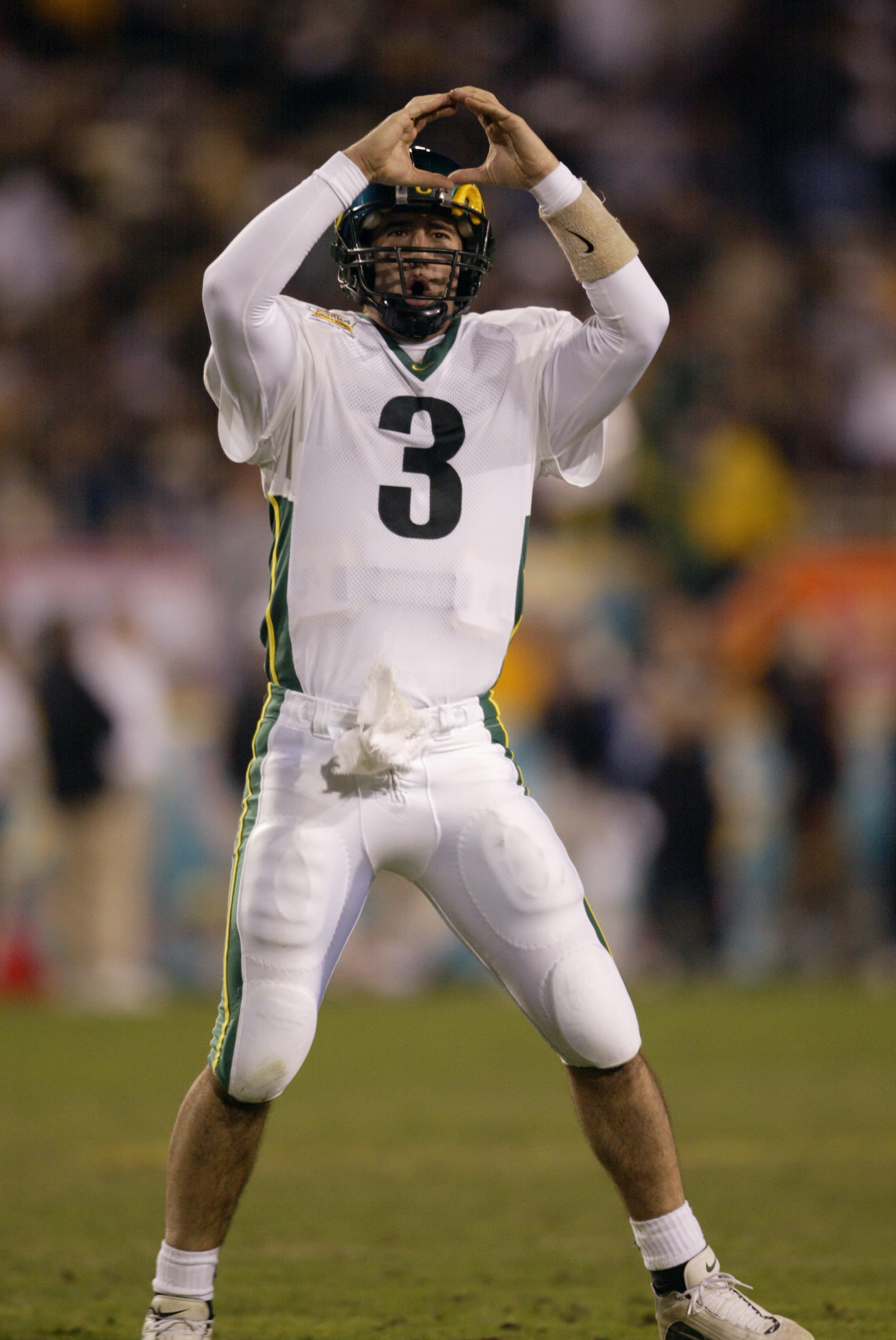 Gotta put them away.
TH:[Laughs] The luck of the Irish didn't quite hold up, I guess.
A couple more things we have to discuss away from sneakers, and these are pressing issues. As Oregon fans, are we worried at all yet about the possibility of a resurgent Colorado now that Deion Sanders is there? Joey, I know you don't have any problem with Colorado.
JH: No, we can take care of Colorado. I think we're all good.
TH: Well, I watched Joey dismantle Colorado. [Laughs]
JH: Yeah. We'll be okay there.
TH: We'll be alright. I think Deion may help turn the program around, but it takes a while. It takes a while. Even if he does, we aren't letting up. Our foot's not going off the gas pedal. As good as Deion might be about creating hype, he still has to deliver. I mean, he has to deliver a whole lot more than hype.
JH: Tinker's dropping the gauntlet there.
TH: Well, I mean he may. I think he was a bit of, while he was a great, great football player and he played baseball and all that, but also he was kind of a showboaty kind of guy. And I know because I helped work with him on some shoes. But having said that, he did have some success and that's why he got the job at Colorado. So he seems to have turned a corner in his own personal life about helping others and caring. I think he's developed a good relationship with his players, which is great, fantastic. But it remains to be seen if he can compete at that highest level.
In the Conference of Champions, that's a different level. And then the last thing, Joey, I know you play piano. Does Tinker ever invite you to his jam sessions or are you that not that close yet?
JH: I have been lucky enough to play on Tinker's piano, which I can confirm has one key—
TH: One key, yeah. Low G that's out of whack, still out of whack. I have not had somebody come in yet. I will tell you that Joey did play the piano at this event for the University of Oregon at Nike. And he not only was playing the piano, but he also was a running series of one-liners, funny stuff. I mean, he was a complete professional-type performer up there on stage in front of several hundred people. I loved it. I thought it was really cool. And I told Joey that that was my favorite part of the whole thing.
So then you can't invite him. He's going to outshine you.
JH: That's not possible.
TH: Here's the deal. He plays the piano, I play the organ, and all you have to do on an organ is just lean on it with your elbow and it can sound cool. With a piano, you actually have to be able to play. So I'll have to cheat on an organ somehow to even be in the same zip code with Joey on the piano.