Bottom Line Man: Ndamukong Suh Wants More Than a Billion
The Dolphins DT's interest in business has caught the attention and respect of mogul Warren Buffett. But would 10 figures equal happiness? Complex Original
Image via Complex Original Ndamukong Suh swears he isn't superstitious, but he'd prefer not to jinx things. That's why he's being so coy.
Sitting in Seattle-Tacoma International Airport, waiting to catch a flight, he's asked to relate a few of his success stories. Specifically, the ones that have nothing to do with football.
Unbeknownst to many football fans, the Miami Dolphins star defensive tackle has established himself in the world of big business, actively pursuing profits just as feverishly as he does quarterbacks.
Mentored by billionaires and motivated by more than just money—because, let's face it, he already has plenty—Suh is aiming to be remembered more for the legacy he builds off the field than for the plays he makes on it. Just don't call him a mogul in the making.
"I stay away from 'mogul' because moguls are people, in my opinion, [who put themselves] out there," says Suh. "In my business, I'm very, very private. I like to be behind the scenes."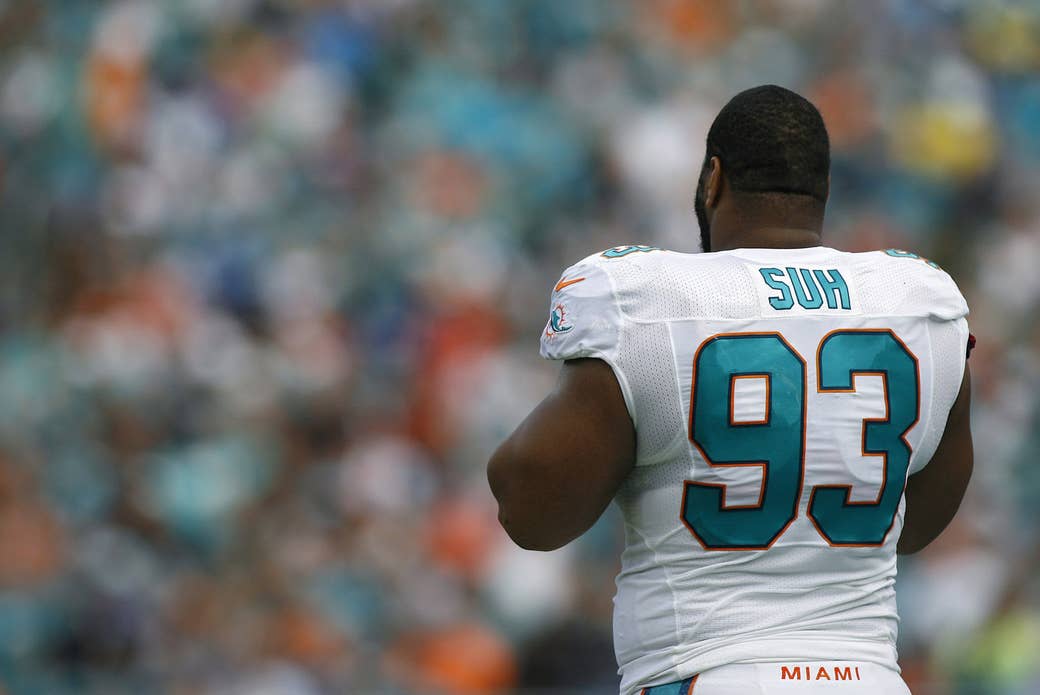 It's public knowledge that in 2015 the Dolphins signed Suh to a six-year, $114 million deal ($59 million guaranteed) that made him at the time the highest-paid defensive player in the history of the NFL. And when you consider that Suh could earn up to $178 million in football revenue after just 11 years in the league, you have a few questions for him.
Why not concentrate on football? Why do an internship when you could be on vacation? Why read contracts on plane rides home? Why bother, given that the second you retire you'll never have to work another day in your life?
"I guess the simple answer is I would be bored if I didn't," says Suh. "The more in-depth answer would be I went to school for a reason. No disrespect to other guys who have gotten sociology degrees and communications degrees—especially if they end up using them rather than just getting them because it's the easier route."
Suh's path took him to Nebraska, where he starred with the Cornhuskers and earned a degree in engineering with a focus on construction management. Growing up in Portland, Ore., Suh never aspired to NFL stardom and figured he'd follow in his father's footsteps as a mechanical engineer. He was soccer-obsessed with a "very curious mind." As a kid, he would take all kinds of things apart, like the time he was 8 years old and his mother found the family phone in shambles.
"When she saw all the parts, she was like, 'What in the world did you do? Stop destroying things in the house!'" Suh recalls. "I was like, 'It's fine, I know how it goes back together.'"
"The guys that talk about it all the time probably aren't as successful as they pretend to be." —Warren Buffett
At age 29, Suh is obsessed with real estate. His first big business deal came in 2011 when he invested in a Nebraska condo/hotel project. In March, he finished up an internship with Related Companies chairman Stephen M. Ross—whom happens to also own the Dolphins. Suh spent a week touring the ins and outs of the Hudson Yards project on Manhattan's West Side. He'd work out early in the morning and then suit up for a day of shadowing his football boss while Ross performed his "day" job.
Opportunities like that are not available to most people. Suh is not naïve. The kind of money he makes coupled with his star power affords him exclusive audiences. Audiences like the man Suh calls "Mr. Buffett."
Mr. Buffett, of course, is the 85-year-old billionaire business magnate Warren Buffett. On the surface, the burly gridiron star and the Oracle of Omaha would appear to be opposites. But the two have developed a friendship and Buffett was even spotted wearing a Suh jersey on the Dolphins' sideline last fall.
The story's been told about how Suh asked former Nebraska head coach Tom Osborne to reach out to Buffett on his behalf. Osborne warned Suh that Buffett wasn't always receptive to athletes, but Buffett made an exception and came to think so highly of the 320-pound lineman that he recommended Suh for a board position with Ballantyne Strong Inc.—an Omaha, Neb.-based company that manufactures monitors and projection screens with clients in the cinema and retail sectors.
"If you don't like anything you're doing, you're not going to be good at it. And Ndamukong does like business and you can tell that," says Buffett. "When he's talking about it, you can see it in his face and eyes that he is really interested. Others are just looking for somebody to tell them how to make a quick buck or buy this and it will go up next week."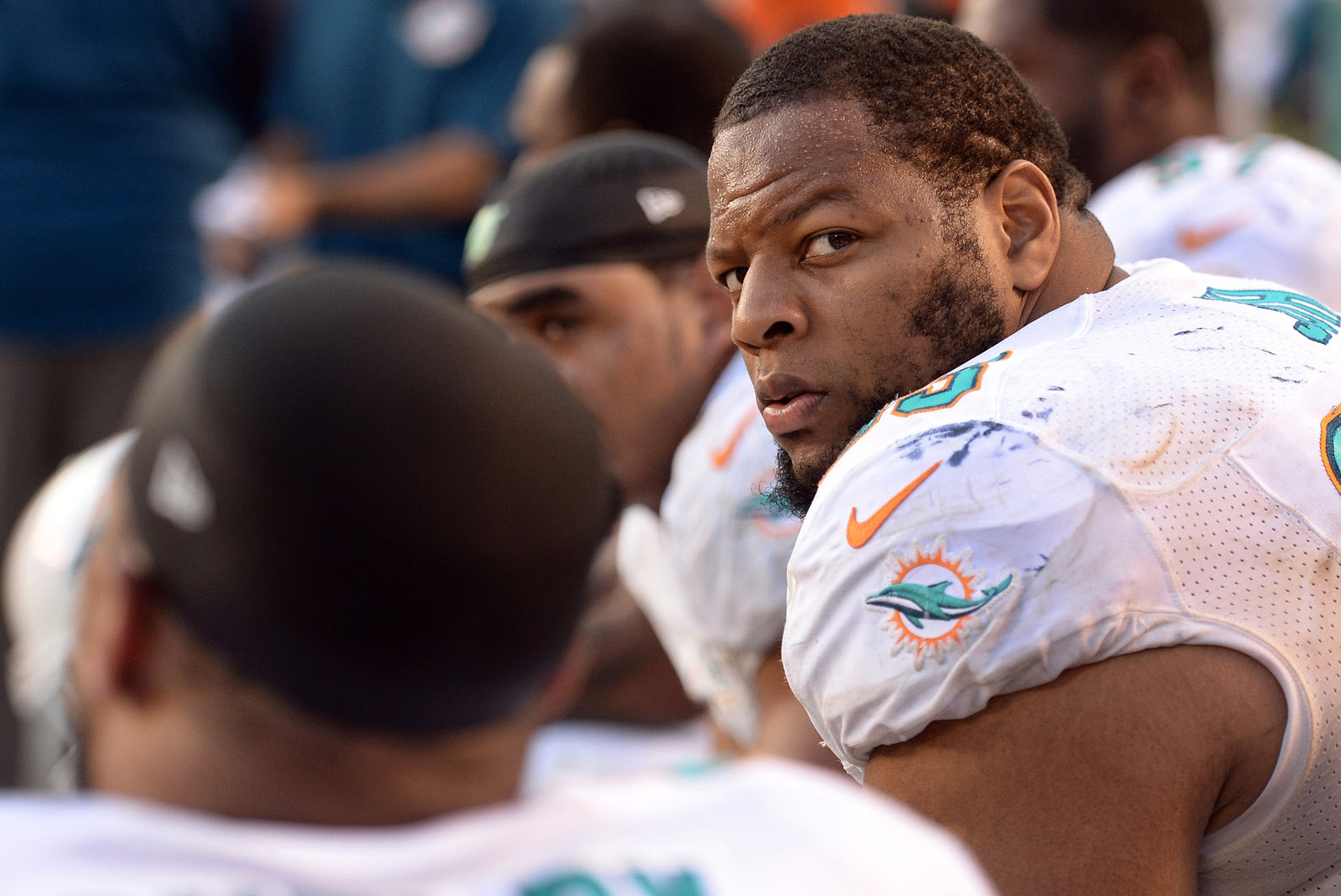 Suh's ultimate goal in business isn't quite clear. Being a billionaire like his buddy Buffett would be great, but that's not his focus.
"I think, financially, that's a great goal to have, but from an overall standpoint of success I wouldn't say that's the ultimate measure; there's a lot of rich people who are unhappy," says Suh. "I think the combination of doing what you love and having fun with it, and at the same time being financially set for your future family—kids, as well as extended family—is one of my goals."
In that regard, he's a lot like Jay Z. Suh signed with Roc Nation Sports in 2014 in part because of Jay Z's track record of bringing his friends and family up the ladder with him. The two talk periodically. It's usually "more personal conversations," but Suh admires how Jay Z has "been able to help his friends and family when he's at the pinnacle."
And just like Hov (when he's not rapping), and their mutual friend Buffett, Suh refuses to put his business on blast. The successes stay close to the vest.
"The guys that talk about it all the time probably aren't as successful as they pretend to be," says Buffett. "Like a guy talking about being successful with girls. If they talk about it all the time they're probably striking out."