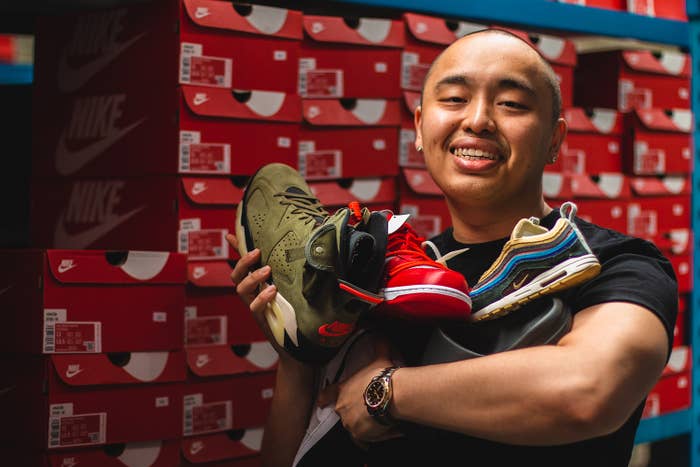 The rise of the reseller has been well-chronicled. If your social algorithm is anything like ours, your targeted posts are peppered with resellers offering everything from legit-checked Cactus Jack Jordans and Yeezy Slides to slightly more dubious neon Yeezys with Off-White branding. It has transformed sneakers from culture to commodity, an investment option with all the risks of the ASX; buyers risk copping fakes, resellers risk copping bricks. 
There are resellers operating purely off Insta DMs, some with an online shopfront and others who have set up brick and mortar stores in the heart of CBD arcades across Australia. But only one has achieved international notoriety and the co-sign of investors from Sydney Harbour to the San Francisco Bay. 
Fresh off a round of capital-raising, South West Sydney's very own PUSHAS is redefining what success can look like for anyone with a couple pairs of sneakers and a dream. Co-founder and chief hustler in charge Justin Truong spoke to Complex AU about ambition, authentication and the changing perception of resellers in the sneaker game.
So I understand PUSHAS started out as joint venture between yourself and your fiance Sandy? Tell me how it all kicked off.
Yeah, so Sandy has been a sneakerhead all her life. When I first met her back in 2014, she had a 90-pair sneaker collection already. Around 2015, she started buying me sneakers. She kept buying me pairs and buying herself pairs and I was like, 'look, we need to make our money back somehow', so we started reselling. It was around that time also that reselling had started to take off in Australia.

In 2017 I went to UC Berkeley in LA for summer school. I went to Flight Club, a sneaker consignment store, as well as a couple of others, and started to realise how huge [the resell market was]. We came back and I was like to Sandy, 'we've got to do something and let's take this thing to a new level'. So we set up a Shopify store and we were just reselling our own stock.  We then started reselling stock for a couple of our friends too, and we took a cut of the sale. When 2019 came around and I graduated law school, we decided we didn't want to get 'real jobs', so then we were like 'well if we're going to do this full time, how are we going to do this properly?'. Reselling platforms in the US were doing really well and we thought, let's just do what they do in Australia. That was the first iteration of PUSHAS.
So were you the only seller on the PUSHAS platform, or were you getting stuff from elsewhere?
For the first two years we were only selling our own stock, but in 2019 we had to figure out how we were going to get more volume to support ourselves, so we started taking on consigners and building that side of our business – being an online consignment store.
Then COVID hit, and things really started to accelerate. The biggest problem we found was that we needed more stock. We were starting to get higher levels of demand with the boom in online shopping during COVID, so we came up with the idea of raising a sneaker fund. I just sent out a tweet and was like, 'hey, anyone want to invest in a sneaker fund?'. The tweet went a bit viral in the Sydney-Melbourne community, and we had a lot of angel investors come through and say, 'look, I'm happy to drop some money and try it'. We did that and had good results, and then went back to the existing investors and asked for more money. In total we raised 500K just to buy stock – that really put us on a different trajectory, and that's when we started to really grow our business.
There are a couple of things that have shaped the business and differentiated us from other reselling platforms. The first is that we had really close relationships with our resellers, and they trusted us with a lot of their stock. The second thing was that our sneaker fund was providing a lot of instant liquidity for resellers. Sometimes these resellers were holding onto too much stock, and so they'd send us their stock to store, manage and sell. No other platform in the world does that, and so it also helped us attract resellers globally.

I think the next inflection point was us getting into contact with Justin Kan, who founded Twitch. He's a closet sneakerhead himself, and he was just like 'what you guys are doing is obviously adding value, and you guys are really community-driven…if you'd like to raise the money to grow the business, I'm happy to pitch in'. We then got capital from Tim Fung of Airtasker and the CEO of Deliveroo, Ed McManus. All these guys started to come through the woodwork, and they really started to shape our idea of how big this could get for us.
I'm really interested in your perception of resellers, because they're such a maligned group of people – they're viewed as the enemy. Can you talk about the community of resellers and what it's like?
The way I think about it, I think there's a lot of sneaker purists out there that are like, 'we hate resellers, they make it harder for us'. But if it wasn't for resellers really blowing up, I don't think Nike, Adidas, and other major brands would be bringing so much stock to Australia. I think resellers are actually integral to the ecosystem, because they generate demand for the brands. As a brand, if you think about it from a business perspective, if [a brand] knows that they're going to sell out of stock in Australia – whether it's bought by people who intend to wear them or resellers – they're going to bring the stock here.
I think from the community perspective, because resellers are not a favoured group in the sneaker scene, they band together, but a lot of resellers aren't malicious. I think people don't see that they're actually providing a service. If what we were doing wasn't good, people wouldn't be paying – but we're satisfying a demand out there.
I also think resellers have a bit of a better reputation now because consumers have become resellers too. Now, people are buying one to rock and one to stock that they end up reselling – so they're not going to hate on themselves, and I think that's a big factor as well.
This is another question from the sneaker world: a lot sneaker consignment stores are known to be riddled with fakes, how can people be confident when purchasing something from PUSHAS?
Number one, we only work with the trusted resellers. Most resellers we've worked with for years, and we know that the stock they get – whether it's from over overseas or bought from stores, is going to be legitimate. Because we deal with higher volume resellers – ones that we have good relationships with and are trustworthy – it's really hard to just send us fakes, because we vet the reseller really well.

Secondly, we vet the sneakers really well. We've built up years of expertise, and we know how to authenticate the sneakers really well.  As we've grown, our standards of authentication has, if anything, improved over time. We've built a reputation for ourselves: we're one of the best platforms to buy from. Consumers are starting to really recognize this.
And you've got resellers all around the world, right? They're not just Aussie resellers?
Yeah. The bulk of our resellers are Australian, but a large swath of them are from all over the world and they're looking to expand to the Australian market. We launched a warehouse in Los Angeles this month and some of the largest US resellers who currently sell through other platforms have already began to reach out to us through only word-of-mouth. It shows that we're satisfying a need despite the US being perceived as hyper competitive with many established players. The initial feedback has been really encouraging and we're excited for what's to come. We're working with Australian resellers as well as international resellers to help them scale up their reselling operation in the US. It will be the same model that we're doing in Australia.
Tell me more about how that came about, why are you expanding to LA?
I mentioned that LA was kind of the point where it started to really click for us. So I think we naturally feel an affinity to LA, but LA is also kind of the Mecca of sneaker culture, and it's the Mecca of sneaker culture. I think for us to really be like, 'hey, we're a culture brand', we need to be where the action is. Obviously we're proudly Australian, but I think as a business we also need to tap into where it all started, and really pay respect to where it's happening and learn from it – so I think it'll make us better as a business. We also want to serve the US market as well, because some of our resellers are from the US, so it'll be great to expand there and really help them out.