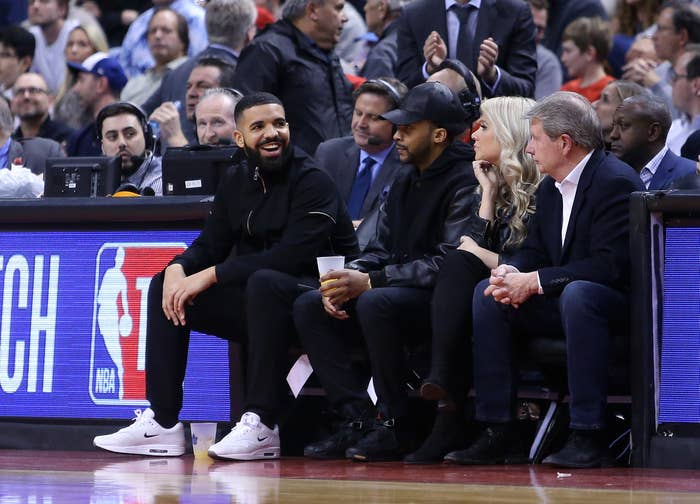 I've said it over and over again, I could really care less about what Drake wears on his feet. But here we are again talking about what Drake has on his feet. And the reason we're doing it is not because we have some desire to chart every sneaker worn by Drake, but because he's making us do it. Not literally, of course, but for those paying attention: Drake has preemptively started a supposed bidding war between Nike, Jordan Brand, and Adidas, and he's making the whole world pay attention to what he's going to lace up next.
Here's a quick backstory. It all started during All-Star Weekend when word came out that Drake was leaving Jordan Brand, where he'd been signed to since 2014, for Adidas. There he'd join the likes of Kanye, Pharrell, and Pusha T.  All of this, allegedly, was happening because Drake wasn't happy with his Jordan Brand deal.
As they say, though, pics or it didn't happen. So what does Drake do to try and legitimize himself as an Adidas guy? He takes a picture of himself wearing a pair of Adidas Tiro pants and the Internet lost its fucking mind (which, for the record, is still the dumbest thing to say).
The only person who really knows what was going on was Drake himself. The thing about all of this is that Drake gets so much shit for not being a real sneakerhead. Everyone views him as a cornball who hops on trends that others put him onto because he doesn't have his own taste. That might be true, it might be not, but he is having the last laugh right now. He's courting all the brands, showing that he can look cool wearing their product, and teasing them by giving them just a taste of what him, the biggest rapper in the world, wearing their product in public is like.
It's like a sneaker version of The Bachelor. (No, I don't watch that shit). Taking each brand on a date, only to pick one at the end.
To top it all off, Drake made a surprise performance in at a Majid Jordan concert in Toronto last night while wearing a pair of the Yeezy 500 Mud Rats last night, which is arguably, in my opinion, one of the best Yeezy sneakers ever. He was also wearing the same Tiro pants, too.
Where's Drake going to end up? No one but the people on the inside really know. Even then, it's a crap shoot. One thing is for sure, though, is that Drake is trolling the ever-loving shit out of the sneaker industry right now.
It's been said that people don't care what Drake wears. He's not influential. Travis Scott sells less records but matters more than him. That may be true. But he's utilizing his superstar status to make brands realize that they need him on their roster. He's too big of a value proposition -- to ignore: Think about how many people view his Instagram account who have no clue about sneaker culture but still see what wears. And he's playing that card in an expert fashion at the moment.
Drake knows that everyone is talking about him, and he's trolling the shit out of all us. He knows that every blog and mainstream outlet is going to post about what he's wearing on his feet. More importantly, the brands themselves are watching with every Instagram post. One thing is for certain, he's going to secure a bag.
Not getting him at this point would be an airball.