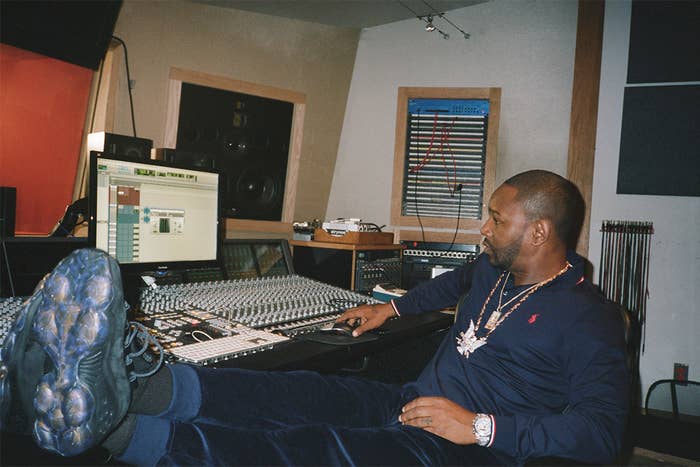 Cam'ron's been in the news lately. Not only does he have his third sneaker with Reebok releasing today, a black pony hair version of the DMX Run 10, but he got into a rap beef with Mase over the weekend. The latter resulted in two Harlem rappers trading diss tracks, and it's led many to feel like the energy in New York rap is back.
Cam'ron's been influencing people since his days of wearing custom Air Force 1s in his rap videos, and he opened up about where his signature sneakers stack up against other rappers these days. He says that other rappers might make good music, but people don't want to dress like them. Cam refers to himself as a fashion icon, and, truth be told, he's right.
More importantly, though, people want to hear Cam's music, and he opened up about what he thought about Mase's diss track to him, saying that he's proud of him.
He also spoke about his thoughts on how sneaker brands are building up too much hype on shoes, sneaker violence, and spoke about the Dipset reunion that went down recently.
This is your third shoe with Reebok. You did pink, you did purple, but how did this shoe come about?
To be totally honest, Reebok has a guy up there by the name of [Damion Presson]. He reached out to us even before I was on board. He saw my potential, because I'm a fashion icon. I'm a fashion icon. He's the one who put me in play with Reebok before I got my own shoe, and he got me in the loop, sending me shoes. Then asked [he] me if I ever wanted to do my own shoe. And to be totally honest, he and his staff create the design for the shoe, and then [they] send them to me for approval, to see if I say yay or nay. We will keep working to get the right shoe that everybody is comfortable with. As far as the design, I just approve it, I don't actually design them. But he and his staff come up with some dope ideas and some dope shoes.
This one has the pony skin on it, but it's inspired by your love for fur coats.
I rock pony skin coats, too, don't get it fucked up. For the people who don't know: They have pony skin coats, too, so don't get pony skin confused with fu,r because it's two totally different things.
Do you remember the first jacket you bought like that?
I don't remember the first fur, because I have so many furs, but I do remember the first pony skin that I had to have. It was from a guy named 5,001 Flavors. It was for my first album, and I actually didn't even buy it, it was given to me for a photoshoot for my first album. It was dope.
Do you still have those somewhere?
I have a couple of them. I have like two pony skin jackets left. You have to take care of them. Furs you have to take care of, but pony skins you have to cover them up or they will get dirty and filthy. It's a really delicate material.
I know you said the sneakers get sent to you and get approved, this is your third sneaker, is there anything you haven't done yet on the sneakers that you want to do in the future?
Nah, to be honest, everything that they have sent me I'm in love with and has been dope. We haven't had any problems creatively or with the designs. The last sneaker took two designs to get on the right page, but the purple sneaker was good. This one it was a W automatically.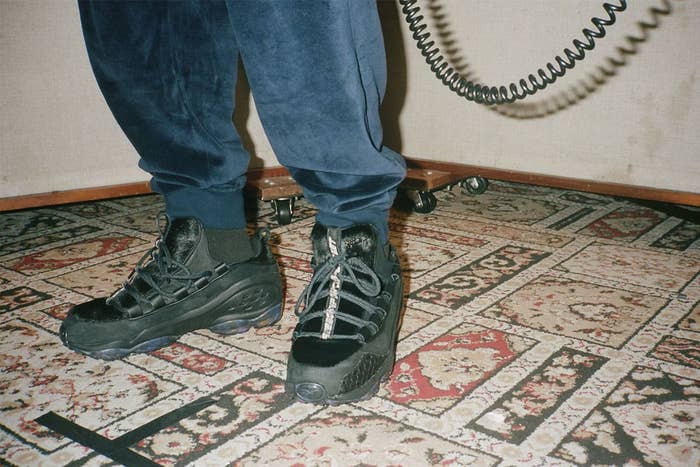 You see a lot of rappers getting sneakers nowadays, where do you think your sneakers stack up?
What people have to realize is this: You have rappers who are popular or whatever for the time being, but that don't mean you necessarily want to dress like them. You may have a guy who sells five million records, do you want to dress like him? When you see me, you think you may want to dress like that guy because that guy is fly. So I really don't compare myself to anybody. You gonna ask me who I compare myself to? Nobody. I don't think nobody can really mess with me as far as flyness or anything that I'm doing. I think I'm the best at everything that I do. I may be biased, because it's me. But if you ask me that, that's what I'm going to tell you.
You had the Dipset reunion the other week, and now you have have your own shoe. It's been so long since you guys first got together, but what's it like now getting back together and now you have your own shoe?
Nah, I sent them the last sneakers. Y'all see us publicly now, because we are deciding to do something together, some music, concerts, whatever it may be. But we still speak, whether it seems like we don't. Like we all know each other's families. Jim and Juelz have both pairs of the first pair of Fleeboks I put out.
A couple weeks ago, Dame Dash's sneaker collection went up for sale. Do you remember back in the day copping sneakers with him?
Not really. Dame's my man, but Dame used to always have sneakers sent to him, like he never really went out to get sneakers. He would send somebody out to get sneakers for him. Me, I would go out and get sneakers. I'm one of those people that don't really keep up with exact dates shoes come out, because you aren't going to get them then. Everybody is going to be on line trying to get them. But I go out and get sneakers randomly.
What do you think about that versus back in the day when you could go into a sneaker store and pick out what you want? Nowadays where there are 100 people outside just to get one pair of shoes.
I think they're setting them up for failure to be honest. I don't know, because I've never done it. But you gotta get a raffle first, and then it's what? 500 raffles for 500 pair of sneakers? 6,000 kids? Somebody is going to get hurt. I don't think that system works. That's just my opinion. When [brands] can manufacture as many sneakers as they want. I think it's dope to create the demand, and that's just a small part, but I don't really think that's smart. Everybody has their own strategy, but people are gonna get hurt like that. You got people outside fighting for sneakers when you know it's only going to be 500 [pairs]. You may have a skimpy, nerdy kid, no disrespect to anybody, but somebody is just going to snatch his sneakers. Somebody died like that in the past year or so, I think that system is wack.
Would you feel weird about that if that happened over your shoes?
Yeah I would feel weird, I would feel bad. I would feel really bad. I don't have Michael Jordan clientele when it comes to sneakers or anything like that. If somebody died over my sneakers, I wouldn't be bragging about that.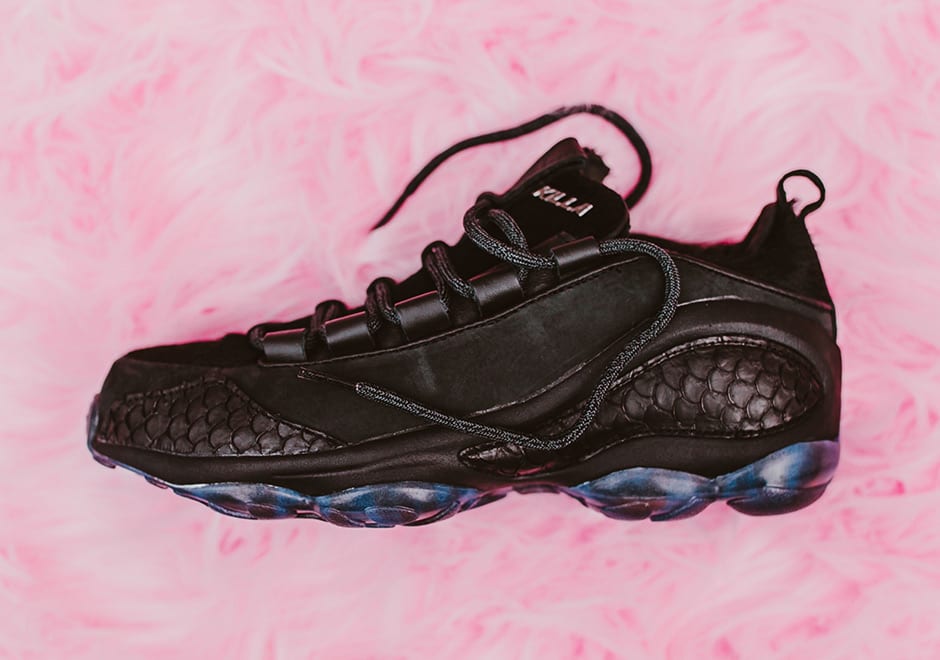 Can we expect more from Cam and Reebok, do you guys have more stuff in the works?
The next sneaker is already designed, it's ready to go. These and the next ones are probably my favorites.
One last thing I gotta ask you: Mase, did you expect that?
It was out the blue, but I'm proud of him, he finally showed some guts after like 15 years. It took him 15 years, but I was really proud of him when I heard that.
Were you trying to get that out of him by poking him the whole time?
The thing with me, I don't really make up stuff when I'm talking about Mase. I just tell him what's going on. I put a project out called The Program two weeks ago, and I told a story about something that happened in Harlem. So basically he was probably upset that I told the story, but I'm not going to stop telling any story, because it's Mase or anybody else. My raps are not that much fiction, I rap about stuff that's going on, so therefore I just told a story, came out the blue. But I'm proud of him, he showed some heart.
Just last week you and Mase had your back and forth, and then Fab and Jada dropped a project. Do you feel like New York is back?
I don't feel like it's New York, it's what you like. You know people like what they like. I'll give you an example. My project did really well on the Internet. As far as Fab and Jada, I feel like me and Mase overshadowed Fab and Jada's thing. And they two of the nicest artists, period. But people like controversy, I like controversy, too. Just talk about me, baby. I wouldn't say it's just New York, it's people liking what they like. Some people like trap music, this, that, and the third. Some people like they food in the microwave and some like they food in the oven. Just because you don't like your food in the oven doesn't mean you don't like popcorn out the microwave every once in awhile.