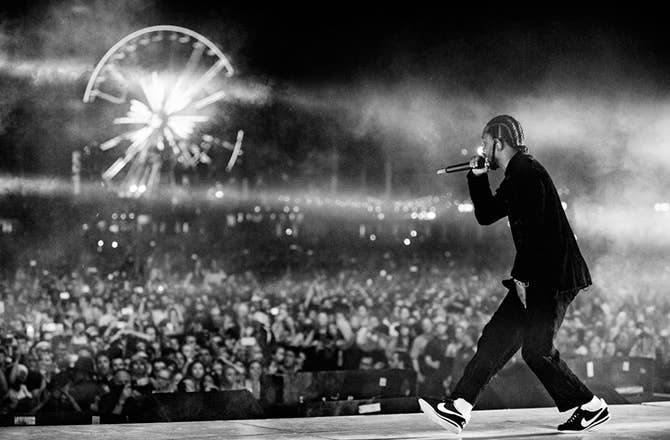 All eyes were on Kendrick Lamar when he took the stage in Indio, California, on Sunday, April 17, to close out the first weekend of Coachella. His new album, DAMN., captivated listeners' attention after releasing only days before. Everyone in attendance and those streaming the performance at home were keyed in on "Kung Fu Kenny." While most people were completely focused on the music, many sneakerheads took notice of what Lamar decided to lace up for the performance.
Donning martial arts garb, the Compton native wore pristine white Vans Old Schools and a pair of Nike Cortezes, not one of the many Reebok silhouettes he's been promoting since signing an endorsement deal with the company in 2014. How could Reebok be cool with Kendrick not wearing a pair of Classics in such a high-profile moment? Better yet, how could they let the opportunity slip by to have their kicks on Kendrick's feet when so many people were watching?
As it turns out, the answer's a little more complicated that it appears, just as it is when other famous names like Kylie Jenner can be seen wearing Adidas when she has a relationship with Puma, Kanye West is spotted sporting Vans while out for ice cream, or when Future rolls in Maison Margielas over Reeboks. Fans are left wondering what the exact nature of the relationships between brands and their endorsers looks like when the star decides to lace up sneakers from a competitor's offerings. Fans don't expect to see an ad campaign with a star touting one company, then see the same person in product from a would-be competitor. It leaves people wondering if the endorser believes in what they're selling or they're just enticed by the prospect of a large check.
While the explicit details of these deals are rarely made public, industry insiders are often willing to explain how some elements of the arrangements work. One key thing to note is that every deal is unique. "These partnerships and collaborations come in all shapes and sizes, from a one-off collaboration to full creative control on an ongoing project and everything in between," says Leila Fataar, former Global PR / Social Director for Adidas Originals.
While athletes are locked in to more exclusive arrangements, entertainers and celebs typically have looser terms regarding the length of the deal and exclusivity because the dollar amounts attached aren't as big as consumers may imagine. The deals usually revolve around a set period of time or number of appearances with the main goal being to drive sales and create buzz. "Ideally with any partnership, there is vested interest from both sides to ensure as much noise and sales as possible, so the agreement usually contains a set number of appearances and/or performances at events in different focus countries," Fataar says. "Even within those, there is a spectrum."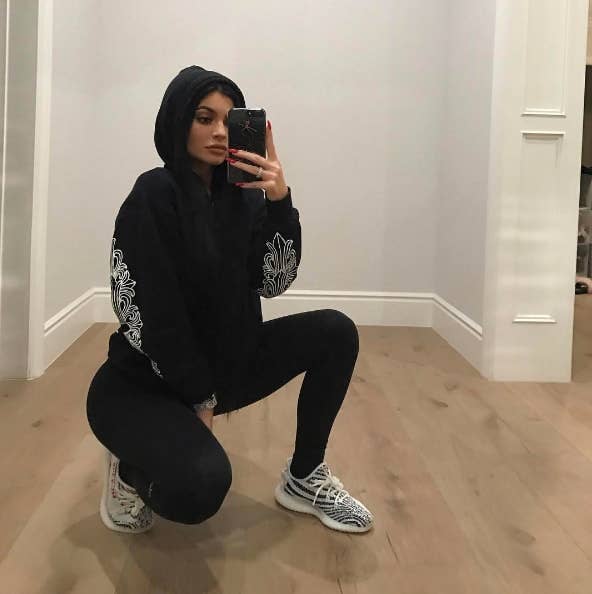 Depending on the situation, there are usually terms in place regarding wearing competitors' products in ads and appearances, but not so much can be said for what they can or can't wear to the grocery store. "Not all agreements have brand exclusivity in the contract," says Jerry Cionci, Brand and Social Marketing Manager for Champs Sports. "An endorser might be limited to X number of appearances in the product, but nothing says that he/she can't wear competitive products or work with other brands/retailers."
What makes these deals work in terms of public perception is the idea of authenticity. Fans like to believe their favorite famous person is really into whatever footwear they're promoting. "Kendrick genuinely wears Reebok Classics in his everyday life, in which that level of authenticity makes him a great fit," Cionci says. "Reebok also lets him collaborate on capsules with creative control - to an extent - with deep storytelling like the Split Personality pack."
Rappers get to deal with these situations firsthand, whether they're signed to a brand or not. Stalley's one of the most authentic sneaker fans in the hip-hop world, previously working at ALIFE and being a figure in the scene for years. He's also spent a lot of time around others with deals. "Being around people like Kendrick [Lamar] and [Rick] Ross, Reebok seems to do that all the time," he says. "They have an artist that has a shoe, but they give them the freedom to wear other stuff. When Ross had the Reebok deal, he was still wearing Jordans and other stuff."
Stalley's also been sent a lot of product in the past, even without a deal. But it gets tricky when multiple brands are sending you product. "In my experience of working with Nike and Adidas, they want you to be exclusive with them. Even if there's no contract, they want that loyalty," he says. "It can get funny, when you do a photoshoot with Nike, then you do something with Adidas, they might stop sending you packages like they used to."
The real connection is what brands are looking for. By creating a true bond between endorser and products, brands hope to make buyers latch on to what they're selling at retail due to the perception that the relationship is driven by choice, not dollars and cents. "When the endorser has more 'skin in the game' with product development and a say in the product lines, they will be more authentic to the brand," Cionci says. "Take Kanye for example. He single-handedly set off the Adidas Ultra Boost craze when was caught incorporating them into his everyday style."
It's that type of synergy that needs to happen in order for these partnerships to leave a lasting impression. But, what are fans left to believe in a situation like Lamar at Coachella or when Kylie's rolling in Adidas from head-to-toe while her face is plastered everywhere as part of a Puma marketing campaign? It tends to fall back on the brand to create the types of products that endorsers want to wear whether they're being paid for it or not. "When you have an opportunity to leveraging a top-tier endorser at a key event, you have to take advantage," Cionci says. "Whether it's designing a Coachella or DAMN. Kendrick sneaker pack, it's the brand's job to get the talent excited to wear their brand."
If they don't create that kind of energy with the products then some of the collaboration's steam can be lost. When brands miss these big opportunities, it's not just a loss on that front, it can also come off as a bigger look for their competitor. "If it looks good and it's visible in a world of social media, for me, it's an 'endorsement' and, worse, it's even more credible, because it's not paid for," Fataar says.
And that's tricky for brands to balance. Take Kylie Jenner and her Puma deal for example. "I look at it funny, because it doesn't make sense. Everything is driven off likes. Kylie's the face of Puma, but it doesn't matter what she does, as long as she's the face of their stuff," Stalley says. "They're getting sales from that, and she could do whatever outside of those photos."
The more you look into these endorsements, the trickier it becomes, but one thing's for sure: There's big money to be had by having people attached to brands. Which company wins out in the end, however, is a completely different story.