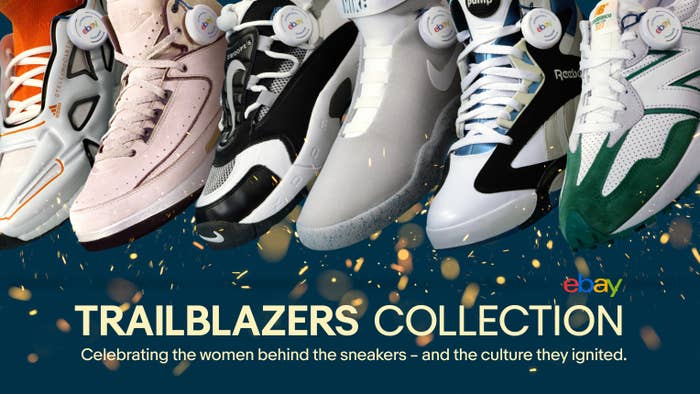 Ebay is celebrating March's Women's History Month with a carefully curated collection of sneakers that were each created by trailblazing women in the footwear industry.
Dubbed the "Trailblazers Collection," the sneakers that are up for grabs include the Nike Mag, which features the innovative power-lacing tech engineered by Tiffany Beers, the Adidas Ultraboost 22 designed by Stella McCartney, the Charlotte Lee-designed Casablanca x New Balance 327, WNBA legend Sheryl Swoopes' Nike Air Swoopes 2 signature shoe, and Vashtie Kola's Air Jordan 2 "Violette."
"From innovative designs to milestone partnerships that changed the game, this collection honors the women who have propelled the sneaker industry forward for decades," said Charis Marquez, VP Fashion of Ebay North America. "Female contributions to sneaker culture are often overlooked and, despite being passionate sneakerheads, many women feel their voices aren't heard. We wanted to spotlight and celebrate these women who have positively impacted the community."
The sneakers from Ebay's "Trailblazer Collection" will be available at eBay.com this month. In addition to the aforementioned capsule, Ebay will continue to honor women throughout Women's History Month with additional events to be announced at a later date.