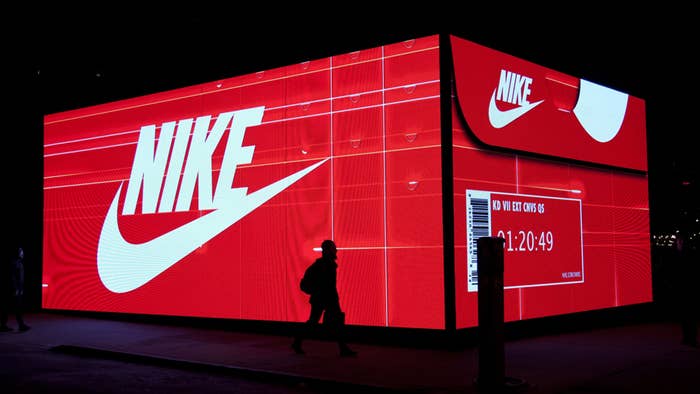 In an internal message sent to employees on Tuesday, Nike leadership named Lucy Rouse its new VP/GM overseeing SNKRS, the app where the brand's most limited and high-priority product is released. Her full title will be VP/GM of NBHD (short for Nike's top-tier "neighborhood" sneaker boutique partners), SNKRS Launch, and S23NYC (the New York studio where the SNKRS team is based).
Rouse will take over from Ron Faris, who, after building the SNKRS app into an integral but controversial part of Nike's direct-to-consumer business, was announced as the VP/GM of the Nike Virtual Studios division in January.
Rouse has been at Nike for over 16 years, starting with the brand as an account executive in Australia in 2005. She most recently led Nike's women's business in Europe, the Middle East, and Africa, and its sportswear business in the same regions before that. The email announcing her as the head of SNKRS says that she'll start in that role on April 4.
Neither Rouse nor a Nike spokesperson responded to a request for comment.
The memo on Rouse's new position, which was viewed by Complex, is addressed from Daniel Heaf, VP of Nike's direct-to-consumer business, and Carl Grebert, a VP/GM of Nike for Europe, the Middle East, and Africa. It makes explicit the goal for the future of neighborhood retail and SNKRS: "to accelerate shaping our future power franchises while realizing our vision to create the most inclusive, engaging, and progressive street and sneaker community in the world."
In an internal meeting last year, Faris cited creating a sense of inclusion and convincing app users that SNKRS releases are fair as priorities for Nike. The announcement on the new VP in charge of SNKRS launch reflects this.
"Over the past year, the NBHD + SNKRS team and a broad cross-functional global and geo working group have driven significant progress reimagining our NBHD + SNKRS street culture ecosystem, strategy," the Tuesday email says, "and operationalizing our ongoing offense to improve the perception of fairness in our product launch experience."
Nike has monitored the feelings of the SNKRS app customer base with internal quarterly reports that gauge factors like user happiness with the platform and belief in its overall fairness. In the past two years, the app has become a meme; it regularly trends on social media as people air grievances about not being able to buy the limited-edition sneakers offered on it. The flagging numbers for user happiness presented in SNKRS reports, which Complex has viewed, convey the same idea.
One SNKRS happiness survey from last year put overall happiness in the app at 45 percent for the fourth quarter of Nike's 2021 fiscal year. That number was one point up from a record low of 44 for the third quarter of the same year, per a document recapping the survey. User ratings for how fair respondents perceived SNKRS to be have also sunk to new lows, with just 22 percent of users surveyed for the fourth quarter of the 2021 fiscal year saying it provided them with a fair opportunity to purchase. That number was down from 24 percent in the previous quarter.
According to the presentation featuring data collected for the fourth quarter of 2021, survey participants were recruited via email and offered to win one of five $500 Nike.com gift cards. Additional context for the survey results viewed by Complex, like how widely they were shared within Nike, is not clear.
Findings from another Nike-conducted survey from the last fiscal year showed that the most engaged SNKRS users were "more convinced than ever of near-impossible odds" in the app. A recap posits that the fallout around Joe Hebert, the reseller son of former Nike VP Ann Hebert, might have damaged levels of trust for hyper engaged users, but found that few participants in the survey overall mentioned the scandal.
It's difficult to quantify how justified those feelings of uneasiness around Nike launch product are. Nike has said that bots generally aren't very successful at providing unfair advantage to people looking to game the system on SNKRS. And there was never any evidence that Hebert's familial proximity to Nike afforded him any privilege on the app. Still, the most prominent narrative around it is one of futility. 
Although there's a sense of discontent among the most vocal SNKRS app users, the launch platform for hyped footwear has brought in significant revenue for Nike's direct-to-consumer business. Now, Rouse will be challenged with continuing to grow that revenue without further alienating sneakerhead consumers.