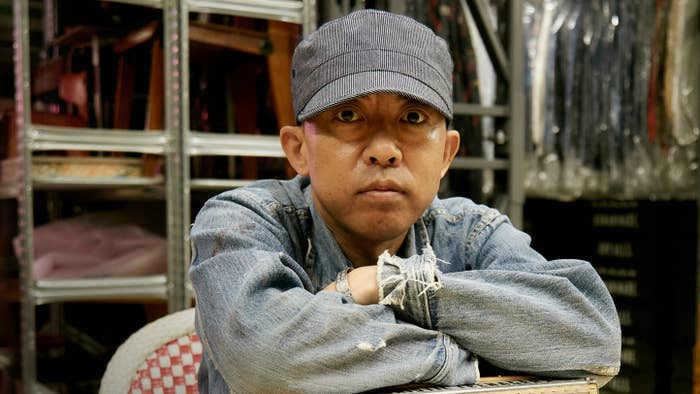 Japanese designer Nigo, the streetwear titan who founded Bape and Human Made and currently serves as artistic director for French fashion house Kenzo, is working on a collaboration with Nike, sneaker industry sources tell Complex. The deal between Nigo and Nike marks a shift for the designer's footwear alliances; Nigo's brands have worked extensively with Adidas over the past 20 years. 
Nike did not respond to a request for comment about its relationship with Nigo. A director at Otsumo, the parent company the designer founded in 2016 that sits on top of his current brands, did not respond to a request for comment.
Nigo and Nike are still in the early stages of working together on a sneaker, according to one source, and any collaborative product won't be released until 2024 at the earliest.
The Japanese designer has never worked directly with Nike on product before, but the brand's leadership met him on trips to Tokyo in the early 2000s, per one sneaker scene veteran who was in Nigo's orbit then.
Nigo is best known in sneakers for the Bape Sta, his Nike Air Force 1-inspired Bape model that enticed sneaker collectors in the early 2000s with exclusive drops of garish, patent leather colorways.
Aside from its inline footwear, Bape started to collaborate with Adidas on sneakers like the Superstar beginning in 2003. Nigo sold Bape in 2011 and stepped down from the company in 2013, but his connection with Adidas endured. The designer released a collection with Adidas in 2014, and his Human Made brand has regularly collaborated with the German sneaker company since, their most recent collection arriving last summer.
A source tells Complex that Adidas and Nigo are not extending their contract. Adidas did not provide a comment on whether it has an ongoing partnership with Nigo, but the deal between Nigo and Nike likely precludes any of his labels from partnering with competing sneaker companies.
While Nigo has not publicly confirmed that he's working with Nike, a recent Instagram post shows him wearing a pair of the Nike Go FlyEase. The footwear choice does not feel coincidental, given how seldom the Japanese designer has been spotted wearing Nike.

Concurrent to preparing a collaboration with Nigo, Nike is fighting a legal battle against his old brand Bape over its Bape Sta sneakers. Nike filed a trademark infringement lawsuit against Bape in January, accusing the brand of ripping off some of Nike's most iconic footwear. In a filing from that lawsuit, Nike lawyers say the brand's execs met Bape in 2009 to address its "pirating of Nike's iconic Air Force 1 design." A letter submitted in the lawsuit by Bape's lawyers revealed that Nike offered Bape a licensing agreement for the Bape Sta shoe that same year.