In a sneaker climate where performance basketball isn't nearly as hyped-up as it was eight or nine years ago, a collaboration can really move the needle. Kith did it last year with the LeBron 15. Concepts put its spin on the Kyrie 5 this past December. Now, Los Angeles-based streetwear brand Rokit has crafted its own version of Kyrie Irving's signature model as an homage to skate culture for the basketball court—two worlds that the brand aimed to bridge the gap between naturally.
"You grow up wearing Nike and now you're designing a shoe, let alone a shoe that is performance-based for the court. I think that in itself is a big thing we never thought could happen. It's pretty crazy," said Rokit co-founder Bam Barcena.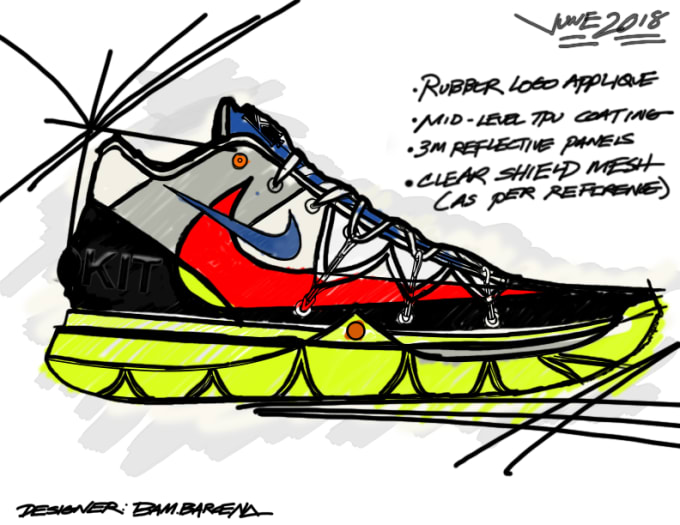 Rokit first launched back in 2016 fusing the worlds of skateboarding and basketball, cultures that represented the passions of co-founders Bam, Nico Guardalabene, and Ryan Barcena. The pairing between the brand and Irving is more natural than you might think. Aside from already being a fan of Rokit, Irving himself has a love for skateboarding, too.
"I saw this video of [Irving] dropping in on a mini ramp at the Berrics (a private skate park in Los Angeles co-owned by Eric Koston) on YouTube and was like, 'Oh shit. He skates?' I don't know how heavy he skates, but he has an appreciation for the sport," said Barcena. "Immediately, we knew that was someone we'd love to collaborate with in the future. Maybe six months after we saw that video, Nike Basketball contacted us about doing something with Kyrie."
Although Rokit and Irving never worked directly, Barcena says that the superstar point guard had the final say on what design would be going to market. Seven different samples were produced that ranged from more weable all-white looks to colorways inspired by hiking boots. At the end of the day, Irving gravitated towards the loud design seen on the release version. He even made sure to accentuate the logo on the heel.
"The Rokit logo on the back, we didn't want it to be like that. We wanted it to be subtle and small. Kyrie was like, 'No, we want people to know that we're fucking with you guys on this level.' It was dope. You can't say no to that."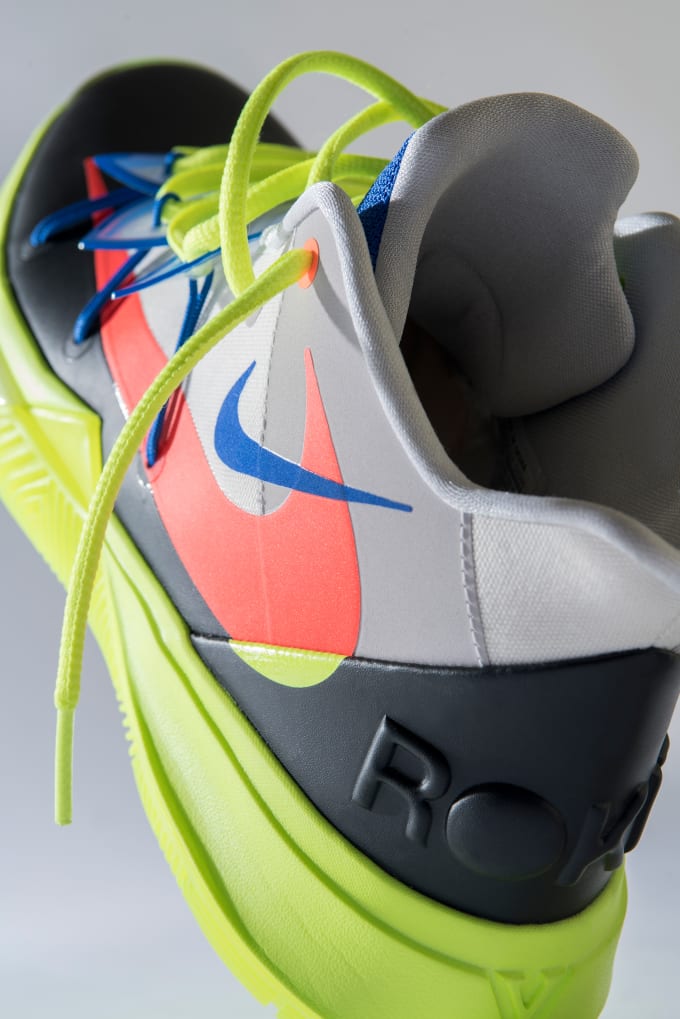 The design itself is meant to represent Irving's career coming full circle from playing at Duke to returning to North Carolina as an NBA All-Star. The Rokit co-founder says the neon green, red, and blue color scheme is "an homage to punk and underground culture," while the black TPU coating wrapping the mid panel is made to resemble "ollie pads" on skate shoes. The large reverse Swoosh, coincidentally a design detail also found on Travis Scott's upcoming Air Jordan 1, is an homage to the misled youth the brand so often represents.
"I think this particular shoe extends the story of us coming from the street to the hardwood. Our Converse was something you could hoop in, but not many people would. This Kyrie 5 is the performance side of basketball," said Barcena. "I think performance is kind of the wave right now. It's our nod to basketball and Kyrie was the perfect person to do that with.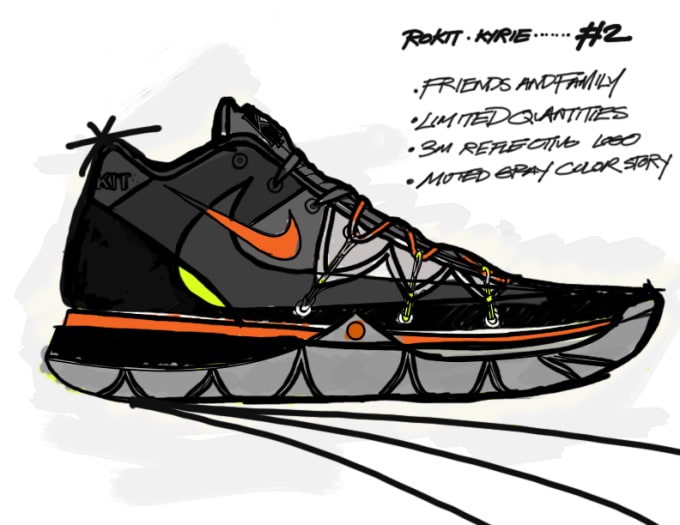 Along with the release version, Rokit plans to drop a friends and family colorway in the coming weeks limited to 200 pairs, a more subtle take on the "All-Star" look with a dark grey upper, orange detailing, and new details like 3M branding on the heel.
For anyone attending All-Star weekend, a special pop-up installation will be held at Charlotte boutique Social Status to commemorate the launch of the Rokit x Nike Kyrie 5. Pairs will also be available via Nike SNKRS and other select retailers on Saturday, Feb. 16 for $140. If Irving isn't kept on the sideline nursing a right knee injury, expect him to lace up the vibrant collab this Sunday as well during the 2019 NBA All-Star Game.