The most overused word in the sneaker industry is influencer. Everyone wants to be one, but if you have to call yourself an influencer, odds are that you're probably not one. There was once a time, long, long ago in a pre-Internet era, where a handful of people got deemed as influencers in the footwear realm for simple reasons: they had an authentic connection to sneakers or they were real celebrities.
The psychology behind wanting to be an influencer is simple: Everyone wants to have a ton of followers, feel like they're popular, get free sneakers, clothes, and trips, and get paid for just being themselves or "creating content." Sounds pretty good, doesn't it? But here's why all of that—or at least aspiring to do all of that—is corny as fuck. The reason you should find yourself in any of those situations is because you've done something in your career that warrants the attention (and gifts) of footwear companies. Consider it the perks of the job, rather than the whole job itself.
But this cottage industry, where people get a DSLR camera, take a few good pics, post regularly on Instagram and Twitter and even start a YouTube channel, has real ramifications. If everyone is considered "cool," then nothing is cool at all. If your sole objective is to become an influencer, then how are those who follow you online supposed to take any of your content seriously?
Let's get things clear, there's nothing wrong with getting free sneakers or clothes and posting it on your social media account. Most people who work in this industry do it, and the majority of them give the brand a thank you for sending them over the product. But when your whole online persona is a shill to get free shit, then it becomes a grey area on whether or not you truly endorse any of it, or if you're just doing it to get more stuff or to get a check.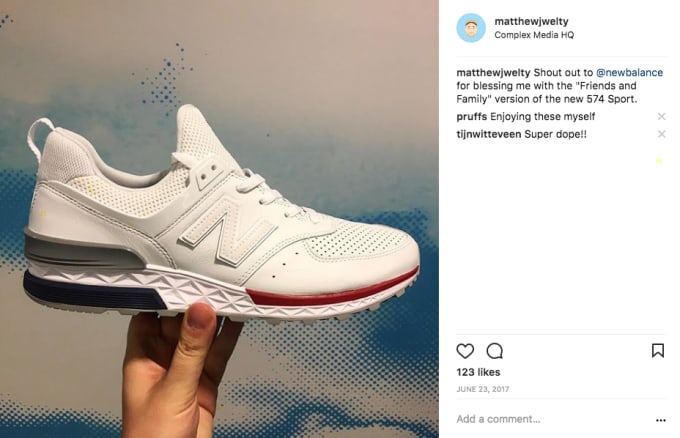 I get it: It's a good look to have 20,000 Instagram followers and get paid to post a pair of Adidas Alphabounce. But the reason why brands, at least initially, want to work with "influencers" is because they knew that person's co-sign meant something. If someone who had been collecting sneakers since the '90s or early 2000s unveiled a new colorway of an upcoming sneaker, it had meaning. It felt like the brand was making the right moves. There was an organic bit of storytelling involved that further reinforced that it wasn't just another marketing deal or a ploy to get people to buy shoes. A lot of that has changed, though. Anyone with a big enough following or mainstream enough of an audience can be viewed as the "right person" to promote sneakers.
It's gotten to the point that brands are signing any artist in hopes to give them a boost. There are rapper/sneaker collaborations such as Kanye and Adidas or Kendrick Lamar and Nike that make a lot of sense. But there are also a lot of these connections that don't make much sense at all and are strictly for the paycheck, as brands are looking to latch onto anyone with influence.
Sometimes you gotta scratch your head when you see a random person promote a new shoe that's coming out and you wonder if they really like it or are even into sneakers at all. It's even funnier when they talk about how deep their connection is to the brand and how meaningful it was to get to work on the campaign. I'm sorry, but nobody believes you. Especially when you switch your brand preference -- no one should be really forced to tie themselves down to one company -- from #teamboost to #nikeboyz in a three-month span, it makes matters worse.
What's worse is that brands then wonder why true sneakerheads don't take them seriously or they can't generate a genuine buzz around their sneakers. Well, take a look at what you're doing. If you're working with someone who calls themselves a "storyteller" when all they do is just take photos of themselves and don't even write, then I don't know what to tell you.
Things have gotten so out of hand that there are now classes that influencer "consultants" teach—and charge a pretty sum for—to unsuspecting folks who want to be cool on the Internet. Maybe it will work for some people. Maybe they'll find a way to shill out a few free pairs of sneakers from a brand, get their followers up, and be able to get their #collaboration #ad on with a fourth tier footwear brand or retailer. There are plenty of ways to break into the sneaker industry right now, but I don't think this is the most effective one. Get a job at a retailer, maybe in corporate, work your way up and make cool shit happen. Maybe being an "influencer" can help you get your foot in the door, but for that simply be the end game seems short-sighted, there are way more fulfilling things to do in the sneaker game. You'll be able to do actually influential things and not feel like you're selling your soul for an Instagram post.