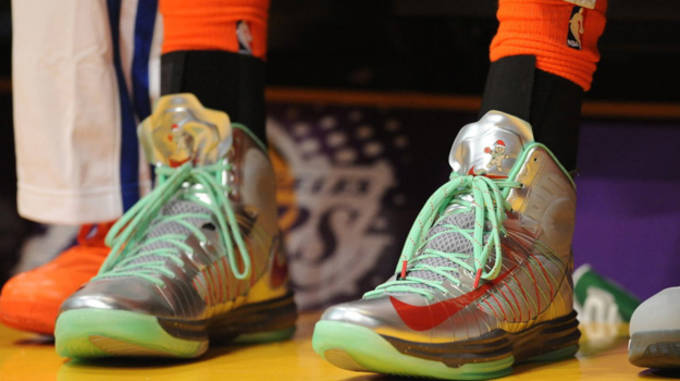 No. 10 - Nike Lunar Hyperdunk
Year: 2012
Worn by: Pau Gasol, Chandler Parsons, Carlos Boozer, Grant Hill, Kurt Thomas, Ronnie Brewer and Jordan Hamilton
Kicking off our roundup of Christmas Day sneakers is this pair of Nike Lunar Hyperdunks that were worn throughout the league in 2012. The silver upper was highlighted by minty green laces and red Nike branding for a Yuletide touch. The real highlight of the sneaker, though, come on the tongue which featured a basketball-playing gingerbread man wearing a santa hat.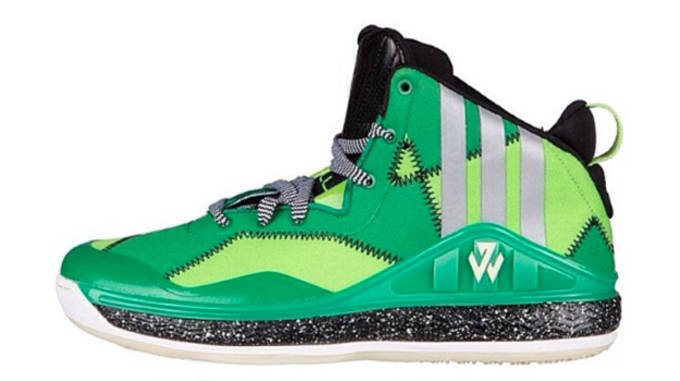 No. 9 - adidas J Wall 1
Year: 2014
Worn by: John Wall
With a roster full of young and exciting players, the Washington Wizards made it onto the NBA's Christmas Day schedule this year with a noontime game against the putrid Knicks. All eyes will be on budding superstar point guard John Wall and his first-ever pair of Christmas Day signature sneakers. As part of adidas' "Bad Dreams" pack, the sneakers actually glow in the dark when the lights are out.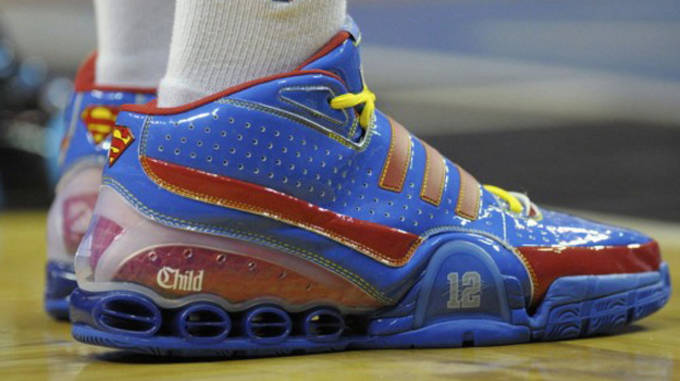 No. 8 - adidas TS Bounce Commander "Superman"
Year: 2008
Worn by: Dwight Howard
Dwight Howard may be one of the more overlooked signature sneaker stars today, but back in 2008 his Superman-themed shoes took center stage. Howard had a Clark Kent-lik performance on the boards, hauling in 15 rebounds to go along with 12 points for a Christmas Day double-double.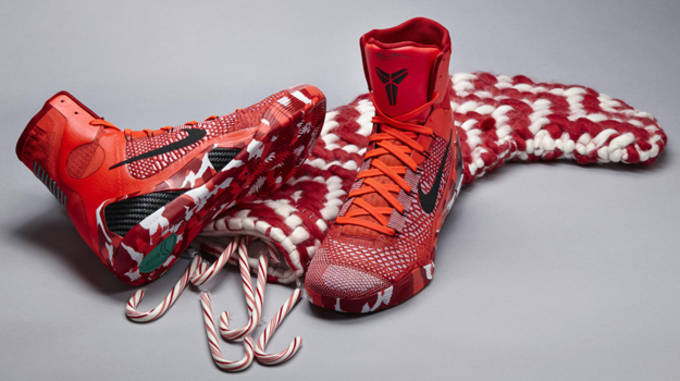 No. 7 - Nike Kobe 9 "Knit Stocking"
Year: 2014
Worn by: Kobe Bryant
As you'll see on this list, Kobe Bryant always seems to get the best Christmas Day sneakers. This year is no different, as the Nike Kobe 9 "Knit Stocking" looks to be the premier sneaker this holiday season. Given the sneaker's status as the first basketball shoe to contain a Flyknit upper, Nike modeled the Kobe 9 after a Christmas Stocking. The best touch of all, though, is the patch on the inner tongue that reds "Mamba's Greetings."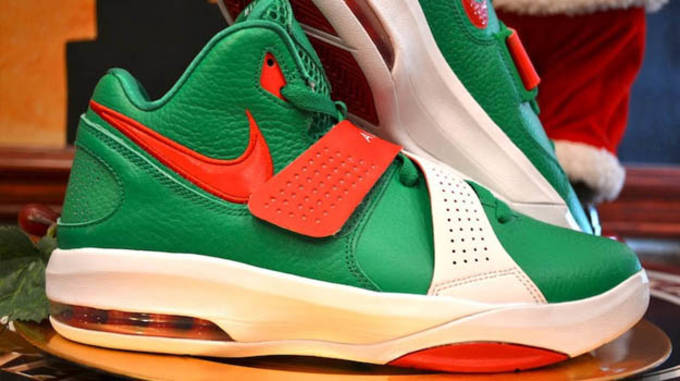 No. 6 - Nike Air Max Sweep Thru
Year: 2011
Worn by: Amare Stoudemire
Due to the lockout, Christmas Day doubled as opening day for the NBA in 2011. New York's Amare Stoudemire started off the season in the style by wearing a "Christmas" PE of the Nike Air Max Sweep Thru. The festive sneakers helped elevate Amare's game, as the forward chipped in 21 points in the Knicks 106-104 victory over the Celtics.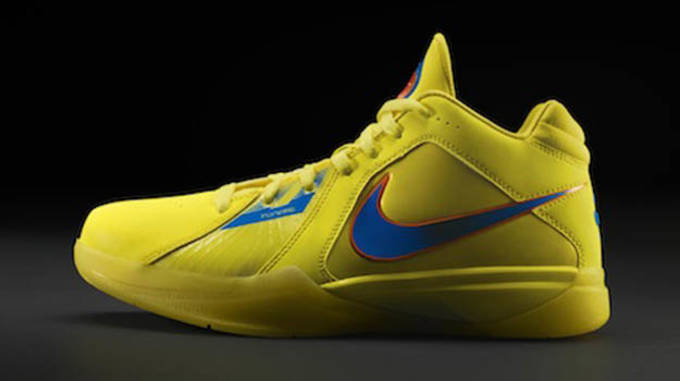 No. 5 - Nike Zoom K III "No Yield for Yellow"
Year: 2010
Worn by: Kevin Durant
In 2010, Nike modeled its Christmas Day collection off of a traffic light, giving each one of the big three signature athletes a red, yellow or green colorway. Living up to the "no yield" philosophy that his sneaker suggested, Kevin Durant proceeded to drop 44 points on the Denver Nuggets in the Thunder's 114-106 triumph over the Nuggets.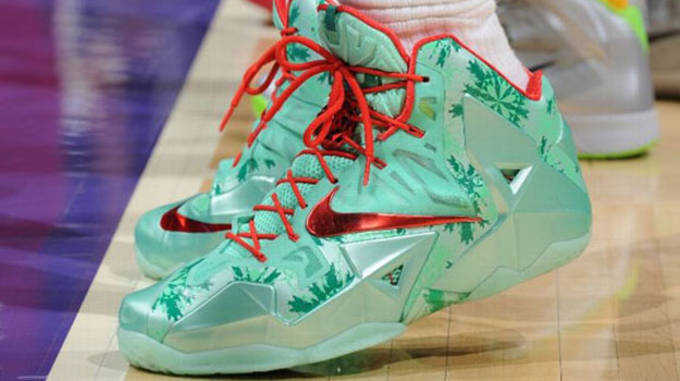 No. 4 - Nike LeBron 11
Year: 2014
Worn by: LeBron James
LeBron must have been in the spirit of giving last Christmas, as he gave way for both Dwayne Wade and Chris Bosh to score more points than him against the Lakers. King James was no slouch himself, though, netting 19 points and grabbing 8 rebounds in a "Christmas" pair of Nike LeBron 11s, which featured snowflakes throughout the upper.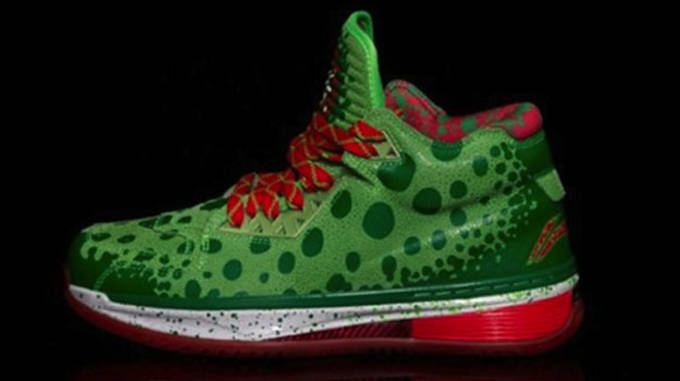 No. 3 - Li-Ning Way of Wade 2
Year: 2013
Worn by: Dwyane Wade
Like we just said, it was Dwyane Wade who stole the show on Christmas Day 2013, both with his scoring and his sneakers. The two-toned green spotted print on the upper propelled Wade to score 23 points and dish out seven assist in the Heat's win over the Lakers. For an encore this year, Li-Ning has supplied Wade with an ugly Christmas sweater version of his third signature sneaker.
No. 2 - Air Jordan VII
Year: 1992
Worn by: Michael Jordan
Jordan's Christmas Day performance in the Air Jordan VIIs was so legendary that it went on to inspire Jordan Brand's entire 2014 Christmas Day collection. The cardinal red and metallic gold hues can all be spotted on the Melo M11, Super.Fly 3 and CP3.VIII this Christmas. But getting back to Jordan, "His Airness" put up a ho-hum 42-8-5-3 stat line against the Knicks at the World's Most Famous Arena. This came two days after putting up a 57 point,10 rebound performance against the Washington Bullets.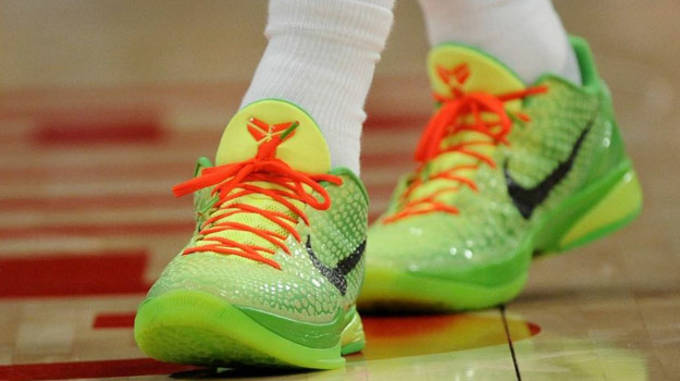 No. 1 - Nike Zoom Kobe VI "Green Means Go"
Year: 2010
Worn by: Kobe Bryant
As the green installment of Nike's traffic light theme in 2010, Kobe Bryant wore the Nike Zoom Kobe VI "Green Means Go." Despite the sneaker's name, legend has it that the shoe was inspired by Kobe's love for the Grinch, which makes sense on so many levels. As far as the game, Kobe didn't necessarily steal Christmas, as he dished out 7 assists to teammates like Pau Gasol and Lamar Odom, while scoring 17 points of his own.
RELATED: The Best Running Shoes to Buy Your Relatives This Holiday Season
RELATED: Last Minute Stocking Stuffers for the Athlete in Your Life