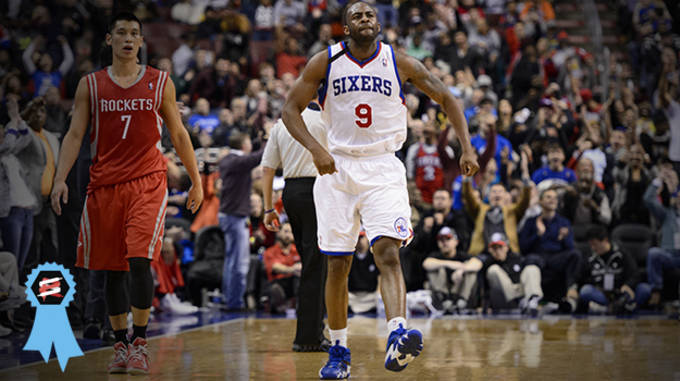 It was a busy Wednesday in the NBA with 12 games on the NBA schedule. There were some great performance with a plethora of 30-point games on Wednesday night with some competitive and close games involved in the mix as well. Rudy Gay returned to Memphis and led Toronto to a 103-87 victory against his old team in the Jordan 5 Retro. Kevin Love dropped 33 points against the Cleveland Cavaliers in the 361 Degrees Kevin Love 3.0 PE, and James Anderson exploded in overtime against the Houston Rockets by dropping 36 points for the Sixers. Arron Afflalo also got in on the act by scoring 36 points with 8 threes to lead Orlando to a 94-91 win over Milwaukee. Here are the Shoes That Won Last Night.
Rafael Canton is a freelance writer from Queens, NY and contributor to Sneaker Report. Anytime there is a conversation about the NBA, music, or nutella, he can be found in the thick of the discussion. He can be found on Twitter @RafelitoC7.
RELATED: The Shoes That Won Last Night: LeBron James Goes Off In Miami Heat Win, Michigan State Sneaks Out Win Against Kenucky
RELATED: The Shoes That Won Last Night: Houston Rockets Win in Double Overtime, Tampa Bay Buccaneers End Winless Drought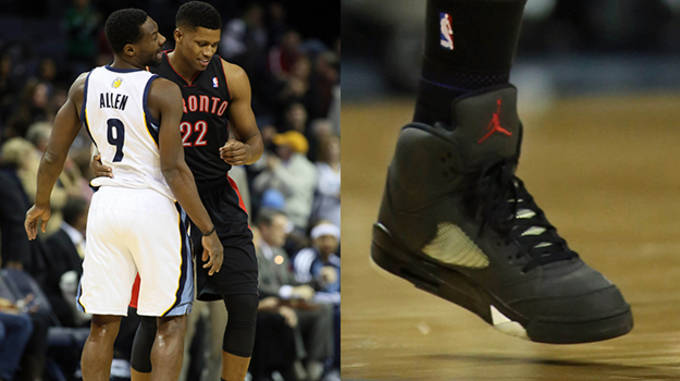 Shoe: Air Jordan 5 Retro
Player: Rudy Gay
Game: Toronto Raptors vs. Memphis Grizzlies
Payback has to be one of the more fun aspects of the NBA. Rudy Gay was traded by the Memphis Grizzlies last season and returned for the first time to his old stomping grounds. Gay tried to show what the Grizzlies missed out when they traded him in Toronto's 103-87 victory over Memphis. Gay scored 23 points and had a relatively efficient game for his slightly poor standards. Gay shot 8-for-18, knocked down 4 triples, and had 6 rebounds, 4 assists, and 5 steals as well. Gay got the last laugh against Memphis... for now.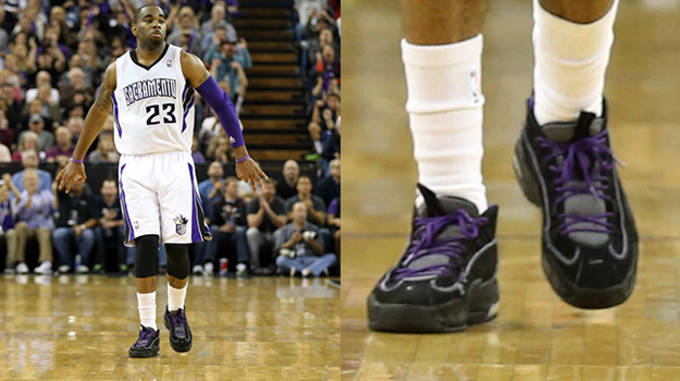 Shoe: Nike Air Max Penny I "Club Purple"
Player: Marcus Thornton
Game: Sacramento Kings vs. Brooklyn Nets
The Brooklyn Nets are not looking like a very good NBA team right now, but let's focus on the Sacramento Kings. The Kings were able to get their second win of the season behind 24 points from Marcus Thornton in a 107-86 easy win over Brooklyn. Thornton knocked down 4 treys and was overall efficient which is not the name of his game. Thornton managed to do this all after being demoted to the bench after starting for the first 6 games of the season. Talk about a great response to prove to coach Michael Malone that he deserves his place as a starter.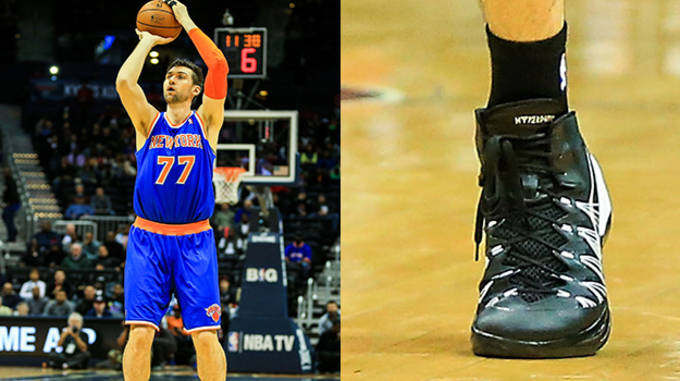 Shoe: Nike Hyperdunk 2013
Player: Andrea Bargnani
Game: New York Knicks vs. Atlanta Hawks
There's been criticism coming from all directions to the Knicks center/forward Andrea Bargnani. The former number 1 draft pick proved that he can have some toughness and impact a game in different ways last night. The Knicks defeated the Atlanta Hawks 95-91 behind 20 points and 11 rebounds from Bargnani. Bargnani made an impact by grabbing 4 offensive rebounds for extra Knicks possessions and displayed his versatility by knocking down 2 threes from outside in the victory.
$110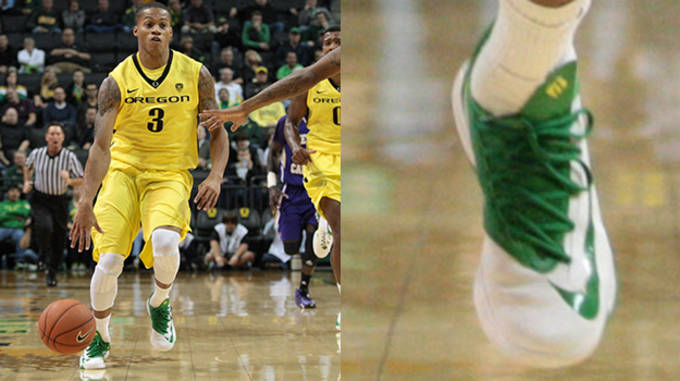 Shoe: Nike Zoom KD VI
Player: Joseph Young
Game: Oregon Ducks vs. Western Carolina Catamounts
There's nothing like a good 1-2 punch to catapult a solid offense into an elite offense. Joseph Young and Mike Moser combined for 62 points in Oregon's 107-83 victory over the West Carolina Catamounts. Young was particularly effective with 36 points, 6 rebounds, and 3 steals for the Ducks. Young got to the charity stripe 16 times while knocking down 15 of his 16 attempts. He was also able to knock down 3 threes to help Oregon put away Western Carolina in the second half.
$130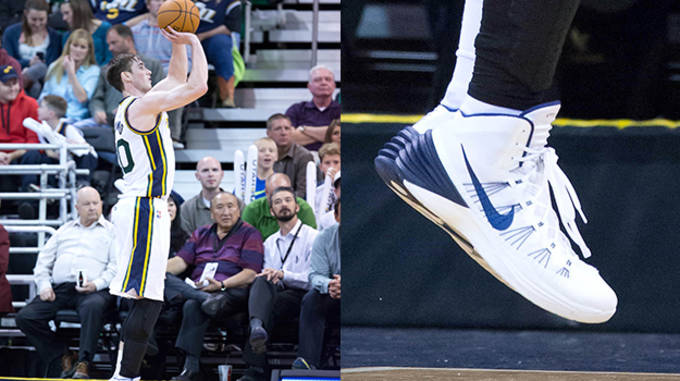 Shoe: Nike Hyperdunk 2013
Player: Gordon Hayward
Game: Utah Jazz vs. New Orleans Pelicans
There's no better feeling than ending a losing streak. It's a big relief and also it's a great way to embarrass the opposing team. The Utah Jazz did just that with their 111-105 victory over the New Orleans Pelicans to end an 0-8 start to the 2013-14 NBA season. Gordon hayward was fabulous in the win with 27 points, 5 rebounds, and 10 assists in the win. Hayward's starting to grow into a role on the Jazz as a main ball handler and makes a ton of good and unselfish decisions. He's also starting to e more aggressive with taking it to the rack and drawing fouls as evidenced by his 14 free throw attempts last night.
$110

Shoe: adidas adiZero Crazylight 3
Player: Ricky Rubio
Game: Minnesota Timberwolves vs. Cleveland Cavaliers
For some reason there's a Wizard on the Minnesota Timberwolves. Oh wait, it's just Ricky Rubio in the adiZero Crazylight 3. The star point guard of the Wolves was great in Minnesota's easy 124-95 victory over the Cleveland Cavaliers. Rubio had an even game with 16 points, 6 rebounds, 16 assists, and 3 steals in the win. When Rubio's getting everyone involved and scoring on to of that Minnesota's becoming a hard team to beat. If Rubio keeps this up, he could get some very serious All-Star consideration in the near future.
$112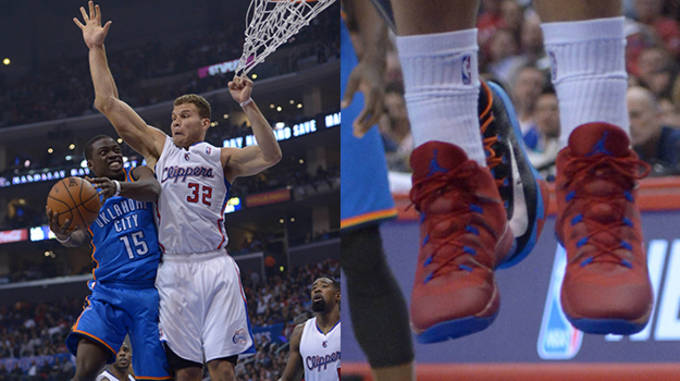 Shoe: Jordan Super.Fly 2
Player: Blake Griffin
Game: Los Angeles Clippers vs. Oklahoma City Thunder
Besides a mini-skirmish with Serge Ibaka, Blake Griffin was great for the Los Angeles Clippers. Griffin led the Clippers to a 111-103 victory over the Oklahoma City Thunder with 22 points, 12 rebounds, 7 assists, and 3 steals in the Jordan Super.Fly 2. Griffin had a few great dunks and also had some great passes including a nice lob tap to DeAndre Jordan. It was a spectacular performance that makes us remember how great and versatile Griffin is on the court despite the constant and sometimes unwarranted criticism he receives.
$130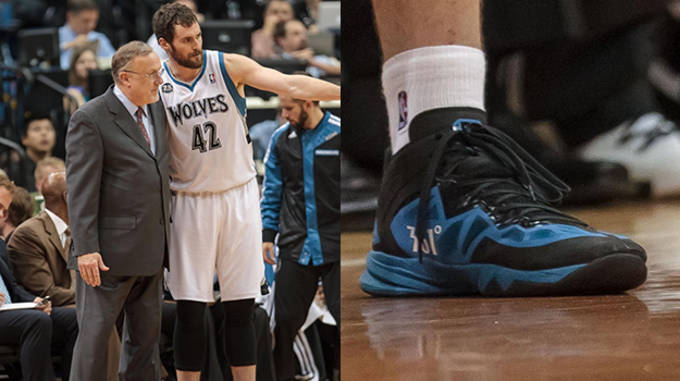 Shoe: 361 Degrees Kevin Love 3.0
Player: Kevin Love
Game: Minnesota Timberwolves vs. Cleveland Cavaliers
This has been the evolution of Kevin Love story early on this season. love does everything for his team. He shoots and scores with range, rebounds, passes, and is just amazing at everything except for defense. Love had a great all-around performance in a 124-95 rout of the Cavaliers with 33 points, 8 rebounds, and 6 assists. Love is already getting some early MVP love from around the NBA. If the Wolves keep racking up wins and Love puts up these numbers, he will be a shoe-in.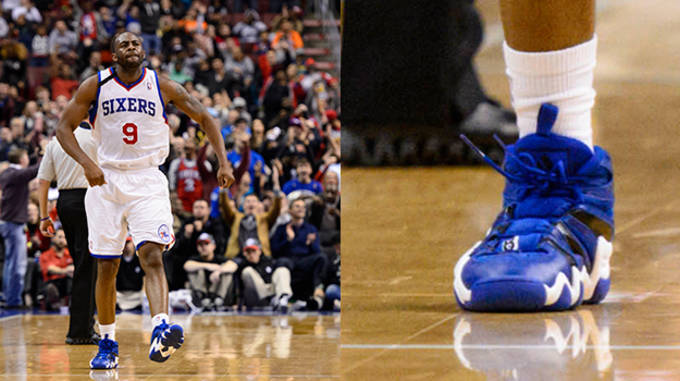 Shoe: adidas Crazy 8
Player: James Anderson
Game: Philadelphia 76ers vs. Houston Rockets
James Anderson looked like he was on his way out of the NBA, but the Philadelphia 76ers are giving him a chance. Originally a first round draft pick of the San Antonio Spurs, Anderson had his rookie team option declined and after re-signing again in San Antonio, he was waived. Last year, Anderson had a cup of coffee with the Rockets before being waived. Now with the Sixers he's proving his worth as a streaky shooter. Anderson led the Sixers to a 123-117 overtime victory over the Houston Rockets with 36 points, 5 rebounds, and 3 steals in the win. Anderson knocked down 6 threes including a clutch one with 6.9 seconds left in regulation that tied the game and sent it to overtime.
Shoe: adidas adiZero Crazylight 3
Player: Arron Afflalo
Game: Orlando Magic vs. Milwaukee Bucks
The Orlando Magic found themselves in a deep hole early, but Arron Afflalo refused to let his team give up. After being down by as many as 19 points, Afflalo kicked it into gear in the middle of the second quarter. The UCLA product was efficient in every facet of the game with 36 points, 8 rebounds, 6 assists, and 2 steals in Orlando's 94-91 victory over the Milwaukee Bucks. Afflalo made 8 threes as well including 3 early in the third quarter that gave the momentum to Orlando in the game.
$112
Rafael Canton is a freelance writer from Queens, NY and contributor to Sneaker Report. Anytime there is a conversation about the NBA, music, or nutella, he can be found in the thick of the discussion. He can be found on Twitter @RafelitoC7.
RELATED: The Shoes That Won Last Night: LeBron James Goes Off In Miami Heat Win, Michigan State Sneaks Out Win Against Kenucky
RELATED: The Shoes That Won Last Night: Houston Rockets Win in Double Overtime, Tampa Bay Buccaneers End Winless Drought