Calling The Fresh Prince of Bel-Air a "cultural touchstone" is a gross understatement. Although it's one of the most important black television shows ever made, it transcended race. Everyone was aware of the show, and a certain age group—regardless of race—can recite every word of the iconic theme song. Having an intro that DJs can randomly drop in the club over two decades later is admirable, but it's far from the show's most impressive element. That's reserved for the career boost given to the actors who appeared on the show, from the main players to the ones who only had scenes in one or several of Fresh Prince's 148 episodes.
 
No one has benefited more from The Fresh Prince of Bel-Air than its star, Will Smith. It was the vehicle that took him from the Fresh Prince, to the Fresh Prince of Bel-Air, to Academy Award-nominated megastar. The fusion of charm, savoir faire, and touching honesty you've seen in his best work was honed during the show's six-season run. Furthermore, that finesse helped the TV-version of Will Smith score the attention of some of the most talented and desirable young actresses of that era. Appearing opposite Will was a revolving door of Jet Beauty of the Week candidates who matched wits with the young actor, keeping him on his toes.
 
The Fresh Prince of Bel-Air provided many of these actresses with the exposure they needed to ascend the next plateau. In honor of the show's 25th anniversary, we spoke to a few of them—Nia Long, Jasmine Guy, Lela Rochon, Elise Neal, and Vivica A. Fox—about their memories from the show, the impact it had on their careers, and its lasting influence. These are the moments you can't find on YouTube.    
The audition process was a different experience for each of the actresses. Some auditioned multiple times before securing their roles, others say they barely auditioned, and one actually read for a major role prior to her guest appearance.
Lela Rochon (Cindy, Season 2, Episode 3): I remember going in for The Fresh Prince maybe a couple of times before they finally offered me a role on the show. I think I had read for Karyn Parsons' role [Hilary] and then I read [for the role of Cindy] and ended up finally getting that part.
Nia Long (Lisa Wilkes, Multiple episodes): For me, there wasn't an audition process. I remember I came in and the entire cast was on set having a table read, and a friend of mine who was a writer on the show told me to come down and say hello to everyone.
Elise Neal (Wendy, Season 4, Episode 22): I was really excited to be part of the show. It was already a hit when I auditioned, and when I read that Pam Grier was playing my mother and I was [going to be playing] Will Smith's girlfriend, it was just really a lot of fun. It was early in my career and one of the biggest roles I had gotten at that point. It was such a fun set; everybody was great.
Vivica A. Fox (Janet, Season 1, Episode 19): I played Jeff's sister or cousin, and I ended up being the date from hell for Will. I started off all nice, and then when we got to dinner, I just turned on him. The psycho bitch showed up.
Lela Rochon: It was interesting because I was still kind of fascinated with the role of Hilary, like "Why didn't I get that part?" but it made sense when Karyn did it because she had such a specific take on it. That was her part; she really owned it. So I was a fan of the show—you always watch the jobs you don't get; that's why I watched the show—and I really liked it. So when I did get offered the role to play his girlfriend, I figured it would be fun.
Nia Long: I met Will, we talked for a little bit and then I hung out and watched their process, and then I did one episode. I guess that one episode was sort of my audition, and then after that, they invited me back to do most of the following season.
Vivica A. Fox: I had kind of just started acting and was coming off of soap operas, and graduating to doing nighttime television, sitcoms, and dramas. So when I got the part, I was thrilled because I love Will and we totally went on to make movie magic later—and not just with him, with his wife too. I was a fan of his, so when I got the part, I was like "Yes!" I studied really hard, and I went in there and nailed it. I was rollin' at the audition, and they called 15 minutes later to tell me I got the part.
For some of the actresses, filming an episode of The Fresh Prince of Bel-Air was the biggest moment of their careers at that point. The natural unease was settled by the familial environment on set, as well as the fact that some of them had met members of the cast—including Will—before.
Elise Neal: I had met Will before as a dancer. I think I had done one of his early videos. To keep it real, I was so nervous at the time—I was still so new to the business of acting—I wouldn't have even stepped to Will Smith to say anything. I was just happy to be there, and I was excited that I was getting to play such a cool role and do a lot of different fun scenes. I was just like "Okay, I'm here."
Lela Rochon: I didn't know him at all. It's been 24 years, so I don't remember if Will and I had ever met before the show. I remember being like, "Thank God he's tall," and I remember he was nice, but he was really confident. I didn't find it intimidating, but I was like, "Wow, he's so confident to be so young." That was sort of impressive to me.
Vivica A. Fox: I think I had met him because I remember one time, I did a little bit of stand-in work for Jasmine Guy.
Jasmine Guy (Kayla Samuels, Season 1, Episode 21): I was happy to be asked to do the show Fresh Prince of Bel-Air. I met Will briefly on the set of A Different World and found him bright, charismatic, and talented.
Vivica A. Fox:  She was doing A Different World, but she also did a guest-appearance [on The Fresh Prince of Bel-Air], so then when they called me in to audition, I said absolutely. So I kind of knew him, and then I knew him out and about as Will Smith the rapper. Then, all of a sudden, he was the Fresh Prince of Bel-Air.
Lela Rochon: It was a very warm, inviting set. They all seemed really happy and they made me feel really comfortable. It was a fun week. Will was nice, Alfonso [Ribeiro] was very nice, and so were Janet [Hubert] and James [Avery], rest his soul.
Vivica A Fox: Working with them was like working with family. I knew Alfonso; I knew Tatyana [Ali]; I knew Karyn Parsons, I knew the entire cast by then because I had come up there a couple of times. What I love about the show is that it started a great history of friendships, and I'm still good friends with all of them to this day.
Nia Long: I was scared to death pretty much every day I was there, and I tried not to show it.
Elise Neal: I was nervous, and I had what, to me at the time, was a lot of lines, so any free time I got away from the set, I was in my dressing room going over the lines. The show was a hit, so I didn't want to mess up. So I spent most of my time in my dressing room just trying to be on point.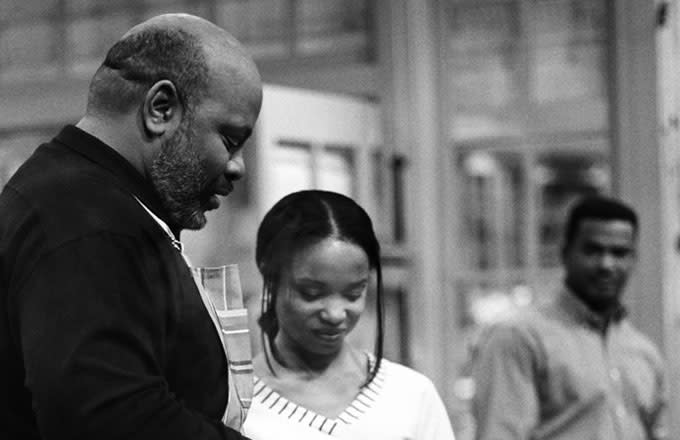 Nia Long: I think Will was just as green as I was in terms of the process. He has natural, raw talent, but he was still learning as an actor, as well. I don't remember which season it was that I joined the show, but by the time I arrived, he was just breaking into film and doing other things, so there was no judgment. I think part of the amazing work comes from being pretty vulnerable and open, so I was just a young girl trying to live my dream, and Will was great.
Vivica A. Fox: The great thing is that Will and I both wanted our relationship to seem real, so we spent a lot of time going over lines to make it real.
Jasmine Guy: The most fun I had is when the two of us—me and Will—had to go toe to toe with "mama" jokes. We played dozens, and for anyone that knows anything about black folk....you don't talk about [anyone's] mama.
Nia Long: We had so much fun; he was so silly all the time, on camera and off. Everyone was constantly laughing, and he would just do the goofiest dances, and you'd say, "Oh my God, sit your ass down," but then you loved it because he was the nucleus and the spirit. Between him and Alfonso, all I could do was laugh. I remember one time at lunch, they took me golfing and it was a disaster. I realized I'd never be the female version of Tiger Woods, but I tried.
Vivica Fox: There wasn't ad-libbing because we were both kind of new to the game—back then, we had to stick to the script—so we spent a lot of time making the lines believable, and every once in a while, maybe he would ad-lib. When he said, "Janet, what is wrong with you?!" and I put up my finger. He was like, "Yeah, give me a little sista girl." So he was advising me.​
Jasmine Guy: All week people gave me mama jokes, most of which could never be aired, but I had so much fun throwing new lines at Will. He came back hard and authentic and I knew he was a great talent whether the show got picked up or not.
Lela Rochon: What I remember most about doing that show was that Will was newly engaged to his first wife, Sheree, and they were very much in love. She came to work everyday, and she was with him everyday. I remember being uncomfortable because it's already uncomfortable that you have to do run-throughs in front of all of the producers who literally sit five feet away from you in a row of chairs, but Sheree would sit right in front of us and I would go, "Oh my God, I've got to kiss him and his girlfriend is sitting right there. This is so awkward." So when we sit down the first day, he says to me: "We're going to do this kissing scene. No tongue. No this, no that." All I heard was "No tongue," and everything went black. Like, "Is he really saying this? He doesn't need to say this." It was just strange because I worked with Eddie Murphy and all of these people and nobody did that. Then afterwards, talking to Tisha Campbell and a couple of other people within the show, I realized that he gave the speech to every girl that did the show. If you've interviewed any of the other actresses who were cast opposite of him, I know someone told you that he gives a speech, right?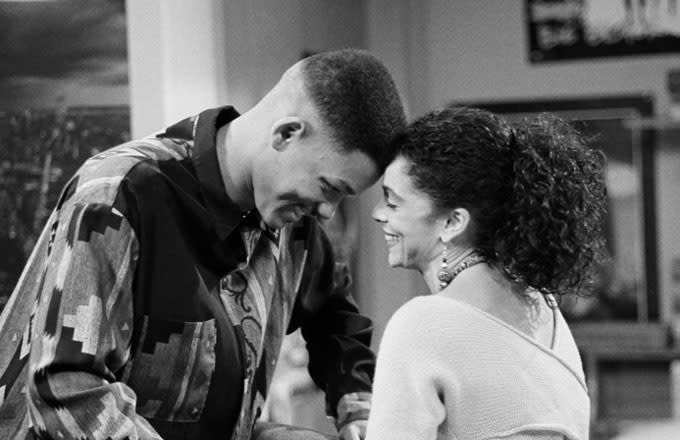 Other actresses spoke about what happened prior to filming an episode. Ritualistic? No. Ceremonial? Absolutely.
Nia Long: A ritual? We would do a prayer before every show, and there would be a—I don't even know what you call it, it's like what a basketball player does with his team before a game—and Will would jump right in the circle. It was like a "posse up" moment: like, let's bring it all in, bring in the love, and get the energy going.
Lela Rochon: I remember they said we were going to go into Will's dressing room and do a group prayer, but before we did the prayer, they did a dance. They literally put on hip-hop music and everyone danced and did a little solo; it was so fun. I didn't want to leave.
Elise Neal: We did a prayer. It wasn't like a ritual, but I think [that happens] on a lot of sets. You usually do a prayer before you shoot a scene or begin filming to make sure everything is good.
Vivica A. Fox: I think we would do a prayer before the show, because what you'd do is a dry taping, and then you'd tape it in front of an audience. Usually before you did it in front of an audience, there was always a group prayer.
Obviously, Will Smith was fortunate enough to have a seemingly endless number of talented and beautiful women play his girlfriends during the show's run. All of them may not harbor pride for this feat, but they understand how that designation aligns with the show's legacy.
Lela Rochon: You know what, I guess because now I have kids and Will's still very popular, now I just pop my collar and say, "Yeah, I was one of his girlfriends, whatever." I act like it was no big deal, but the kids think it's a huge deal.
Nia Long: Yeah, I think it's The Nia Long Effect; I don't know [Laughs]. That's definitely a joke; I definitely don't take myself that seriously, but it is what it is.
Vivica A. Fox: Well, you know he had the best of the best, so it makes me feel really good to be in the company of those hot chicks! [Laughs]
Elise Neal: Do I have pride that I was one of the girlfriends? No, but I am proud that I was on such an amazing show that had superstar after superstar. For me, the pride is in the fact that A. I got the job and B. that I worked side-to-side with Will Smith.
Nia Long: Lisa was so spicy. I look back at some of those episodes like, "Wow, I really needed to tone down the attitude." I didn't even know I was sassy back then, I was just being me. I'm still sassy, I'm still spicy, I'm still edgy. I still have that—it's the heart of who I am.
Already three albums deep into his hip-hop career, Will Smith was a star by the time The Fresh Prince of Bel-Air began airing in the fall of 1990. His talent and crossover appeal were evident, but not all of the actresses could see that he was on his way to becoming who he is today.
Lela Rochon: You know what? I didn't. I knew he was really special because, even at that time, he had such a successful music career that you knew he was different. He had other things going on besides the show.
Elise Neal: I could see the talent from watching the show before I was even on it. I know I couldn't jump inside of his head to see what he wanted, because at the end of the day, that's what the job is. If you're at a level of success and you want to take the next step, then you have to let your team know that's what you want to make it happen. Will definitely seemed like he was focused and that he had a plan from day one, and he succeeded in executing that plan.
Nia Long: To me, he was already a star. I looked at him like, "Oh, that's Will Smith. He's a star." It wasn't like, "Oh, I'm on this show with this guy."
Vivica A. Fox: Absolutely not. I remember going to see him in Bad Boys, and when he came running down the street with that shirt open I was like, "Oh shit, my boy evolved! He got some muscles!"
Lela Rochon: When I saw Bad Boys, I remember being so surprised and taken aback. I was like, "Wow, he's a movie star," and very few people make that transition. But what's shocking and amazing is the fact that he went straight into it and was so good at it. It was just the right vehicle to make him shine and make you see him in a different light, and I think he transitioned really well.
Nia Long: We did Made in America together, but when I saw him in Six Degrees of Separation, it hit me that he was a really good actor. Like, he was a real actor. Because he's the complete opposite of that character. On The Fresh Prince, he was playing a character closer to who he really is, but once I realized that he played this character that couldn't be more unlike him, I gained a whole new respect for him.
Vivica A. Fox: He's been an inspiration for my career for many years because he's such a gentleman. Every time you see him, he always greets you the same. He's down to earth—he's just a class act.
Nia Long:  I did the one season, and then he just blew up. [Seeing him] take it to the next level was kind of beautiful, and it's always amazing to me who joins you on that journey when your life is about to make a huge change. You just never know. At that moment in time, it could've been anyone on the show, but it really showed me that it was doable. If he could do it, so could I. I'm still trying to be like Will Smith [Laughs].
The Fresh Prince of Bel-Air's status made the show a platform for its guest-stars. For some, it was a chance to show their versatility as performers. For others, it was a launch pad for their careers.
Vivica A. Fox: It definitely got the ball rolling and the phone started ringing. Everybody was like, "Who's that girl?" Then I got a couple of other sitcoms and the rest is history. I've been working non-stop for the last 25 years.
Nia Long: Here's what I have to say about my career, in general: I feel like I had so many wonderful examples of what acting is all about. Carrie Fisher was actually one of the writers for Made in America, which Will and I starred in together, and I just remember going: "That's fuckin' Princess Leia." You're just like, "This cannot be real," but it was so real.
Elise Neal: Pam Grier taught me so many life lessons in that week. She was like, "If you don't like this, you'd better say something," or "If you don't like your makeup, go in the bathroom and fix it yourself." She was so cool, and I'll say: she may have played Foxy Brown, but Pam Grier is just a sweet, beautiful soul.
Vivica A. Fox: I was doing The Young and the Restless, and I remember asking my agent why I didn't get a chance to audition for Independence Day. They were like, "You're on a soap opera, honey." Then I got a call two weeks later like, "Yo, this is your chance." Six auditions later, I got the part. Twenty years later, I'm finishing up the sequel.
Elise Neal: The whole experience was really a great time. To be able to say that the great, bomb-ass Pam Grier was my mother and that Will had sex with her, and that I was part of that whole episode is still a very nice memory that I have.
Nia Long: I don't think I allowed myself to get as excited as I should've been, because I was just in shock a lot of the time. A young girl coming from Brooklyn who lived in South Central, Los Angeles born to a single mom—that doesn't happen every day. It doesn't even happy every other day, so when I look back on those times, I have more appreciation for certain things now than I did then because I think was so naive.
Vivica A. Fox: I'll never forget: we were hanging out for Independence Day, and he said, "Hey, good things are about to happen. Make sure that you stay focused, and you'll have a great career in front of you, Viv. This movie is going to be huge for us." And he was right. Actually, Will helped me practice for my Set It Off audition. I went on to do Set It Off with his wife and then I played Willow's mom on True Jackson, VP. We're all connected, so it's cool.
Elise Neal: At the end of the day, years later, I ended up on [the show he executive produced], All of Us, so it all kind of comes full-circle.
Twenty-five years after its premiere, The Fresh Prince of Bel-Air remains a phenomenon. It was representative of black television's peak during the 1990s, but the fact that everyone watched and can quote entire scenes verbatim makes it exceptional.
Lela Rochon: You knew it was a big show when it came out. Everybody was watching it and that's why being part of it, even if you weren't a series regular, was a great thing because it always meant a lot on your resume.
Elise Neal: I'm not surprised by it. It was such a great show; it wasn't just about Will, it was about a great family, success, life lessons, and all those cool things.
Vivica A. Fox: It was totally hilarious. The guest stars they had on the show were just incredible week after week, the writing was excellent, and the cast was amazing. For Will, it was like him kind of getting paid to go to acting school.
Lela Rochon: I just look at the pictures and I can't believe how young we were, which is more amazing to me. I actually have a Polaroid from the episode where Will has on like, tuxedo shorts. Like, what did we have on? But it was the '90s.
Elise Neal: I posted a flashback picture of me and Pam Grier on Instagram recently, and it almost got a thousand likes. People were posting quotes from the episode—things I had even forgot—because they remember everything about that show.
Nia Long: I think that when you're in the moment, you're not worried about that. You're just happy to have a job. I try not to think beyond the moment in this business because it changes so frequently and so quickly, so I feel like you do yourself a disservice being worried about things you can't control. The fact that it has lasted this long and is iconic, and universally known as "ours," shows that timing is everything. People related to that guy who could rap, who was a little goofy, who was from the hood but moved to such a nice area and was living the dream. It all worked together beautifully, and it was Benny Medina's brainchild. That's his gift, and Will was lucky to have collaborated with him to do a show that resonated with everyone.
Jasmine Guy: Everyone on that show was talented and gifted, and we have to stick together. Let's help each other fly.
Vivica A. Fox: You can watch the show to this day, and you'll still crack up.
Additional reporting by Angel Diaz.