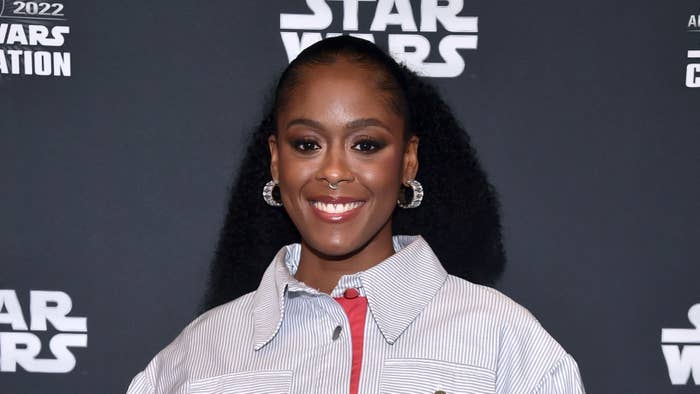 Obi-Wan Kenobi, the long-awaited six-part mini-series for Disney+ focusing on the beloved master Jedi, is drawing lots of attention for returning Ewan McGregor to the titular role after nearly 20 years. But any Jedi worth their lightsaber needs a Sith to face off against, and those who've seen trailers for the series know he'll have quite a few foes to battle in his journey, including that of a Jedi Hunter named Reva, played by actor Moses Ingram.
You may remember Ingram from her debut acting role alongside Anya Taylor-Joy in the hit Netflix mini-series The Queen's Gambit or her supporting role alongside Denzel Washington in last fall's The Tragedy of Macbeth. As Reva, however, Ingram is poised to step out of those supporting roles and take center stage as one of the primary antagonists for Kenobi; those early trailers have shown Reva to be ruthless and cunning—two critically essential skills if you're an Inquisitor tasked with hunting down the remains of the Jedi Order at the behest of Darth Vader. Even in these short glimpses of footage, Ingram is already making a bold impression.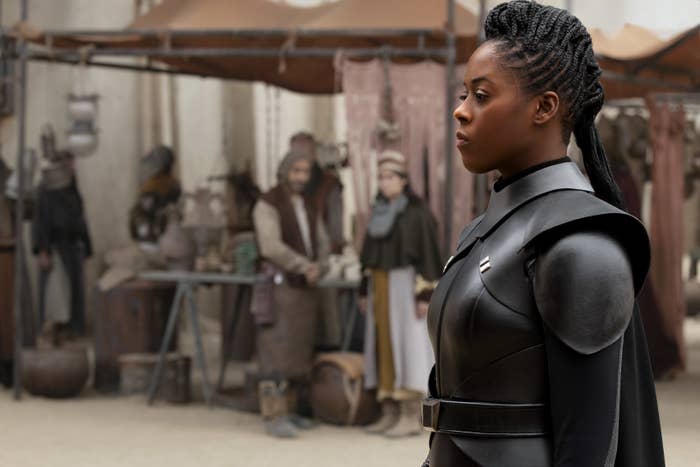 Ahead of the Kenobi premiere, Complex sat down with Ingram during a press junket for a brief chat about what it means to bring a female villain to life in the Star Wars universe, what she and Reva may or may not have in common, and more.
While Star Wars has a rich history of female villains in books and cartoons, we haven't seen many in live-action. What's it mean for you to help carve out this lane by bringing Reva to life?
Moses Ingram: It's really sick and crazy surreal. It's hard to wrap my brain around it, but every day I'm super grateful that I'm the vessel that gets to bring Reva to life. I think it's so important for girls and young women, even though she is the villain—I remember growing up and watching things with my brothers, and they were like, 'You can't do it, you're a girl. You're not strong enough.' But you know, you can fight like a girl. But it's dangerous! It's still just as dangerous as fighting like a man. You can win as a girl. It's lit. Yeah, it's lit.
You've spoken a lot about Reva's tenacity in other interviews you've done. Was that something you personally connected to when you first read her on the page?
MI: Reva and I do not have a lot in common, but I think that is one of the things—to be in this business—you really gotta be able to withstand the winds and the [uncertain] terrain [that come with acting]. She is just fierce. [If] there's a wall, she'll jump over it. If there's a person [in her way], she'll cut them down. She does not care. She is not affected. I wouldn't say that I'm not affected, but I definitely do understand the urge to get to a place that you need to be at.
I know you've been part of big projects before like The Queen's Gambit and The Tragedy of Macbeth but the scale of Star Wars is totally different. What was your experience stepping onto set that very first day?

MI: It's wild because those projects that you said, when doing them, I think I thought to myself, "Well, it can't get any bigger than this, can it?" Then Star Wars comes and drops the mic and is like, "Yeah, it can get bigger. This is the biggest that it gets." Again, it's really hard to wrap my brain around but every day I'm happy to be here. When we were working on it, you gotta check your brain and align with—like you can know what it is you're doing [in the bigger picture], but you also have to like hone it in and focus on what's happening right now. You can't really think about what exactly it is. And so those feelings, though they weren't there at the top [of when I started], are certainly here now.
The first two episodes of Obi-Wan Kenobi are now available on Disney+.