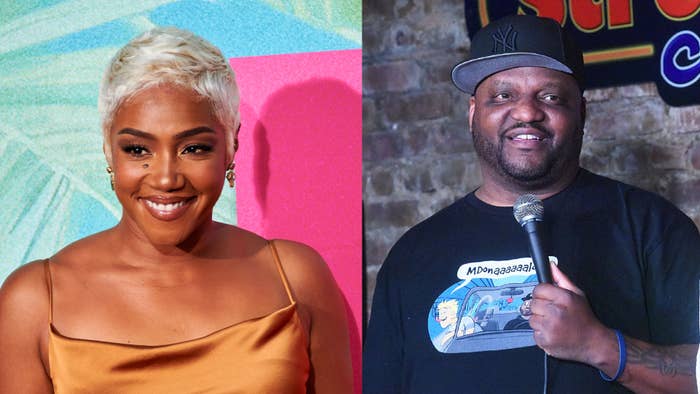 The woman who was recently revealed to have filed a lawsuit against Tiffany Haddish and Aries Spears alleging child sex abuse in connection with a sketch is now reported to be calling for the comedians to be "immediately" arrested.
Per a report from the Daily Beast this week, the woman—identified only as Jane Doe—has now called on Los Angeles County District Attorney George Gascón to "immediately arrest and prosecute" Haddish and Spears. In a letter reportedly sent to the D.A.'s office, as also subsequently reported by NBC News and others, Jane Doe also says she and her brother are "prepared to speak with investigators and prosecutors" about the allegations at the heart of the lawsuit.
"This matter's breadth and complexity require your jurisdictional powers and resources to tackle and end the stream [of] depravity committed by Haddish and Spears," the statement is reported to read.
When reached for comment by Complex on Wednesday, a rep for the D.A.'s office said they were "aware of news reports" of a letter having been sent, although they haven't received it.
"We are aware of news reports that a letter was sent to the Los Angeles County District Attorney's Office regarding the alleged sexually exploitive conduct of Tiffany Haddish and Aries Spears," the rep said in an email. "Unfortunately, we have not yet received the letter. We are connecting with law enforcement partners to determine whether there is an open investigation into the matter. We take these allegations very seriously and the matter will receive a thorough review if/when it is presented to us."
At the center of the suit, per the Beast's initial report, is a 2013 sketch that was shared to Funny or Die and elsewhere. The sketch was widely referred to as having carried the initial title of "The Mind of a Pedophile."
Haddish acknowledged in a recent Instagram-shared statement that "people have a bunch of questions," although there's not much she can answer at the moment due to the case being in progress. She also noted the material in question was "intended to be comedic" at the time, although she now regrets having been a part of it.
"I really look forward to being able to share a lot more about this situation as soon as I can," Haddish, whose attorney previously told Complex the plaintiff's mother "has been trying to assert these bogus claims" for years, said.
A lawyer representing Spears, meanwhile, told People earlier this week their client "isn't going to fall for any shakedown."
In a new snippet from the Spears & Steinberg podcast (below), the comedian echoed Haddish's stance that he cannot say much at the moment for legal reasons, while also reiterating the assertion from his lawyer that the lawsuit is a shakedown. 
"Listen, obviously, for legal reasons, I really can't talk about anything at this time," Spears said. "But I just wanna say to all the loyal listeners, thank you guys for your support and for your love. Listen, this is an extortion case. This is a shakedown. We won't be shaken down."