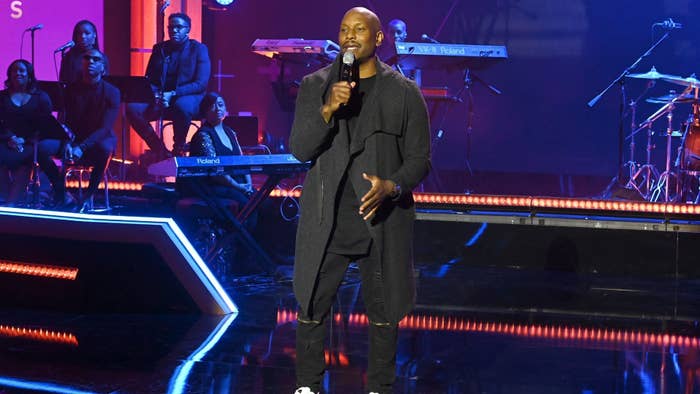 Tyrese is asking fans for their support after his mother, Priscilla Murray, was hospitalized with pneumonia and COVID-19, revealing in a series of social media posts that she was recently placed in an induced coma.
In an Instagram post shared Sunday, the Morbius and F9 actor explained that he was on a film set when he got "the worst phone call I've ever gotten." At the time, Tyrese told fans, his mother was in the ICU. "My mother is in a coma, in ICU, with Pneumonia and she caught COVID. … I need prayers, the most sincere prayers from you prayer warriors," he said.
Across subsequent IG updates, Tyrese continued to ask fans for their support and prayers, as well as shared an older photo of his mother and documented his trip to the hospital. 
In a nearly 15-minute video shared Sunday night, the "Legendary" singer dave fans an extended update from inside the hospital.
"My mom is here, she's on six or seven different things that's got her relaxed and calm," he said. "She's in what's called an induced coma. They had to put her in a coma just to make sure she's relaxed while they're giving her all these medicines to help fight pneumonia and COVID. As I'm sitting here, what I wanna tell you guys is that the Lord Jesus Christ is responsible for every breath that I see entering into my mom's body right now. We've had our share of issues over the years but as I sit here I'm thanking God for every breath."
Reflecting on his relationship with his mother, Tyrese noted that situations like this make "every issue, every misunderstanding" fall away. He also urged those offering him support to reach out to any family members they may have had issues with in the past. "Just forgive them. … Nobody is perfect," the actor advised.
From there, Tyrese filmed himself speaking to his mother as he informed her of the continued global support she's receiving.
"People around the world are praying for you, Mom," he said. "Thank you for everything you've ever done for me, Mom. I love you. Where would I be without you, Mom? I love you. Just keep fighting. … I am strong because of you. I know Jesus because of you."
Among those who have offered words of support in the comments are D.L. Hughley, Jermaine Dupri, Chris Columbus, and Busta Rhymes. "The Queen will Prevail," the latter wrote on Sunday night.