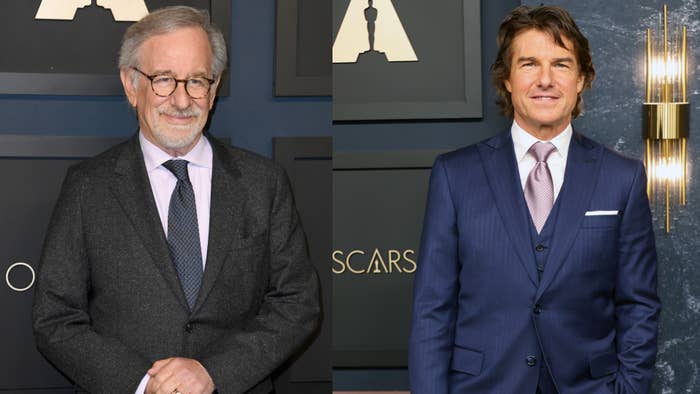 The industry-wide praise for Tom Cruise's Top Gun: Maverick continued this week with some spot-on remarks made by Steven Spielberg.
As seen in widely shared footage originally shared by documentary filmmaker Kartiki Gonsalves (The Elephant Whisperers), Spielberg and Cruise ran into each other at the Beverly Hilton Hotel during an Academy event.
"You saved Hollywood's ass, and you might have saved theatrical distribution," Spielberg is heard telling Cruise, with whom he previously collaborated on the very-worth-revisiting 2005 hit War of the Worlds. "Maverick might have saved the entire theatrical industry."
The exchange took place at a luncheon held in honor of this year's class of Oscars nominees, where Cruise was also seen speaking enthusiastically with Ke Huy Quan, Austin Butler, Jamie Lee Curtis, Angela Bassett, Guillermo del Toro, and more.
Maverick, of course, is up for a number of potential wins this year including Best Picture. Among the film's prior honors is its distinction of being named the best movie of 2022 by Complex, as seen here.
By the end of its massively successful theatrical run, Maverick had become not only one of the biggest movies in recent memory but also the highest-grossing film in Cruise's entire filmography. More important than dollars, however, is the fact that the film is genuinely great on virtually every possible level.
Next for Cruise is a return to the Mission: Impossible franchise, with Dead Reckoning Part One and Dead Reckoning Part Two set to be released one year apart starting this July. Get a glimpse at why that is so exciting below.