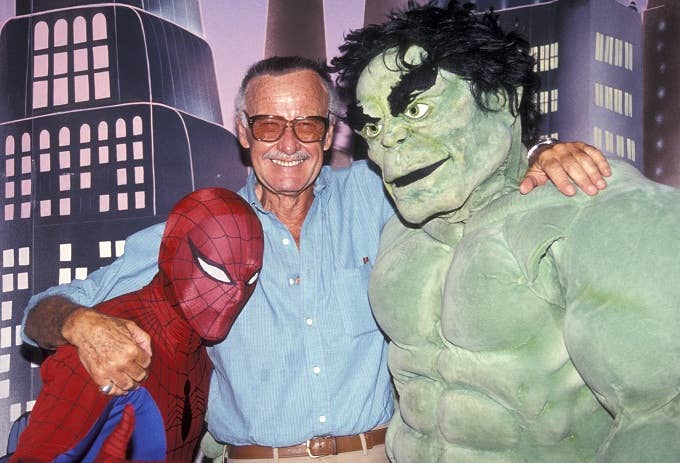 Marvel Comics icon Stan Lee is dead at the age of 95.
TMZreports that Lee was rushed to Cedars-Sinai from his Hollywood Hills home early Monday. 
Lee's wife Joan died last year at the age of 93. They had been married for 69 years.
Lee co-created a veritable all-star assortment of superheroes during his 1960s run as Marvel Comics' president and chairman including Spider-Man, Iron Man, Black Panther, and the Fantastic Four. Collaborating with writers like Steve Ditko and Larry Lieber, his career also yielded folks like Thor, the Hulk, Doctor Strange, Daredevil, the X-Men, and Ant-Man (to name a very select few).
Since the late '80s, he's also become known for making fan-adored cameos in Marvel film adaptions, most recently in this year's Deadpool 2 and Venom.
In an interview with the Daily Beast published last month in the wake of reports alleging that "vultures had descended" on Lee and his estate following his wife's passing, Lee—alongside daughter J.C.—spoke extensively on legacy and more. "There really isn't that much drama," he said at the time. "As far as I'm concerned, we have a wonderful life. I'm pretty damn lucky. I love my daughter, I'm hoping that she loves me, and I couldn't ask for a better life. If only my wife was still with us."
Speaking in greater detail on his inarguable mark on culture in a 2014 interview with the Chicago Tribune, Lee—who bagged a National Medal of Arts honor a decade ago—said he had grown to see himself "simply as an entertainer." Asked about his early days as an obituary writer, Lee shared some thought-provoking words on what really matters when discussing what legacies we all leave behind. "Right, but when you're dead, you're finished," he said. "I have no thoughts on what [my obituary] should say. My wife is about my age. We'll go about the same time. My daughter knows who I am. That's all I care about."
Disney boss Bob Iger, in a statement released shortly after news of Lee's death Monday, called the hugely influential artist a "superhero" in his own right. "Stan had the power to inspire, to entertain, and to connect," Iger said. "The scale of his imagination was only exceeded by the size of his heart."
RIP, Stan Lee. Excelsior!